Last week, I shared a couple of pics from our new raised garden bed and herb containers. . . and several of you left various questions in the comments.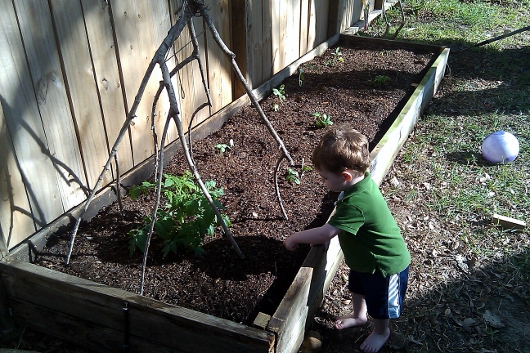 I was flattered that some of you think I actually know what I'm doing.
While I grew up spending hot, sunny Oklahoma summers helping in my mom's ENORMOUS garden, (I still have vivid memories of planting corn seeds, snapping beans, weeding, and removing those nasty green worms from corn) "urban gardening" is new to me.
My mom's garden was big — probably the size of my entire backyard here.  BIG.
(or maybe it just seemed that way to a little kid who would rather have been climbing trees and pretending to be Laura Ingalls)
While Oklahoma summers are hot, the "growing" season is much different there than here in hot, humid Houston.   Here . . . we're already being teased with the heat (temps near 90).  It's really ridiculous.
But, despite the heat restrictions, I was determined to have SOME sort of garden.  Why a raised garden bed?  There are several reasons why a raised garden was a better option than a traditional, "in-ground" garden.
For us, with a small, urban yard, we simply don't have enough sunny space to do a large, in ground garden.
Plus, we didn't want to destroy that much grass . . . or test our dirt to see if the soil would even work (or if it would need additives).
Also, *I* didn't want to be on my hands and knees all summer weeding. With the raised bed, I can sit on a stool and do everything — and not worry about my belly dragging the ground.
Also, I have two curious kidlets and one curious Schnauzer; I'd rather it NOT be easy for any of them to dig stuff up.
With these restrictions and reasons, using containers and building a raised bed gardening was obviously the way to go.   I just needed to learn (1) how to garden in containers/raised bed and (2) learn how to garden in Houston.  Thanks to research online (and our experience with last year's garden, which never took off), I learned a couple of things that will (hopefully) make our new raised garden a SUCCESS!
Learning from Past Mistakes:
Last year, our garden simply wasn't prepared correctly.  The location wasn't good (it was surrounded by several large, thirsty trees).  The ground wasn't tilled — quality dirt and compost weren't added in; it was done quickly by my husband and his brother on a VERY limited budget.
The plants didn't live long; you couldn't water them enough thanks to the poor drainage of the box and the surrounding trees.  And the poor soil gave very little by way of nutrients.
2011 Garden Box Changes:
Moved the location to one that gets adequate sun (6+ hours per day) and is away from other flower beds and trees.
Built a deeper box.  Last year's box was four inches high; this year, I asked Hubby to use two 2″x4″ on top of each other, raising the height to eight inches.  This allowed us to add more dirt, giving the plants a deeper soil base.  Hubby also did "something" during the construction phase to help the drainage issues.  Honestly, I kind of zoned out at that point . . . I was a cranky preggo that day.
Spent money on GOOD dirt.  We used a mixture of top soil (10 cu. feet), potting soil (20 cu. feet) and compost (8 cu. feet).  Prior to adding the dirt, Hubby tilled the ground.
Researched plant placement and ways to maximize space; the majority of the plans I chose are vines and can overtake a space.  Thanks to some of my online gardening resources, I learned about using trellises for plants like the cucumbers — encouraging them to grow UP gives the rest of my vegetables the horizontal, bottom space.
Choosing Plants for Houston (or where ever you live)

Houston has a VERY hot climate — have I mentioned that before?  While, yes, we get to start our gardens earlier than most of the country, we also have very short windows of planting for each type of vegetable.  We planted at the end of March . . . when temps are already warming into the 80s and it won't be long till we see temps in the 90s.  I chose tomatoes, okra, cucumbers, zucchini and watermelon — all heat-tolerant plants.
RESEARCH your specific area's growing season.  While I missed my window of opportunity for a early spring garden of lettuce, asparagus, and other colder weather plants, I can still do a winter garden later this year — thanks to a friend sharing a Harris County planting guide, I will be planting spinach, onions, lettuce, carrots, and peas around October/November.
For other areas/states, check with your local county extension offices OR start with one of your local universities that offers a horticulture program; they will have the info you need for climate and plant selection.
And Now . . .
Now, I'm just doing my thing — watering and weeding . . . and finding ways to keep birds from eating my tomatoes (we lost two this weekend!).  The plants have all DEFINITELY grown and appear to be thriving, including my herbs and container vegetables (bell pepper and cherry tomatoes).
Where To Go For More Information
I read several posts from various gardening sites before I got started — there's a lot of info out there.  But this post, by Keeper of the Home, is the post I wish I'd read BEFORE we planted. It's has great info that talks about raised beds, square foot gardening, planning, etc.
Other good online resources:
Raised Garden Beds
For "ready-made" garden boxes or instructions/tips for making your own, read Raised Garden Beds from Earth Easy.
Raised Garden Beds is site fully dedicated to this type of gardening, offering many articles, tips, and resources to get started.
To maximize your space, consider vertical trellises for plants that vine (like tomatoes, gourds, and cucumbers); we are adding our trellises this week for the zucchini and cucumbers.
Container Gardening
A larger resource, Container Gardening Guide, offers tons of info on all the facets of flower and vegetable container gardening.
Gardening in Texas