My favorite thing about social media is that it introduces you to new people, new sites, new ideas, and new levels of creativity. Thanks to Pinterest and Instagram, I have recently discovered a whole SLEW of bento bloggers.
Yes, a whole slew of them… gobs of them… a TON of them.
And, each time I visit a new site or see a new bento picture in my Instagram stream, I find my jaw dropping with the unbelievable talent these Mamas have when it comes to making lunch.
I mean — Y'ALL! With cutters and stamps and silicone cups (and amazing collections of bento boxes), they can whip up penguin shaped rice balls, make Swiper the Fox out of cheese and carve snails out of apples.
Yeah, I'm kind of out of my league.
Nonetheless, if you are looking for lunch inspiration on a small or grand scale, check out the Bento Bloggers and Friends and follow them on Facebook. I promise your jaw will drop when you see these lunches!
Today's Lunches for the Kidlets
The Little Lady and Mr. Boy requested different things today; she wanted butterflies and he wanted motorcycles.
Typical.
The Little Lady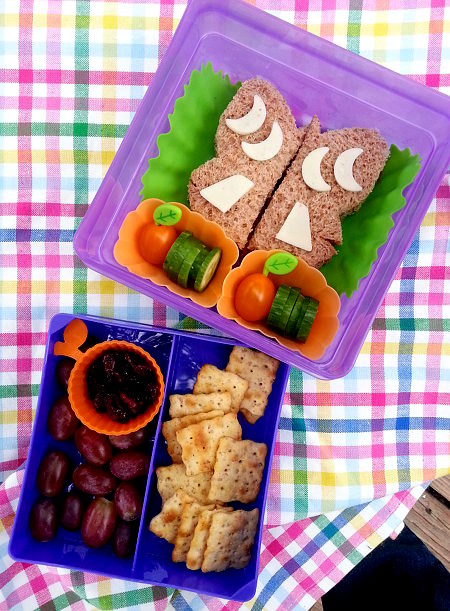 (Sunbutter Butterfly Sandwich with provolone cheese cut-outs, cucumbers and cherry tomatoes, crackers, cranberries and grapes. Bento Box: two tier Fit and Fresh box)
Mr. Boy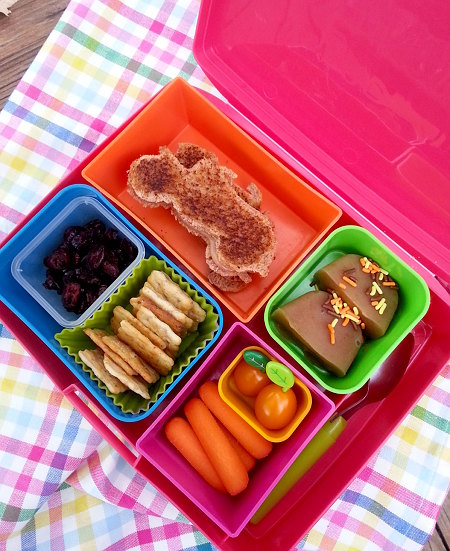 (Grilled Cheese Motorcycle sandwiches, Applesauce (frozen but should be thawed by lunch), carrots and cherry tomatoes, crackers, cranberries and grapes. Bento Box: Laptop Lunchbox)

Link Up with I Heart Lunch!
I adore getting inspiration and ideas (and even "THAT'S how you do that" moments) from others out there … so let's share with one another with the "I Heart Lunch Weekly Link-up."

You can link to a blog post or flickr photos — this linky is for any kind of healthy school lunch, regardless if it is Bento-style or not. I want to celebrate our efforts to provide good and enjoyable school lunches for our children!

The linky is offered each Tuesday when I share our Bento lunches so you'll be able to add your lunches every week.  My only request is that you either add a link back to this post or include the Lunch Graphic (which links back) to your post so others can get here to view the linked lunches too!
Link up your school lunches and bentos!  Please use a permalink for your post rather than linking your general blog/flickr account URL — this will help people go directly to your fabulous lunch!
Note: you can link a blog post, facebook photo, flickr page, etc.

Now — link 'em up!