Lately, if you were to ask, "Rachel, what kind of blogs do you like to read," I would have but one answer.
The pretty food ones.
Oh.  My.  GOSH! Have you taken time to browse through the glorious photos and recipes posted by these brilliant culinary minds (most of whom, by the way, do not have ANY formal training in the cooking arts)?
These people — men, women, married, single, the parents, and the carefree — have two things in common . . . they make delicious food and bring it to life in vibrant, mouth-watering pictures.
I am in awe.
But, I suppose this isn't news to you; after all, I've blogged about my addiction to food porn . . . . twice.
(twice, people, is the sign of a true addiction)
The result of loving food and spending HOURS salivating over blog posts so descriptive I can smell the aroma of freshly prepared lasagna, whole wheat bread, and roasted chicken is that I find so MANY new recipes to try.
This week is full of new recipes thanks to several new foodie blogs I discovered; if these blogs are NOT on your blog roll, they need to be added.  . . today.
Below, you'll find my new favorites this week.  Go ahead . . . grab a cup of coffee and start perusing.
Start drooling.
Start getting hungry.
Believe me it will happen.
(click on the various blog logos to visit them)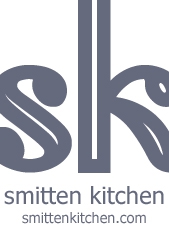 Want to know which mouth-watering recipes made it into my plan this week?
Monday
Coffee Braised Pot Roast, Roasted Asparagus, Brown Rice
Tuesday
Chicken Stew with Pesto
Wednesday
Lasagna Tart
Thursday
Grilled Chicken and Double Broccoli Quinoa
Friday
Whole Wheat Fusilli and Salsa Finta
Weekend:
Leftovers and fun times with my sister and brother-in-law!