Preface:

In this 2nd installment of my "Best of the Year," I am bringing back the favorite post of Nina and Gramie, the Little Lady's grandmothers. . . its also a favorite of mine simply because it is one of the few times I actually got the upper hand. Sigh, I love those moments.
* * * * * * * * * * * * * * * * * * * * *
I don't understand the fascination, the obsession.
I've told her it's disgusting, dirty, unsanitary, and gross. I've twisted my lips, wrinkled my nose and narrowed my eyes hoping that would help to convey the nastiness. I have even physically tried to stop her. But, she just laughs and continues to gulp.
My daughter is a bath-water drinker.
Nevermind the remainder of dinner (green beans, cheese, or bread crumbs) and grass that is floating in the water — she just drinks and drinks and drinks. Last night, it didn't matter how many cute and thrilling toys I placed in the tub with her. She took turns ignoring them completely or using them to funnel water to her mouth. When they got in her way, she just bent over and lapped like a little puppy.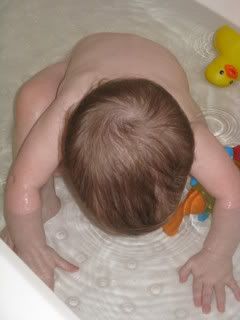 Why doesn't she listen to me? I am a sage, wise beyond my twenty-something years; I have taken a thousand baths in my day, taken biology classes, and watched the Discovery channel: I KNOW WHAT'S IN THE BATHWATER!
I tried to distract her by getting down to the business of washing. But, she promptly grabbed the wash cloth (she's freakishly strong) and proceeded to suck and slurp every drop of water out of the brown terry-cloth. Nasty little thing.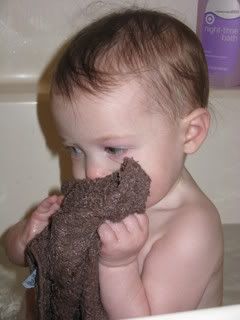 What's a mommy to do? Was there nothing I could do to stop this revolting habit? Then it hit me — BUBBLES! If the water is covered with an effervescent foam, she won't be able to drink it. I AM A GENIUS!
She ate the bubbles.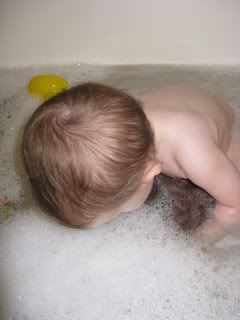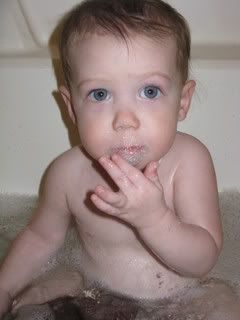 It was time to retaliate. Childish spite rose up within me — I was going to show her who was boss! I popped open the shampoo lid and gleefully watched the look of fear enter her eyes.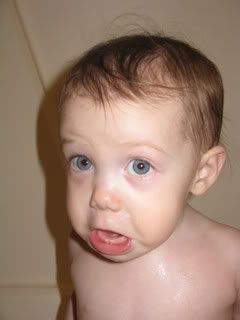 I began to lather her hair, which she hates. I ignored the whimpers and sniffles. "I'm the mama," I bragged, "I can wash your hair if I want to!" Scrubbing the thin whisps of hair and rubbing her scalp clean, I showed her that I was in control. No more water drinking in this bathtub!
Then, just because I was in a mischievous mood, I decided to prove one last time and give her a new hair-style. Just because I could.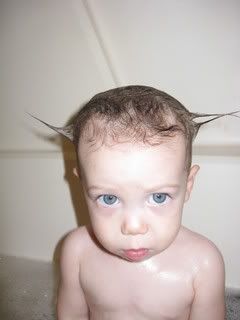 See that expression? Oh, yeah — she knows who's boss.
I win.
Originally published July, 2008.