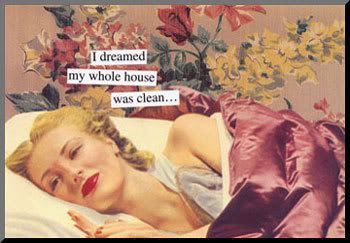 I have gone from having a house that was clean each day to a house that is . . . well . . . NOT!
It would be nice if I could blame the Hubby or The Little Lady or Charlie the Munnie. And, while I can certainly say they are responsible for the mess and clutter, I can't let them take the blame for the house being dirty. That is my fault alone.
Sigh.
I've turned in to one L.A.Z.Y. mama. I don't want to do a thing each day but lay on the couch, watch Law and Order, and eat deliciously addictive Cadbury Mini-Eggs. Those are the only things on which I want to spend precious energy. Dusting? Sweeping? Loading the dishwasher? Ugh! FORGET IT!
I have taken this time of laziness and low energy to do two productive things: I taught The Little Lady how to clean up her toys AND how to use the Swiffer.
That's right, The Little Lady has chores, even though her mama is too lazy to get her pregnant butt off of the couch. If I start singing our silly little "Clean Up Time" song, my industrious toddler gets to work, grabbing every toy in sight and throwing them in the toy box. She LOVES it! And, to be perfectly honest, so does Mama.
But Swiffer time is her favorite. Give her a loaded Swiffer and that little girl Goes. To. TOWN! All over the living room and kitchen she glides, proud of her big girl job.
Now, if I could only teach her how to make my bed and do laundry. THAT would make my life practically perfect in every way.
There's nothing wrong with a little toddler labor, is there? ? ? ? ?