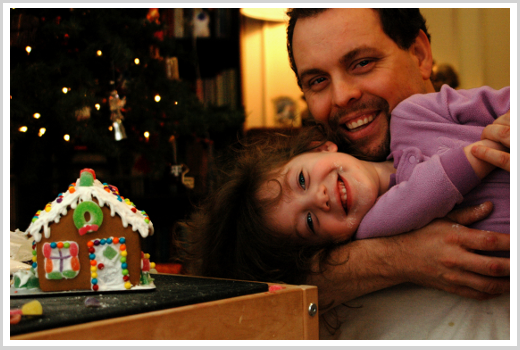 One of the things I've enjoyed most since taking on the mantle of motherhood is the chance to create new traditions for my little family.  Sure, there are some I've kept that were my Mom's and Grandma's, but I've also worked hard to implement new activities that are unique to our family.
Enter the Gingerbread House and Competition between Spouses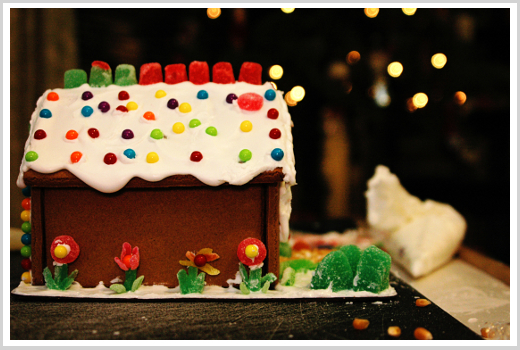 Isn't it cute? Drippy, snowy icing.  Random scattering of candy on the roof, courtesy of the our helper, the Little Lady.  Dainty winter flowers blossoming despite the cold weather.
Didn't my HUSBAND do a good job?
Yeah, that's right — Hubby spent FOREVER handcrafting flowers, shrubs, and an adorable wreath for the sections of the house he was responsible for.  Sugar confections that he didn't start crafting until AFTER I'd grumbled about how craptastic my side of the house was looking.
He heard me grumbling and sighing and then with a twinkle in his eye, he went to the kitchen for scissors and other equipment.
Gleefully and quietly he worked, shaping, molding, contorting gum drops and lime wedges into a garden of color.  Every so often, he'd crane his head around to look at what I'd done, offering paltry condolences like "Oh, it doesn't look that bad."
Meanwhile, he was chuckling as he finished the first of his candy tulips, telling the Little Lady, "I just made something that'll make your Mama mad!"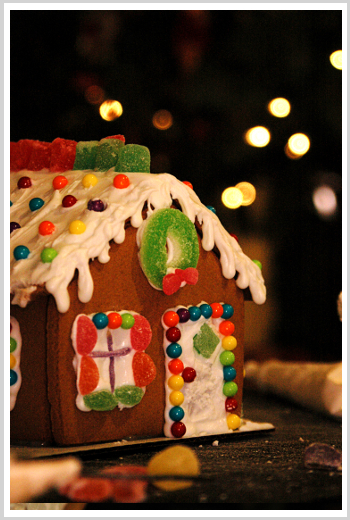 He KNEW what he was doing. . . showing me up . . . reminding me that I completely and utterly suck when it comes to being creative and crafty.
Grrrrrrrrrr.
How did my handiwork turn out?
Depressed.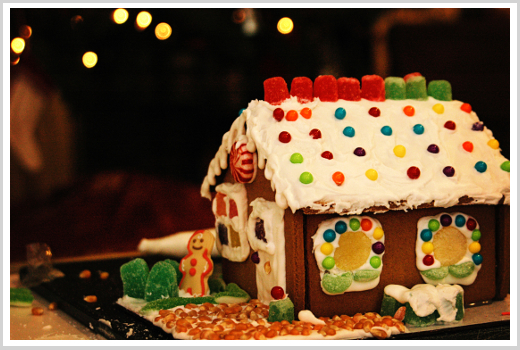 Saggy windows.
Smeared icing.
My idea of landscaping? Pile o' Gum Drops topped with a Pile o' Icing.
Even the Gingerbread Man was sad . . . losing pieces of himself and constantly trying to topple over.
(the little traitor)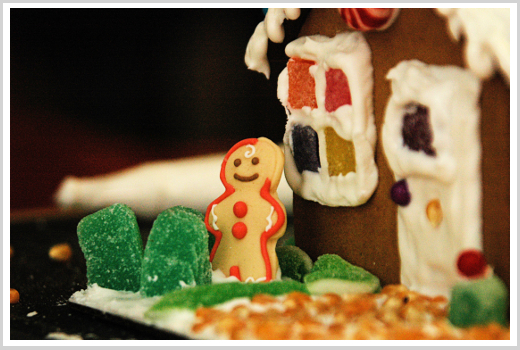 Of course, this morning, Hubby tried to be sweet and "thanked me" for my hard work organizing and preparing our Advent activities.
Whatever . . . he just likes winning.
But next year. . . oh, ho ho ho, my boy.  Just. you. wait!