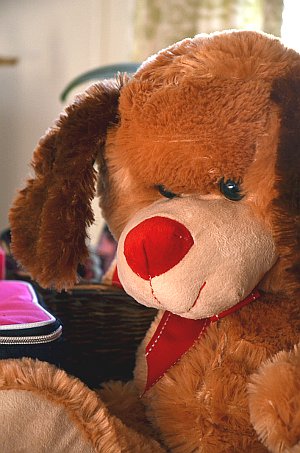 February is a busy month for me: our anniversary (which was yesterday, by the way) and Hubby's birthday both happen in the first two weeks.
Then … there's Valentine's Day.
I'll be honest, by the time that red and pink sugary holiday rolls around, I'm tired of being lovey-dovey.  Yeah, I said it.  I'm a Valentine's Scrooge … or, whatever an anti-Valentinian would be called.
I always tell Hubby not to worry about Valentine's Day since our anniversary is just prior to it.  But, it isn't just the fact that we have so many important days in February making me rate Valentine's Day so low on the spectrum — I think it's some deep, dark, latent hostility that hearkens back to the days of high school.  Days when I would watch scores of rose-red flowers and shiny mylar balloons and ginormous stuffed pink-and-white animals be placed on display at the front-office …. arranged alphabetically by lucky girl … waiting to be picked up at the end of day.
My name was never in possession of a front-office Valentine.
Except for the time I purchased a Cookie-Pop from the FFA and had it delivered to myself… signed, "Your Secret Admirer."
Sniff … true story … and isn't this just the SADDEST story ever?
A cookie on a stick — that's what I think of when it comes to Valentine's Day.
Last week, something arrived in attempt to change my black heart … to convince me there is more to the Holiday than bitter memories of self-given gifts.
I received a Valentine's gift basket from the people at H-E-B.
(H-E-B?  I know all of my "non-Texan" readers are puzzled.  It's my favorite local grocery store … my mom's favorite grocery store, even though she lives in another state … and — after meeting Top Chef "Cheftestant" Fabio Viviani at our HEB last week — it is the Little Lady's favorite grocery store.  She thinks she found her future husband in Fabio.  No lie.  I hear about him and their impending wedding every. single. day.)
Using products that can be purchased from their store, someone at H-E-B put together a basket of treats and gifts perfect for me …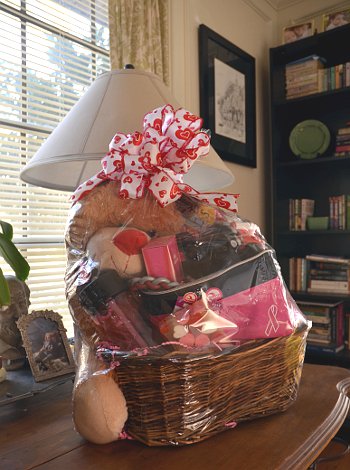 Inside the tightly cellophane swathed basket were items selected for someone trying to live a healthy life.  A more fit life.  A life that has moved past cookies on a stick.
An insulated lunch bag and a shaker (perfect for creating those healthy smoothies everyone seems to be drinking these days)
A pink water bottle
A resistance band
BUT . . . even with all of the "fitness guru" presents, the H-E-B folks still managed to put in a few traditional Valentine's Day gifts.
A stuffed puppy dog
LaCoste perfume (yes, even perfumes and colognes can be purchased at H-E-B)
Custom made glycerin soap
A heart-shaped box of Chocolates.
(What?  You think chocolates aren't healthy?  Don't EVEN try to tell me chocolates are bad for me.  Pshaw — those things keep me SANE during my days with three children. SANE, I tell you!)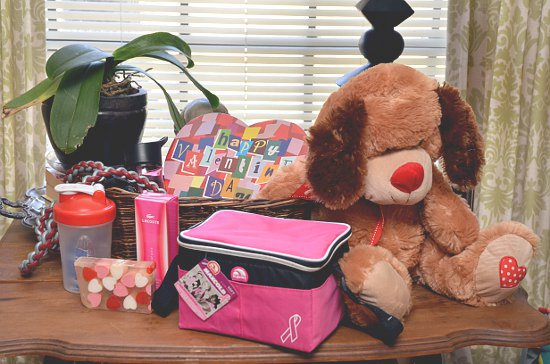 Of course, in true fashion expected of Kidlets, the Little Lady claimed the puppy dog and Mr. Boy claimed the chocolates.
Yes, he did — while I was doing laundry, the little imp climbed on top of a kitchen chair, stretched his little fingers out to reach the box, which I had "safely" stowed on top of a cabinet …. and then he stuffed his face full of chocolate.
(sigh)
And now I have memories of a stolen puppy dog and purloined chocolates to add to my Valentine's Day experiences … but, well … that's not H-E-B's fault.  I just seem to be raising sneaky Kidlets.
(sigh)
Thank you, H-E-B, for my our very first grown-up Valentine's Day gift.  "We" enjoyed it!
p.s.  H-E-B floral departments can assemble similar Valentine Baskets for you!  Stop by your local store or visit their site for Valentine's Day Recipes and Menus.
Disclosure: I was sent the H-E-B gift basket to facilitate this post — all opinions expressed in this post are my own.