It's a Friday afternoon.  Two of the three kidlets are sleeping and, for once this January, the sun is shining.
As for me?  My feet are propped, I'm drinking a glass of tea and letting a little purple and gray Neato Robotics Vacuum handle the mess Barney Kneeknuckles has left all over the carpet.
It seems to be our daily routine these days.  Despite my best efforts, shut doors, and child locks on the cabinets, my precocious toddler destroys K-Cups, tears up paper, or throws food everywhere.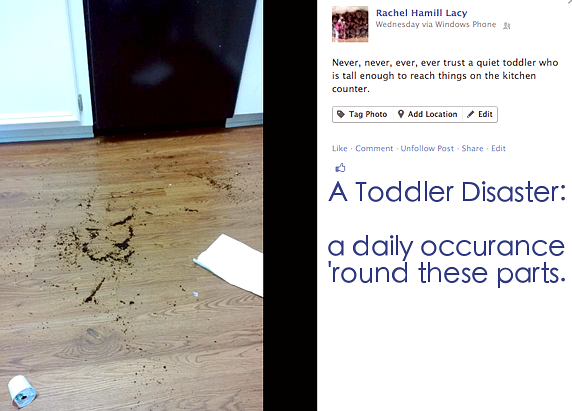 (He's such a little darling)
I trail after him, picking up the big stuff with my tired, worn Mommy fingers…. and then I let the Neato do "it's thang."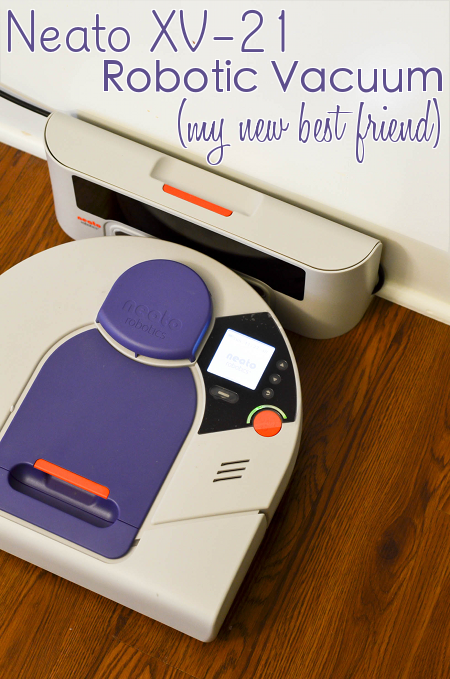 What is "The Neato"?
The Neato Robotics XV-21 Vacuum is my new best friend… seriously!   And, the Husband might love it more than I do.  Of course, it's gadgety and has buttons, which is probably why he loves it, but as someone who has to deal with messes every. single. day., I adore having a time-saving and labor-saving device on my side.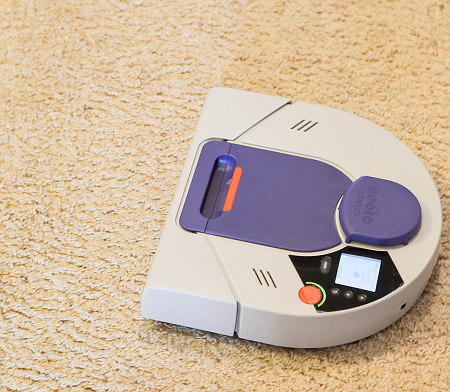 It's a vacuum that uses an infared light to scan your room and plan a cleaning path, ensuring not a single square inch of mess goes without getting cleaned.
And… it can handle hardwoods, vinyl and ceramic floors too.  That's right, it does it all.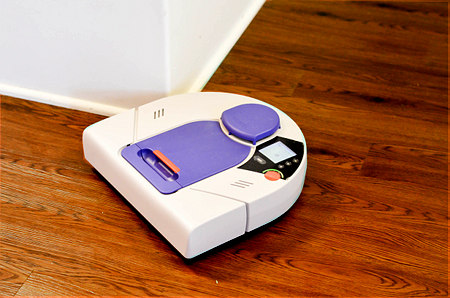 The Good
You can choose to have it clean your entire room OR just a specific area thanks to the "Spot Clean" method.  With that option, a 9 foot area will be vacuumed.  Perfect for those little, unexpected messes that crop up from time to time.  I have used the spot clean option MULTIPLE times to handle the aftermath of Barney Kneeknuckles' "fun times."
You can SCHEDULE a daily cleaning.  That's right — you can set it to vacuum while everyone is asleep, in school, or out to dinner.  No need to ever worry about stepping over it as the Neato cleans.
Internal battery charges with a home base/docking station — simply plug the station into an electrical outlet, and it will be ready to charge your Neato as needed.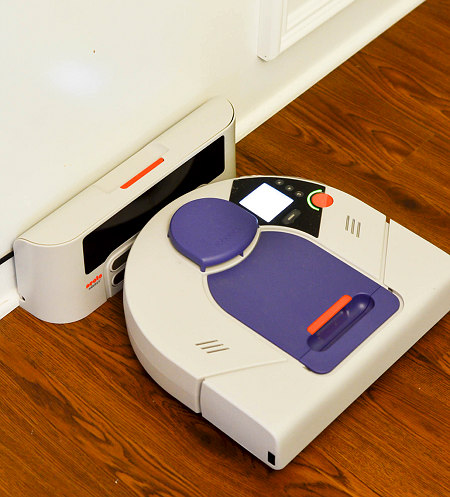 The XV-21 model is designed for people with animals or allergies.  With a "bristle and blade brush", it can pick up animal hair and has filters to catch and trap allergens.
It's bag-less.  Instead of having to keep up with little bitty vacuum bags, it has a small container that collects all the dust, hair and debris.  My Neato lets us know when it needs emptied (it is also recommended that you suction it out).
It can sense obstacles and will adjust for furniture, corner, toys, pillows, books or (as we found last month) your Christmas tree stand.  Yup, even if your child leaves their favorite stuffed Monkey in the floor, the Neato Robotics Vacuum will adjust its path and leave the item safe and unharmed.
There are two different inserts for cleaning: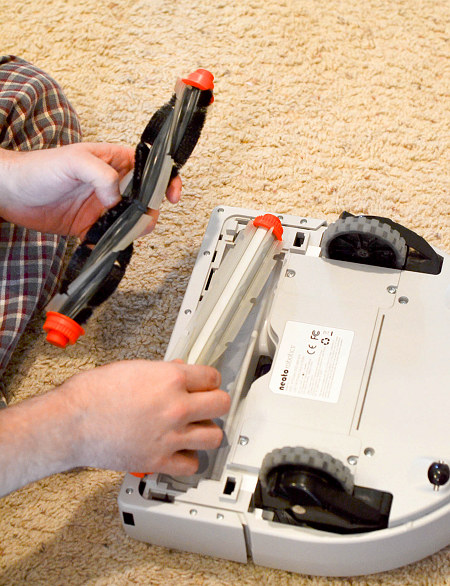 There is (1) the aforementioned "bristle and blade brush" and (2) a blade only insert.  The first is for carpet and the second handles kitchen and bathroom floors.  They are easy to switch out.  When we first started using the Neato, my husband and I both completely failed to see the blade insert and kept getting frustrated that the Neato was leaving crumbs behind in our kitchen.  Once we discovered our mistake and popped in the blade insert, our kitchen floor was perfectly clean.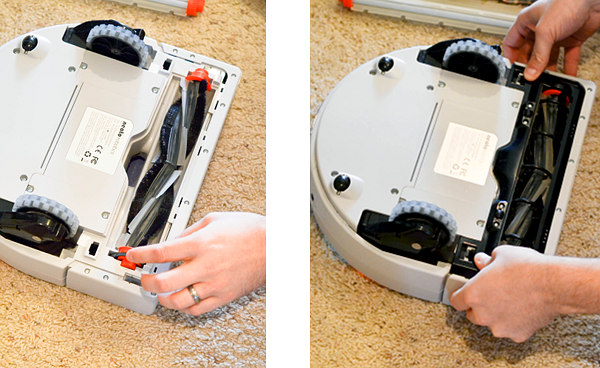 A boundary strip is provided.  It can be stretched across a doorway to keep the vacuum from entering another room or it can be placed around items you don't want the vacuum to go near.  We use it most in our hallway entrance to keep the Neato from heading to the Kidlet rooms (the floors of which are usually toy-ridden and not accommodating for a good little daily vacuum visit).
The Not So Good
The Neato runs on a battery and, unfortunately, it doesn't have the longest life before it needs recharged.  Typically, my Neato can complete my kitchen and half of my living room before needing to charge.  Sometimes it completely runs out of power before it can get back to the base … which means I have to implement a rescue mission before the Kidlets get the chance to play with the "Robot." (they love it too)
It doesn't always get right up close to baseboards and while it does clean all the visible debris on your floors, it doesn't get everything deep down in the carpet.  We have run our full-sized vacuum over the carpet after using the Neato and heard (and seen evidence in the bag) it collect additional dirt, etc.  So, while the Neato is fantastic for a general, daily cleaning, it doesn't completely eliminate the need for a good old-fashioned vacuum.  I still use my full-sized vacuum once a week to get everything that collects around the baseboards and to give a "deep" cleaning of the carpet.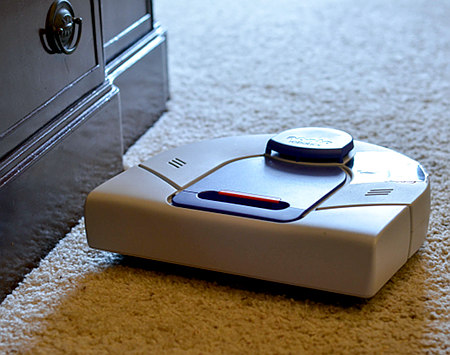 While it can sense most obstacles on the floor, I've noticed it generally doesn't recognize clothing, socks, blankets and the like.  So, if an item such as that is on the floor, it will try to go over it.  Depending on the item, it can caught in the Neato's blade and/or wheels.  The Neato could go over our larger tree skirt (last month) with little problem, but — since my sweet toddler has learned to take his clothes off and loves to do so on any little whim — I've had to rescue small shirts and shorts from the machine.
This Mama's Final Thoughts
Did you notice my list of positives was longer than the negatives?  Yeah, I love, love, love this thing.  I don't know any other way to put it: it's simply fantastic.  It handles the cleaning easily and gives me time to do other things instead of lugging my heavy vacuum around every day.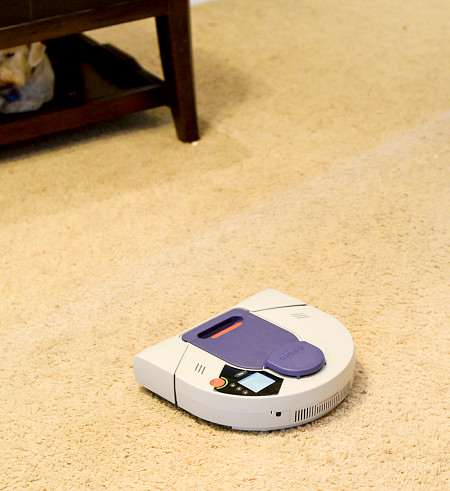 I don't mind having to still do baseboards and a"deep cleaning" as needed; it's part of my "Friday" routine to do so.  But not having to haul my vacuum out of the closet multiple times a day to deal with my toddler's messes?  Priceless!
Purchasing Info
Neato Robotics XV-21 model (retail $428.00) can be purchased from Amazon or directly through the Neato Robotics site.
In addition, extra batteries, filters, blades, and boundary strips can be purchased to keep your Neato Robotics vacuum cleaning and working hard for you!
disclosure: I was sent a Neato XV-21 vacuum to facilitate this review.  All opinions expressed are my own.