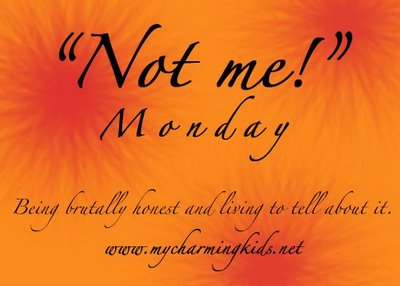 I know, I know — this post is supposed to be titled "Not Me Monday." Well, I'm feeling just a tad contrary today so deal with the title change (Please and Thank you).
(1) This week, I did not trade in my tears for anger. Nope, "not me.' I did NOT suffer from unbelievable anger thanks to a wee babe (one that is now the size of an orange, in case you're interested).
(2) My Anger (which I didn't have) did not manifest itself in nearly every conversation with my husband. I did not become furious each time he tried to joke about a vaginal delivery; I did not find myself incensed each time he teased me about the pregnancy induced burps that I do NOT have.
(3) I did not threaten bodily harm to my (not so) sweet husband each time I didn't become angry. No, and I specifically did not threaten to remove body parts. No, not me.
(4) I did not become disgusted each time I cooked, and I did not use those experiences to talk my husband into eating out all weekend long.
(5) Speaking of eating, I did not eat the cheerios, fruit snacks, and cheese that I had packed for my daughter to snack on during Church. No, I wouldn't take food from my child like that.
(6) I did not drag my poor husband to 'Babies R Us' Sunday, where I did NOT spend 45 minutes trying to pick out "coming home outfits," and I surely did not tear up each time I picked a teeny-tiny outfit.
(7) And, before I end this post, I must tell you that I neither ate an entire jar of Vlassic Dill Pickle Spears this week nor did I eat two giant bags of Cadbury Mini Eggs. No — that would just be gross. And, I am definitely not gross like that.
(yumm)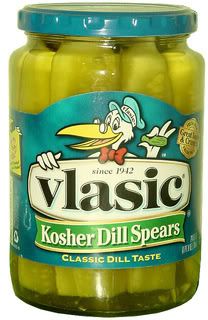 Welcome to Not Me! Monday, created by MckMama. You can head over to her blog to read what she and everyone else have not been doing this week.