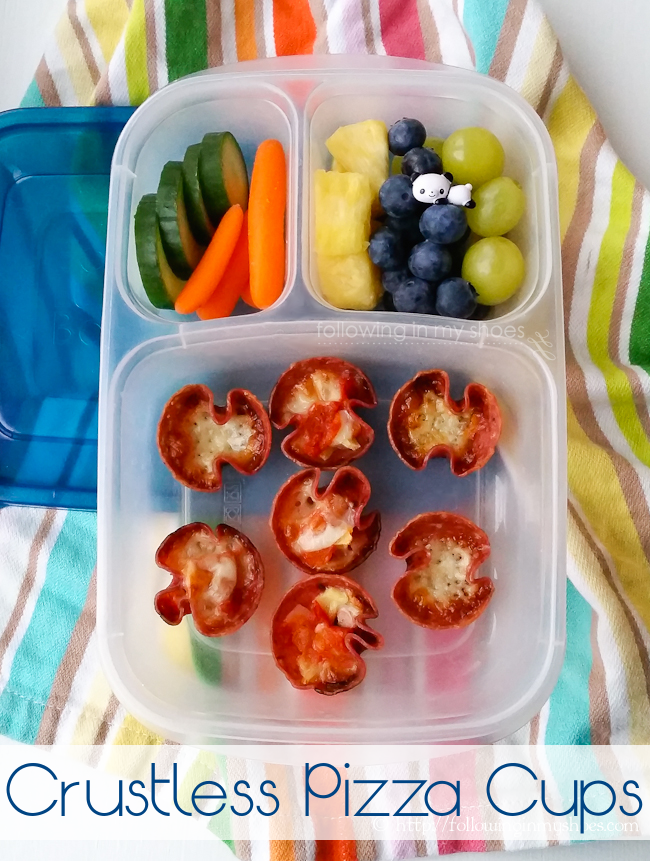 Crustless Pizza Cups, Cucumber Slices and Baby Carrots, Pineapple, Green Grapes, and Blueberries.  Stored in an Easy Lunchbox.
What?  You thought I'd stopped making bentos since it has been MONTHS since I've shared one here on the ol' blog?  Well, if you followed me on Instagram, you'd know that is most definitely not the case.  I have about a hundred lunches I've shared there this semester.  Life was very busy as 2014 waned and blogging in general sat on the back burner as I worked on potty-training Barney Kneeknuckles, trying (TRYING) to teach the Little Lady how to count money, and went about the day to day business of being a Working Mama.
BUT — yesterday, I shared this very picture on Instagram and I was instantly hit with questions both there and on my personal Facebook page … everyone wanting to know how I made these little Crustless Pizza Cups.
Y'all, it's ridiculously easy.  I was inspired by the numerous breakfast recipes I have seen for prosciutto cups.  They're all over Pinterest: scrambled eggs and "toppings" baked into a muffin-tin cup lined with prosciutto (sometimes bacon or ham).  The eggs and mushrooms, spinach, etc., bake while the meat turns perfectly crispy.
Yep, it works with pizza ingredients too!
The Kidlets gobbled them up — not a one was left behind!!  This is such an easy lunch-idea that it may be a weekly component of our bentos.

Crustless Pizza Cups
Grain-free and crust-free option for a kid-friendly "pizza" lunch! The amounts needed for the recipe will vary depending on how many of the Pizza Cups you make; it doesn't take much so this is a great way to use up odds and ends in your fridge!
Ingredients
Salami or Pepperoni*
Cheese (dairy-free cheeses should work too)
Marinara Sauce (anywhere from ½ teaspoon to 1 teaspoon per Pizza Cup)
Toppings of Choice:
Diced Peppers
Diced Mushrooms
Chopped Black Olives
Pineapple
Ham, etc.
Instructions
Preheat your oven to 400 degrees.
Line a mini-muffin tin with one slice of salami or pepperoni per muffin cup. You may have to press and crimp the meat to have it fit snugly into the cup.
Add your toppings, along with a small amount of marinara sauce and finishing with sprinkle of cheese or small piece of mozzarella string cheese.
Place in the oven for 7-9 minutes or until the meat is crisped.
Remove the pan from the oven to cool for a moment before removing each Pizza Cup to a paper-towel lined plate to blot any rendered fat from the meat.
Serve immediately or pack for lunch. They'll stay crisp!
Notes
*I used salami for my cups, which is a larger cut and fills the mini-muffin cup nicely. If using traditional sized pepperoni, which can be smaller than salami, you may need to overlap a couple of slices in the mini-muffin cup to ensure you have the meat along the bottom and the sides to form the cup.
More Gluten-Free Lunch Ideas
And just in case you're interested, here are a few other lunches my children have eaten the past few months (you can get details on the boxes and decorative items used here: Best Bento Supplies for Easy School Lunches):