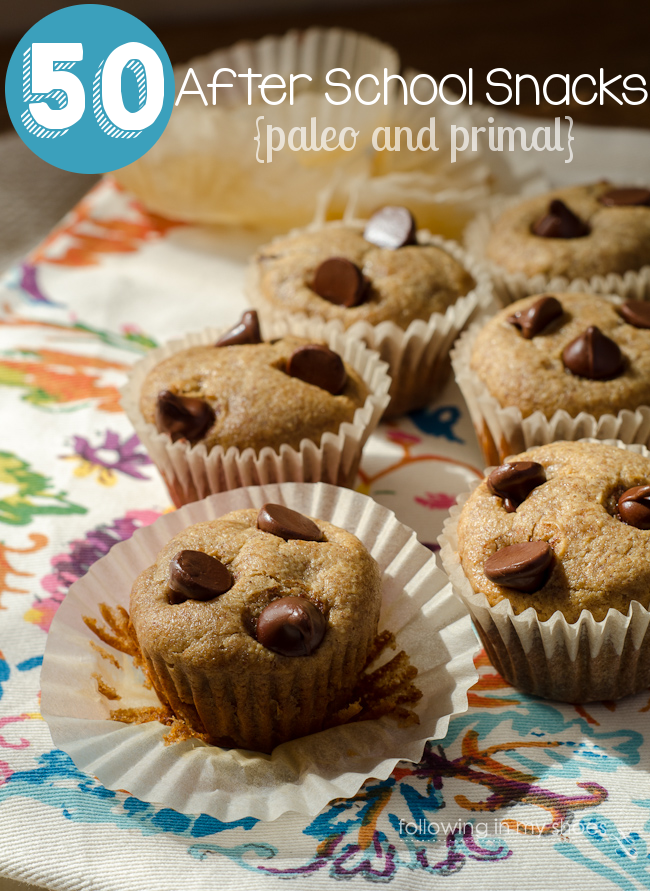 My kids seem to be hungry ALL THE TIME.  Of course, they are going full-speed all day long, but still — "I'm hungry" is a constant refrain.  While the boys and the Husband still follow a lot of a standard American diet, I rarely buy "normal" snack options because most are ones the Little Lady can't have … and ones that — if they're in the house — this Mama will eat.
(I'll admit it: I'm weak.)
So, snacks around here are nearly always grain-free and — because life is busy — nearly always items I can grab and pass out instantly like cheese-sticks or apples.  Lately, however, I've been trying to stock the pantry and freezer with healthy, brain and body strengthening, homemade snacks that will keep my busy ones fueled all day long.
Here are the first 20 of the snack ideas … our absolute favorite grain-free treats (and most are primal or paleo).  Get ready to be hungry … these are some good ones!
No Bake Grain Free Energy Bites (sub out the peanut butter with almond, cashew, or sunflower butter) 
Crustless Pizza Bites (these are soooooooo good and so fast!)
Sweet and Spicy Roasted Nuts (sub the brown sugar with coconut sugar or Golden Lankato Sweetener)
Tuna Salad and Cucumber Slices
Pepperoni Chips (similar to my Crustless Pizza Bites listed above; these give a satisfying crunch and go well with dips like marinara, salsa, artichoke dip or even queso!)
Ranch Dressing (speaking of dips, this dairy-free ranch is great!)
Simple Guacamole (perfect with fresh veggies)
Chewy Chocolate Chip Cookies (is there any more perfect than a chocolate chip cookie as an after school snack?)
Meat and Cheese or Veggie Skewers (also great for an easy lunch!)
Apple Cookies(make with almond butter to be paleo/primal)
Grain-Free Snack Packs (these are semi-homemade with a store-bought time saver!)
And, because I couldn't stop finding ideas that I want to try, I decided to share a few more Grain-free After School Snacks …. ones that even this Mommy wouldn't feel guilty about noshing on! All of these are able to be portioned and packaged into individual servings for the kids to grab as "self-service" snacks. In fact, get those Kidlets involved by helping you create the individual servings on the weekend. Store them in the fridge and/or pantry and you're good to go for the week!
Grab 'n Go Grain-Free Snacks:
21. Cheese Sticks or Cubes (precut your own and refridgerate in air-tight containers)
22. Hard-Boiled Eggs (keep a stash in the fridge)
23. Fresh Fruit (wash ahead of time and help your fruit last longer)
24. Fresh Vegetables
25. Nuts and Seeds
26. Almond Butter (or Sunbutter) and Celery
27. Almond Butter (or Sunbutter) and Apples
28. Cottage Cheese and Pineapple
29. Almonds and Cranberries
30. Greek Yogurt with Blueberries and Honey
31. Ham or Turkey rolled around Cheese
32. Soy & Nitrate Free Jerky
Make With The Kidlets Snacks:
33. Flourless Chocolate Chip Blender Muffins (this particular recipe uses oat flour, but I make it with almond flour and they are a hit every time! The photo the top of the post? These muffins … they are AMAZING!)
34. Popeye Smoothies
35. Veggies and Easy Peasy Homemade Ranch Dip
36. Apple, Cheddar, Ham Roll-Ups
37. Kale Chips
38. Cucumber Turkey and Avocado Roll
39. Cinnamon Cream Cheese Dip
40. Homemade Cherry Pie Larabars
41. Nut Butter Honey Yogurt Dip (make with almond butter to be paleo/primal)
42. DIY Yogurt Bars
43. Jicama Fruit Cups with Chile & Lime
Make Ahead Grain-Free Snacks:
44. Crockpot Applesauce 
45. Mexican Chocolate Chia Seed Pudding
46. Oven Beef Jerky
47. Real Deal chocolate Chip Cookies
48. Flourless Double Chocolate Chip Muffins
49. Grain-free Cheeze-Its
50. Chunky Monkey Paleo Trail Mix
SaveSave
SaveSave
SaveSave
SaveSave
SaveSave
SaveSaveSaveSave
SaveSave
SaveSave