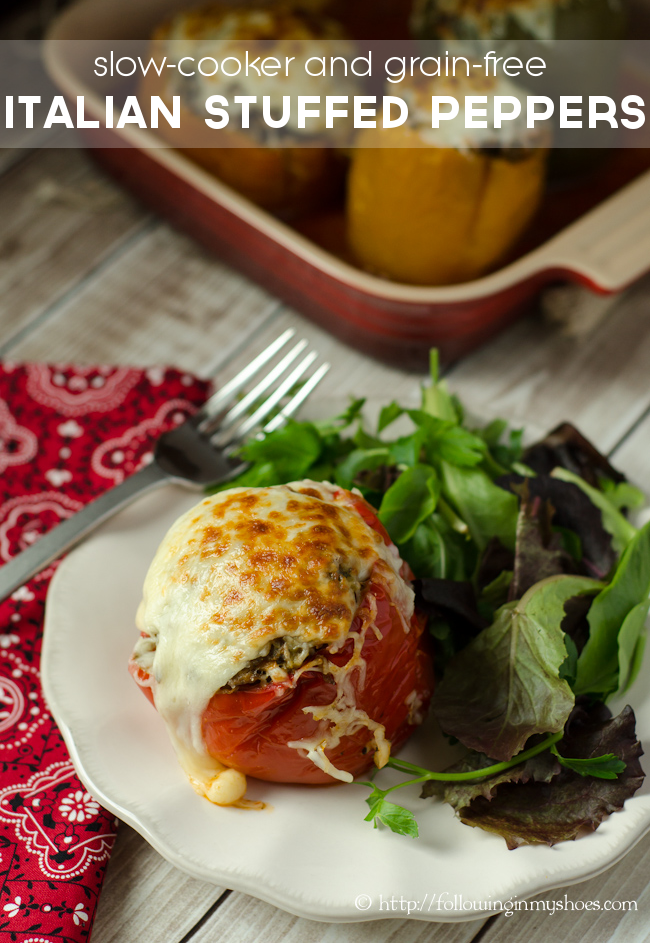 Picky Eaters.
We alllll have one. And, if you don't, just keep that information to yourself, thankyouverymuch.
Mr. Boy is the pickiest of picky eaters, as I've shared time and time and time again.  He is notorious in our household for crying if the word "Dinner" is  mentioned.  He adores breakfast, loves lunch but despises Dinner because it represents everything he hates.
Which, mainly, means all food that doesn't fall under the breakfast or lunch categories.
He's a chicken nugget and macaroni-n-cheese kind of guy.  A pizza (a long as there's nary a vegetable in sight) kind of guy.  Bring him hot dogs and cornbread and cheese.
But, don't you DARE, serve him vegetables (not even mashed potatoes) or practically any kind of meat (he'll willingly eat fried catfish and my Slow-Cooker Wings but that's about it).  It was only this past spring that Mr. Boy realized hamburgers weren't evil.
HAMBURGERS!  EVERYONE LOVES HAMBURGERS!
The boy is just a mess.
For the past few weeks, I've been working on these Slow-Cooker Paleo Italian Stuffed Peppers (I know — the pics show cheese, which really means they are Primal but since you don't HAVE to put cheese on, they are really paleo.  Happy and confused?  Me too … let's move on).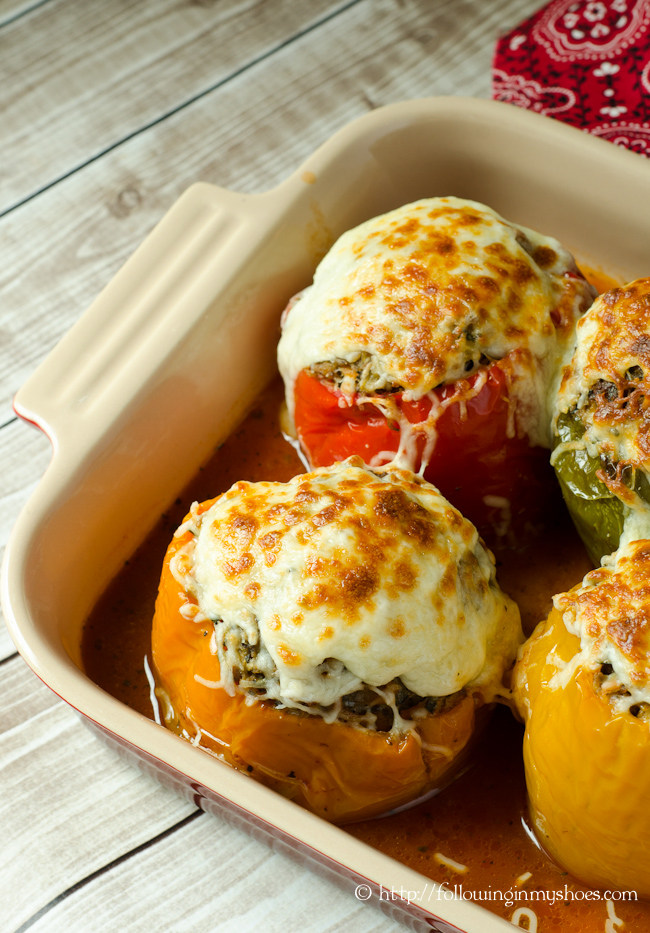 The first time I served them, the boy REFUSED to the point of crying to even pick up his fork.  I knew they had all of his favorite pizza flavors in them, but Mr. Stubborn wouldn't budge.  And, instead of fighting, bribing or cajoling, I gave in and made him a separate meal (something I NEVER do… sigh).
This past Friday — on our normal "Pizza Night" — I made the peppers again, tweaking a few ingredients and THIS time, presenting them to the Kidlets as "Pizza Peppers."
The Little Lady and Barney Kneeknuckles dove right in, smacking their lips in appreciation with each bite.
Mr. Boy eyed his plate dubiously and then started trying to squeeze out tears, lamenting (once again) that he hated dinner.
This time, I told him I wouldn't fix anything else — that he had to try it.  Oh, the groans and whines!!!  But, I held strong — firm in my resolve to not. give. in.
He timidly put a bite of the filling in his mouth.  Chewed carefully and thoughtfully.
Then, Mr. Boy pushed back his chair, tip-toed over to me and whispered in my ear: "Don't tell anyone but I really, really, really like it.".
VICTORY, MY PEOPLE!  V-I-C-T-O-R-Y!!!!!!!!!
Within minutes, he had eaten all of the filling and was asking for more (and giving his sister the actual pepper since eating that was simply too much to ask of him), and then announced, "Mommy, I want you to make this all the times!"
Y'all, I might have cried a little at that announcement.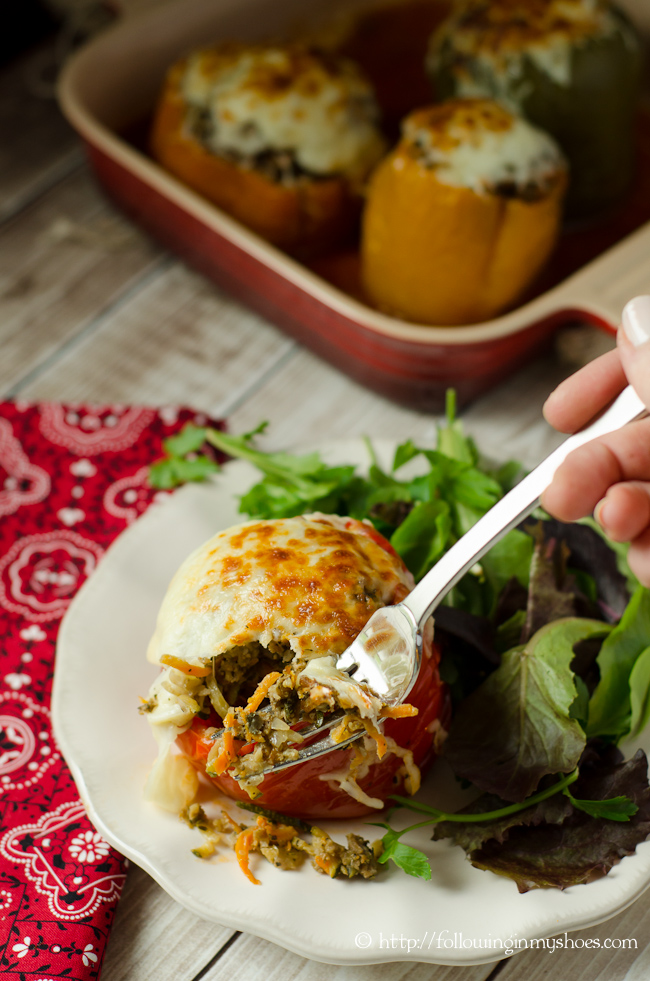 Cook's Notes for Paleo Italian Stuffed Peppers:
Instead of relying on rice as a filler in these stuffed peppers, I used a combination of shredded carrots, onions and zucchini.  The veggies keep the filling fluffy instead of cooking into a hockey-puck like ground beef always does when you try to slow-cook it.  Plus, they are a great way to add flavor and get more nutritious foods into your picky eater!
Make sure you don't skip the step of squeezing the excess water out of the vegetables and onions; it's an odd step, I know, but since the method of slow-cooking pulls out water from everything, this will ensure your peppers don't end up soaking in 4 inches of water and completely collapsing by the time you're ready to eat.  Even with squeezing moisture out, they'll still have plenty left and nothing will dry out.  Promise.
The cook time will vary with these by slow-cooker.  I have found that I prefer them after cooking 3.5-4 hours; by that time (in my 6-qt crockpot), the filling has reached an internal temp of 155 degrees but peppers still have some bite and firmness to them.  If you cook up to 6 hours, you'll definitely hit the USDA recommended internal temperature of 160 but the peppers become incredibly soft by that point.  My husband loved the soft peppers but I prefer some texture!
For the cooking sauce, definitely use tomato paste and not tomato sauce.  Again, it's a water issue — as things cook, water will be released, thinning out the thick paste and leaving you with a perfect red ragu.  But, if you use the tomato sauce, you end up with thin, flavored, red water at the bottom of your crock-pot.  Trust me!
As I mentioned previously, the cheese is optional.  If you are strict paleo, leave it off.  But, c'mon … CHEESE!  It just makes everything better.

Slow-Cooker Paleo Italian Stuffed Peppers
With all the flavors of a hearty, meaty Pizza, these Slow Cooker Italian Stuffed Peppers are a definite kid-pleasing recipe!
Ingredients
1 pound of Ground Beef (turkey or chicken is also fine)
¾ cup of diced Prosciutto (or thick bacon)
1 cup shredded (or finely minced) White Onion
2 minced cloves of Garlic
2 medium Carrots, shredded
2 medium Zucchini, shredded
1 teaspoon Cracked Black Pepper
1 teaspoon Salt
1 tablespoon Dried Basil
1 teaspoon Dried Parsley
1 teaspoon Ground Oregano
4 large Bell Peppers
Mozzarella Cheese, shredded or whole (optional)
For The Sauce
1 can of Tomato Paste
¼-1/2 teaspoon Cracked Black Pepper
½ teaspoon Salt
1 teaspoon Dried Basil
1 teaspoon Ground Oregano
Instructions
Using a grater or food processor*, shred the carrots and zucchini. Mince or shred the white onion.
Place the vegetables and onion in a clean cheesecloth or thin kitchen towel and squeeze/wring them to remove as much water as possible.
Add the ingredients to a large mixing bowl and then add the ground beef and prosciutto, mixing well with either clean hands or a sturdy spatula/wooden spoon.
Add the spices and mix till incorporated. Set aside.
Put the sauce ingredients into the bottom of the slow-cooker and stir to combine.
Prep the peppers by removing the stems and seeds (to retain the size of your peppers, cut very little of the flesh when removing the stems).
Begin stuffing the peppers with the meat mixture, pressing the meat down with a spoon or spatula to pack it tightly. If you have meat leftover, you can mound it up on the tops of each stuffed pepper.
Place the stuffed peppers carefully into the center of the slow-cooker, avoiding the sides (if in direct contact with the sides, the peppers will burn).
Seal the slow-cooker and cook on low for 3-4 hours or until the internal temperature of the filling reaches 155-160 degrees.
Remove from the slow-cooker into an oven-safe baking dish. Put mozzarella on the top of each pepper (the amount is up to you!).
Place the pan of peppers under your oven broiler for 2-3 minutes, or until the cheese is melted and golden-brown.
Remove and serve with the tomato ragu from the bottom of the slow-cooker.
Notes
A food processor with shredding attachment will make quick work of the vegetables and onions!