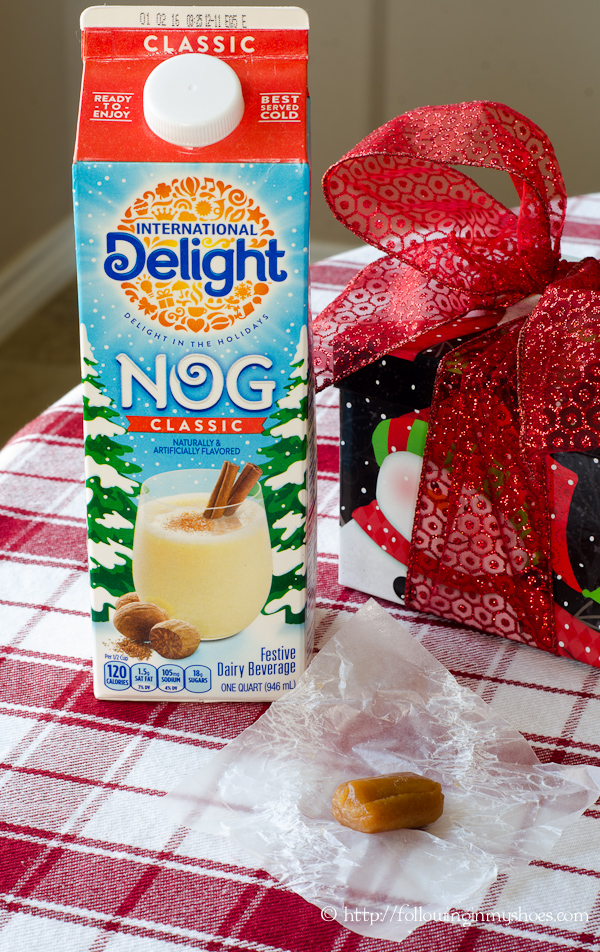 'Tis the season for holiday baking and candy making. To be honest, I feel like a slacker in this department.  My mother turns into a machine each December, cranking out Jam-Filled Cookies and perfect Divinity and brown-sugar laden Noel Bars.  And that's just what she makes on the first day … the woman doesn't stop until midnight on Christmas Eve!
In my kitchen, I'm generally a one-trick pony — choosing one cookie or treat and then making multiple batches to share as gifts.  Until this year, when the Kidlets and I made all kinds of sugary confections for Teachers and Principals and School Nurses.  Popcorn, truffles and pretzel treats were bundled and sent to three different schools.
Then, because I was on a "Giving Homemade Treats" roll, I decided to treat our sweet Mail Lady — and myself — with caramels: Egg-Nog Caramels.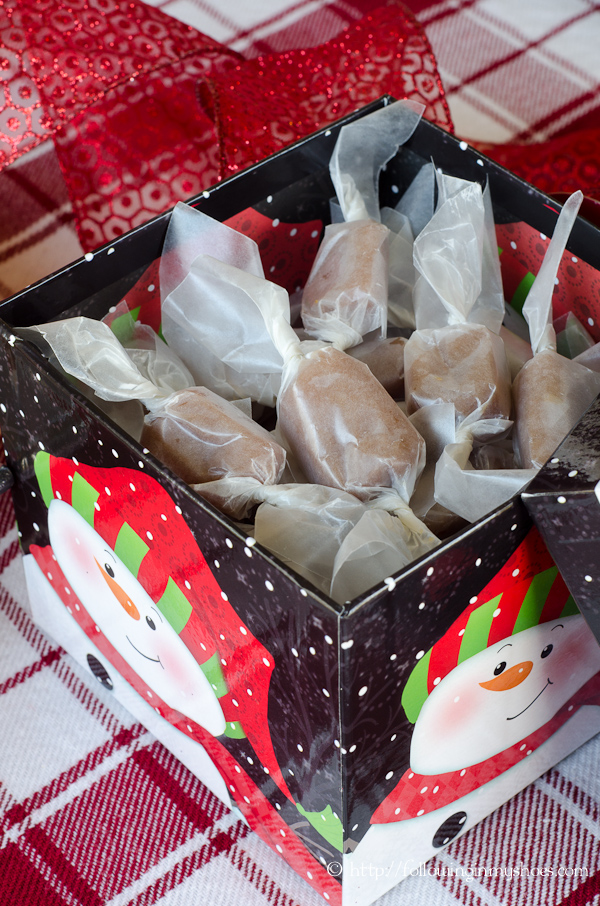 Now, if you haven't every tried making anything of the caramel persuasion, let me tell ya that it is EASY.  Caramel sauce has always been one of my favorite things to make for bread puddings and as a simple way to dress up grilled peaches and ice cream. Caramel as a sauce is practically fool-proof, as is (I discovered) Caramel Candies.
Egg-Nog isn't a normal addition to my caramel recipes but it's Christmas and very few things scream "Merry Christmas" more than Egg-Nog. (Can I get an "Amen"?)  So instead of the traditional ingredient of heavy cream, I opted for the nutmeg-rich flavor of Egg-nog.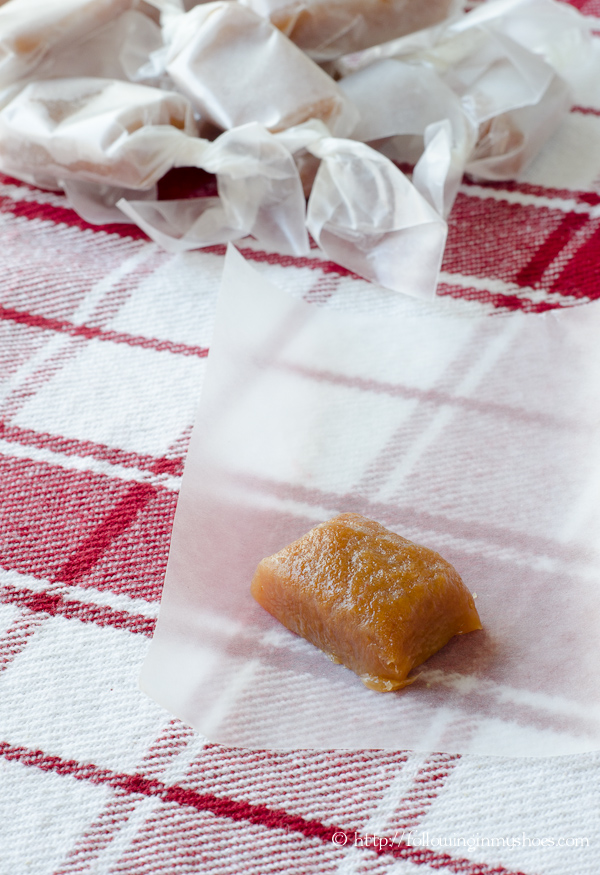 Now, if I was a superwoman like my Mama, I'm sure I would simply pull an egg-nog recipe out of my back pocket and whip that up for these caramels.  Ahem … I am NOT a superwoman.  Unless, that is, a superwoman can also drive herself to HEB and grab a carton of International Delight Holiday Nog off the shelves and just use that instead.
If that qualifies, then I'm totally a superwoman.  Boom.
International Delight releases their Nogs (they also have a Vanilla Nog) every holiday season; this year, a new product on the shelves: Hot Chocolate (both milk and dark).  My grocery store was completely out of the Hot Chocolate — both the milk chocolate AND the dark chocolate.  Sounds like the majority of College Station, Texas had chosen the International Delight Hot Chocolate as the perfect, easiest way to fill a thermos before heading to look at twinkling Christmas lights.  And I was left without.  Sigh …
But, the Nog was there — just waiting for me to pluck it off the refrigerated shelf.
I obliged and came home to create my new favorite Christmas Candy — Egg-Nog Caramels.  Soft. Chewy. Rich. Noggy.  Yes, that's totally a word.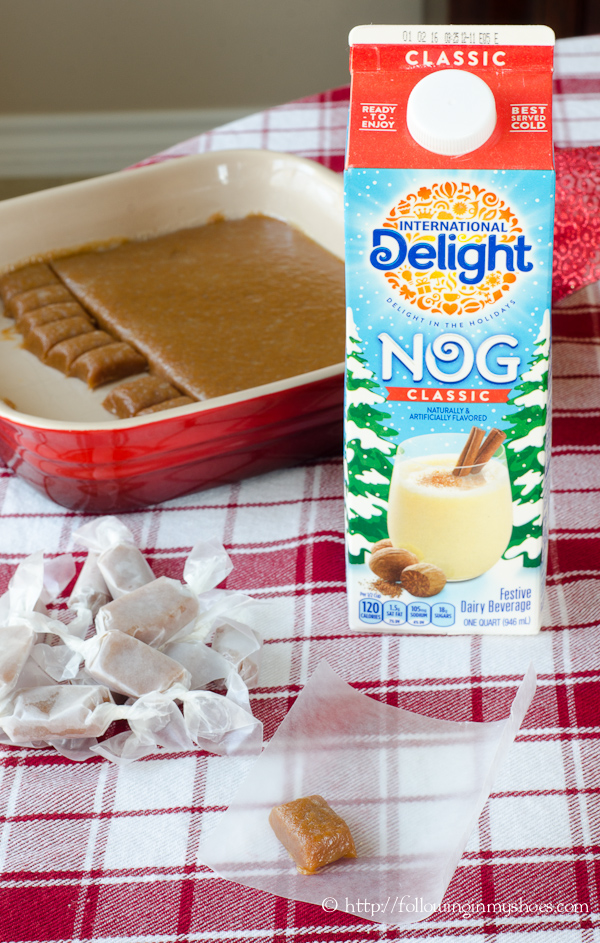 Traditionally, caramels are made with corn syrup — an invert sugar that helps keep the granulated cane sugar from recrystallizing after the caramel has cooled. I didn't have corn syrup ("Karo") on hand and decided to use a local honey. Because the invert sugar wasn't there to keep the sugar in check, you'll notice that my caramels look a little grainier than usual; I can assure you (from the multiple quality control checks I made whilst wrapping the caramels) that it doesn't take away from the texture or experience of eating these candies.
To individually wrap the candy, I cut 4-inch squares of wax paper (I wasn't terribly precise in the measurements — more of an eye-ball measurement) and then, starting at one of the corners, placed the caramel on the wax paper and began rolling it up diagonally, gently twisting the ends to seal the package.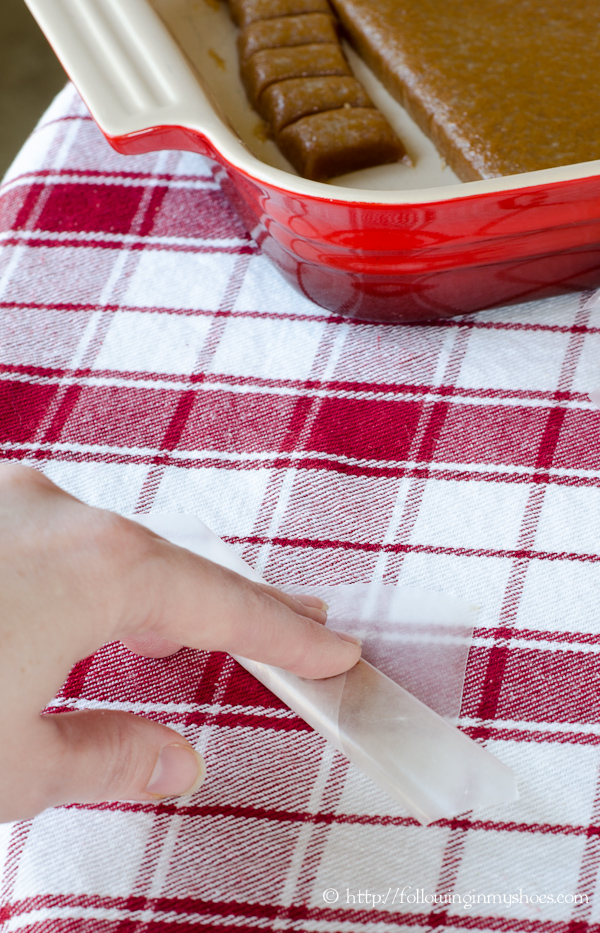 Egg-Nog Caramels
Surprise friends and family with the perfect holiday twist to the traditional caramel. (adapted from Mark Bittman's Caramels from
How To Cook Everything
)
Ingredients
4 tablespoons salted Butter (plus a little extra to grease your pan)
1.5 cups Egg-Nog
2 cups Cane Sugar
½ cup Honey*
Instructions
Use the extra butter to grease a 9-inch square baking pan.
In a heavy-bottomed sauce pan, combine all ingredients. Clip a candy thermometer** to the pan and turn the heat to medium-low. Stir constantly, cooking until the sugar dissolves.
Continue to cook, allowing the mixture to reach a soft boil (you may have to adjust the heat temps periodically to maintain a low/soft boil). Stir occasionally until the mixture temp reaches 245 degrees and the caramel is dark golden brown in color.
Remove from heat and pour into the prepared pan.
When the mixture has cooled down to room temperature, use a sharp knife to cut the caramel into small squares.
Wrap each square in waxed paper or plastic wrap.
These keep for weeks, but are best eaten fresh.
Notes
*Honey will impact the overall flavor of your caramel, depending on how strongly flavored your honey is. If you want more of the Egg-Nog flavor to come through, you can either use a very light, wildflower honey or use Corn Syrup (like Karo) instead of honey. (Corn Syrup will also result in a smoother caramel)
** A candy thermometer is the most accurate way to evaluate the temperatures but if you don't have one, you can test the candy by dropping a small piece of the caramel mixture into a glass of cold water. If it has reached the desired temp (245-250 degrees Fahrenheit), the mixture will come together in the water and you'll be able to shape a soft ball of caramel. If you pull it too soon, the candy just dissolves into small particles in the water; pull it too late, and not only do you risk burning the caramel, but you'll have glass-hard candy.
This is a sponsored conversation written by me on behalf of International Delight. The opinions and text are all mine.