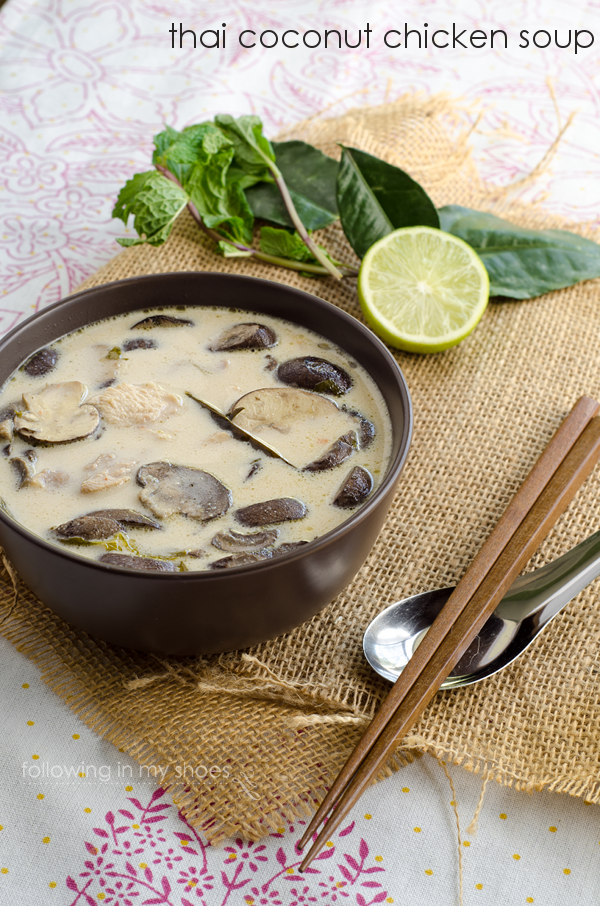 I've been married for nearly seven years . . . and for the duration of that time, I've had one quest: learn to make Thom Kha Gai.
Thom k-what, you say?
Thom Kha Gai — a Thai coconut-chicken soup.
Or, to those of us who love Thai food, heaven in a bowl.
I've tried recipe after recipe, even one from a ginormous, 671 page Thai Food cookbook I purchased in hopes of learning to cook my favorite soup.  Sadly, the majority of the ingredients in the "official" recipe were ones I could not find.
Then, I stumbled across a crock-pot version by Stephanie from a Year of Slowcooking.  Now this was something I hadn't thought about — using a crock-pot to slowly bring out the complex flavor of Thom Kha Gai.
I made her recipe, following it carefully (minus the tomatoes, since I've never seen them in this soup . . .even the versions made by our friends from Thailand).  I held my breath before I took my first bite, hoping I'd finally found the perfect recipe.
It was close, but it didn't have the authentic flavor I wanted.  It was missing that perfect balance of sweet, sour, and heat.
So, I tried again, this time tweaking her recipe a bit to add the traditional ingredients her version didn't use.  Well, not all the ingredients, since many of the "traditional" ingredients aren't easy to come by.  But, I used what I could find, resulting in a PERFECT Thom Kha Gai soup.
Trust me.  It's perfect.
(And, this isn't just me saying this; my husband lived in Thailand for nearly a year and has proclaimed my version as the "THIS is IT" soup.)
[print_this]
Recipe: Thom Kha Gai – Thai Coconut Chicken Soup
Summary: Our family's favorite Thai soup – the perfect, restaurant-quality recipe.
Ingredients
4 cup of Chicken or Vegetable Broth
Zest of 1 Lime Juice of 3 Limes
3 TB Fish Sauce
1 tsp of Turbinado Sugar or Palm Sugar*
2 inches of fresh Ginger Root, grated
2 Cans Coconut Milk
1/2 tsp – 2 tsp of Sam Bal Chili Paste**
10-16 oz of fresh Mushrooms, roughly chopped***
4-5 Chicken Tenders, cooked and diced
4-6 Kaffir Lime Leaves, washed and julienned
1 TB Thai Basil Leaves, washed and loosely chopped (optional)
Instructions
In a 6 quart crock-pot, pour in the broth and the lime juice.
Add the lime zest — personally, I have found the easiest and most flavorful way of adding the zest is to use a vegetable peeler, rather than a grater, to remove the zest from the lime. Trust me.
Stir in the Turbinado/Palm sugar and the fish sauce; if this is your first time using fish sauce, YES – it is supposed to smell like that. Make sure to keep the bottle away from your one year old unless you want your entire kitchen reeking of that smell. Again, trust me.
Add the grated ginger and the coconut milk, stirring to incorporate everything.
Add the Chili paste, one 1/2 tsp at a time. The Chili paste is VERY spicy, so start conservatively when adding it to your soup. More can be added throughout the cooking process if you feel it needs more heat. In our home, we like the soup with about 1 and 1/2 tsp of the paste.
Add the cooked chicken, mushrooms, julienned Kaffir Lime leaves and the chopped Thai Basil.
Cover and cook; depending on how your crock-pot performs, let the soup simmer for 3-6 hours on "Low" or 1-3 hours on "High."  (Note – I've found the longer it cooks on a lower temp, the better release and balance of flavor you'll discover in the soup.)
When ready, spoon it into your biggest soup bowl ('cause you're gonna want to eat LOTS of this) and, if desired, serve with Jasmine Rice.
Quick Notes
* The official recipe in my Thai Cookbook calls for Palm Sugar, a coarse, molasses colored sugar I've not ever been able to find until very recently. I substituted Turbinado and found the soup flavor ended up being EXACTLY like the soup version from our favorite, authentic Thai restaurants. I've tried using refined sugar and the flavor profile is just not the same.
** You can find Sam Bal in the Asian section of your grocery store.
*** You can use any Mushroom type, but I prefer the flavor/texture of Portobellas and Shitakis. They both hold up well to the long cooking time.
[/print_this]