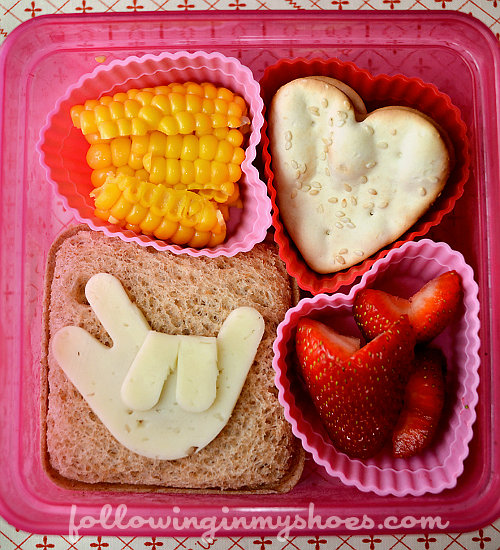 Our Life Group is studying the 5 Love Languages as a way to help one another better understand our spouses and strengthen our marriages.
As I have spent time understanding the basic ways we receive and communicate love, I've realized when it comes to my kidlets' Love Languages, the Little Lady's are …
Gifts (which is why she is always making something for somebody)
Words of Affirmation ("Did you like what I did?"  "Did I do a good job," and "Are your proud of me?" are common questions from my girl)
Acts of Service (she adores having things done for her — "I really "piss-ciate" that, Mommy."  Yeah — still working on enunciation over here).
It's this combination of love languages — the ways I can show and tell my daughter I love her — that makes her bento lunches such a big deal to the Little Lady.
She LOVES having a special lunch made for her; to her I am both taking care of a need (serving her) and I am giving her a treat or a gift through the fun, pretty and healthy lunch.
But this bento is her favorite and is nearly a weekly feature.  If I ask the Little Lady what she wants in her bento box, without hesitation she answers:
"I Love You Lunch."
Hearts galore and a cheese cut-out depicting the sign for "Love you."  During the busy preschool day, it's a brief moment for her to remember Mommy loves her.
It makes her feel special.
And I love it.
Bento Contents:
Roasted Corn (cut off the cob)
Sesame Flour Heart Crackers (I found these around Valentine's Day and stocked up!)
Fresh Strawberry Hearts (so simple — just cut the tops off and slice)
PB and J Pocket Sandwich (Whole Wheat Bread, freshly ground peanut butter (I'm lucky to be able to do this in my store.  There is a machine where you can grind dry roasted or honey roasted nuts into fresh (preservative and additive free) nut butter.), and sugar free and preservative free grape jelly.)
Havarti Cheese "Love You" Cut-out
To make the cheese cut-out:
I have a hand-shaped cookie cutter, which I believe was purchased at either Michael's or Hobby Lobby.
Press the cookie cutter into a thick slice of cheese (for bento shapes, I generally have my deli cheese cut on a three).
Remove the cheese hand from the cutter.
Carefully fold down the middle and ring "fingers" of the cheese.  The cheese will most likely break at the base where the fingers connect to the hand.
Let the two cheese fingers lay on the palm of the hand to make the "Love You" sign.
To secure the cheese to the top of the sandwich, dot or spread a little peanut butter (or cream cheese) on the back of the cheese.  This will act as a "glue" and keep the cheese safe and secure!
Have you thought about your child's Love Languages and how you can speak directly to their way of understanding love?