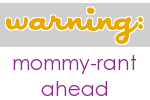 I have Tweeted and Facebooked my wrath before but I can't remember blogging about it.
But…
I HATE CLEANING UP THE PLAYROOM!!!!
Hate. Loathe. Despise.
There isn't a word strong enough to express how irritated I am as I work on our "formal dining room" turned playroom. Naked baby dolls. Solitary Barbie shoes missing their mates. Tiny Matchbox cars. Stupid legos and duplos that masquerade as land mines on our hardwood floor.
Everyday the Husband and I fight the chaos of the playroom, cajoling the Kidlets into helping.
( They pretty much ignore us… Even Baby Barney knows to to turn a deaf ear and a blind eye when Clean-up Time begins.
Periodically, I go on a binge, attempting to establish a permanent organization system that provides a place for everything and keeps everything in its place. But in four years, I have yet to come up with something that works for the toys, the books, the kids, and me.
So, I am turning to you. The Moms of the Internet.
How do you organize your playroom?
Do picture labels really work?
Clear bins or color coded?
Maids or elves?
Help — Please share your tips, posts, and real-world ideas!

p.s. I deliberately did NOT include a picture of the disastrous playroom because … well … I gave up today. It's still a disaster and I am NOT showing the world. I'll talk about it here, on Facbook, in forums … but I won't show it!
Disclaimer: this is the part where I let you know I work for the Blog Frog Coffee Talk community, chit-chatting with everyone. Yup, I was hired to talk.