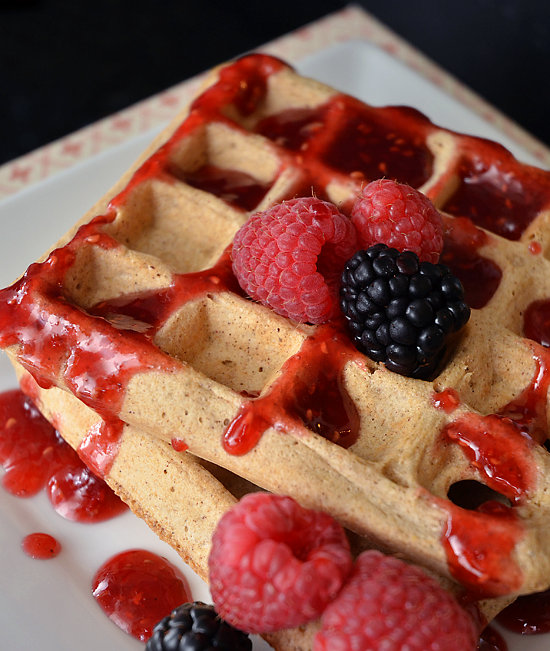 Once upon a time, I had two fuss-free eaters.  Kidlets who joyfully gobbled every morsel set before them — vegetables in every color of the rainbow, every type of whole grain pasta and noodle, and scores of exotic dishes inspired by both local and faraway regions alike.
Life. Was. Good.
Then, one hateful day, Mr. Boy turned two. . . and promptly decided HE was not going to eat quietly.  HE was not going to let anyone else choose what went down his gullet.  HE was the master of his stomach.
In what seemed the fastest personality change in the history of mankind, my easy-going little boy became the pickiest of picky children.
(sigh)
While some of his picky desires and dislikes are set in stone — he will forever adore apples and hate tomatoes — most of the time, his Good and Bad lists fluctuate as quickly as a toddler can yell, "NO!"
I like Butter.
I don't like Butter!
I like chicken!
I don't like chicken!
I like potatoes.
I don't like potatoes!
The boy is impossible.
But there is one food he and his sister (who has the most accepting palate ever) agree on and love each time it is placed before them — waffles.
Several times a month, I concede defeat and fix their favorite breakfast food, knowing I'll have an easy meal with out a fight.
This whole grain waffle recipe evolved one night when (1) I wanted to try making whole grain waffles, (2) I only had one egg on hand, and (3) I wanted to do something "red" in honor of Valentine's day.
Grabbing white whole wheat flour (an easy introductory whole grain for those who want the benefit of whole wheat without the intense, heaviness of it) and oatmeal flour, I started playing with the batter, hoping to having something edible.
(Hey, sometimes experiments in the kitchen don't end well.  I'll spare you the horrific details of my attempt, during my first year of marriage,  to make tofu gyros.  Just know, it wasn't pretty.)
The result of my efforts paid off with a waffle sporting a a crispy crust and a soft, light interior…. the perfect waffle in my book … able to stand up to butter, maple syrup … or my new favorite topping: raspberry syrup.
For my Valentine Red topping, I decided to cheat.  That's right, I cheated.
Typically, to make a fruit simple syrup, you use a cup or so of fruit, sugar and water, bringing it all to a boil over your stove top.  To save time during a busy night, I used organic raspberry preserves and water.
That was it. . . and it was yummy.  I pretty much could have eaten all of it for dinner.  And I would have — except the waffles were yummy too.
And then, there was the whole "must set a good example for the kidlets" issue.
Oh, and for the record?  Mr. Boy ate two waffles (dressed in a little of the raspberry syrup) … and then asked for a third.
Mama likes when her kids ask to eat what she makes for dinner.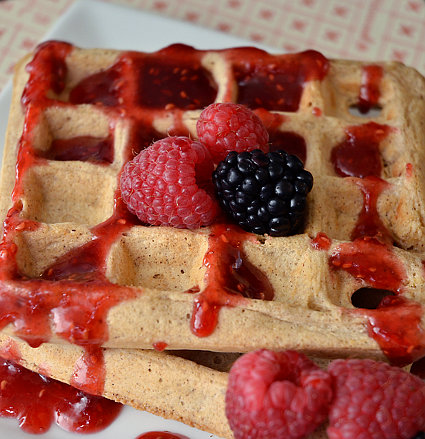 Linked with Mouth-Watering Mondays at A Southern Fairytale and Whole Wheat Round-Up at Eat At Home.