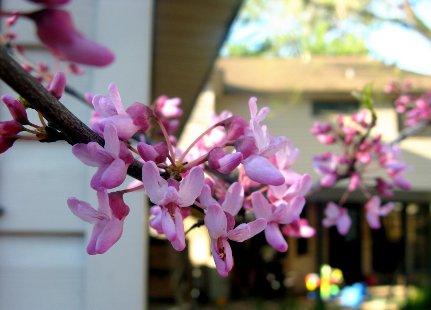 This week, I noticed something in the back yard: my Redbud tree is starting to show the faintest purple-red blooms on its gray branches.
Y'ALL!
Any good Oklahoma-turned-Texas girl knows that what this means …. SPRING is around the corner.
And Spring means gardening, new seasonal vegetables and opportunities to send the kidlets OUTSIDE and out of my hair.
(but, you know, I'm mainly thinking of them and not my sanity.  I'm sure they could use the Vitamin D and I will be making SURE they get it once the rain Houston has been getting lets up.  Yes, I'm totally thinking of the kidlets.  Always.)
Last year, around February-March, we started working on our raised garden beds.  We worked on them — so hard — and had an early, beautiful promise of tomatoes, cucumbers, okra and bell peppers.
Then, came the plagues: drought, heat and moles.  (CURSE YOU, MOLES!)  It was a perfect anti-gardening trifecta and it wasn't long before only the bell pepper plant stood alone. The sole survivor.
(I've since learned it wasn't because of my gardening prowess. It seems you can't kill those things)
It finally produced a fully-grown, edible fruit last month — all the others were picked apart by birds before I could pick them. Yeah, gardening didn't go so well for me last year.
But, I carry on with my gardening dreams.  I saw my raised bed this morning – COMPLETELY overrun with every type of weed — and nearly started drooling at the thought of tender asparagus, basil, sweet cherry tomatoes.  Every memory of those evil, evil birds and moles vanished.
All I could think about was tasting my veggies … perhaps THIS will be the year we see success.
So … yeah, if you know any tried and true "mole eradication" tips … could you send 'em my way?  Seriously, y'all, Mama needs her veggies!
In the meantime, if you are craving the taste of spring, try my Shaved Asparagus and Portobello Mushroom Pizza.  With the tender, green asparagus and rich, earthy mushrooms — it's literally like you're eating all the promises that come with Spring.
Yes, literally.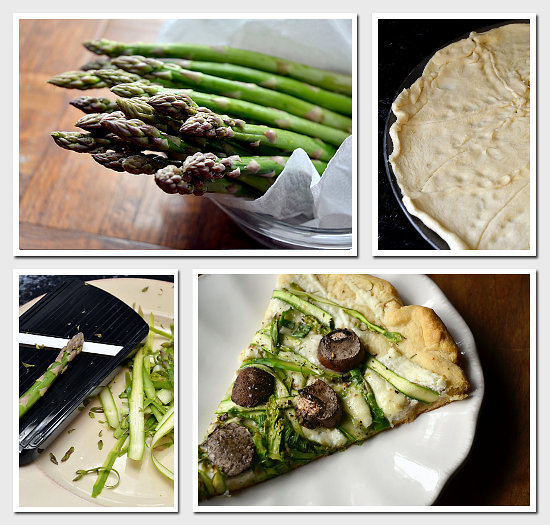 Get Your Vote On
Vote for my Creative Crescent Recipe and you'll be entered to win a $1,000 grocery gift card!
Find more quick and easy Pillsbury recipes at www.CreativeCrescents.com.
This is a sponsored conversation written by me on behalf of Pillsbury. The opinions and text are all mine. Official Contest Rules.