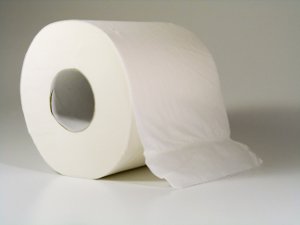 Happy, happy, joy, joy — we're smack dab in the middle of potty training here in Houston.
Mr. Boy decided he wants to be a "big boy."
I suspected he was ready a few weeks ago when, while visiting a few elderly friends at a retirement home, a diapered Mr. Boy stood in front of one octogenarian and yelled, "WATCH THIS!"
He "hunkered down," face turning crimson, and then stood back up, grinning.
"I poopie!"
Thank the LORD in heaven the sweet, white haired lady was (1) a trifle deaf and (2) had horrible short term memory problems.  She smiled her confused smile and turned to Hubby, asking what our smelly boy had said.
Hubby played dumb and I pretended to be VERY busy with Baby Barney.
About thirty seconds later, the woman had forgotten about the whole situation.
Yeah — if a child can control his bodily functions enough to perform them at will — it might be time to start potty-training said child.
Just my take on it, anyway.
When it was time to train the Little Lady, it was a three day piece of cake.  EASY.  By the end of that third day, we were 100% day-trained.
I congratulated myself on a job well done and KNEW training any future kidlets would be just as fuss-free.
I. Was. Wrong.
Boys are different when it comes to the whole potty training business and I'm learning very valuable lessons this month.
Tips to Remember When Potty-Training Boys
(1) Boys Wear Underwear … NOT "Panties."
I get in trouble every. single. day for referring to Mr. Boy's Buzz Lightyear under-roos as "panties."  Hubby is so exasperated over my misnomer — "Underwear, underwear, underwear!  BOYS WEAR UNDERWEAR!"
Sorry, Hubby — I've spent 30+ years living in a panty world.  I'm a girl.
(2)  Boys Like "Targets."
Because he is so little, Mr. Boy doesn't stand, yet, at the toilet.  He sits.  But that doesn't stop the boy-game of target practice.
On Valentine's Day, after dinner, he spent 5 minutes scooting all over the toilet, trying to "hit" a piece of chocolate that had fallen off his face and landed in the water.
FIVE MINUTES.
And since then, he continually asks, "Where da' choc-o-yut?"
Y'all…. no one told him to "aim" for the chocolate.  The child just instinctively knew target practice would be fun.
(heaven help me, but I have a bad feeling about this in future years)
(3) Boys Don't "Dab."
Another mistake I made — teaching Mr. Boy to "dab" with toilet paper when he has finished his business.
"Dab?  Dab?", Hubby incredulously asked when he heard me instructing Mr. Boy.  "Boys DON'T dab!"
Uhhhh … then … uhhhh … how do you keep clean?  Nevermind, Hubby — you teach that trick to the child.
(4) The Toilet Seat Is Not A "Seal."
Did you know that there is a gap between the toilet seat and the actual toilet bowl?  I learned that yesterday.  As did Mr. Boy.
And he was highly amused to see what happens when one doesn't make sure … ahem … things are pointed in the right and downward direction.
Highly amused.
(Mommy was not)
Sigh … I should have stocked up on Mommy's chocolate instead of focusing on character underwear and Pull-Ups.  Mama's not cut out for potty-training a man-child!
(of course,  if I did have chocolate to help me stay sane during this process, it probably would end up as a "target" … which, I don't care how much fun "aiming and firing" is, that's just a waste of chocolate!)