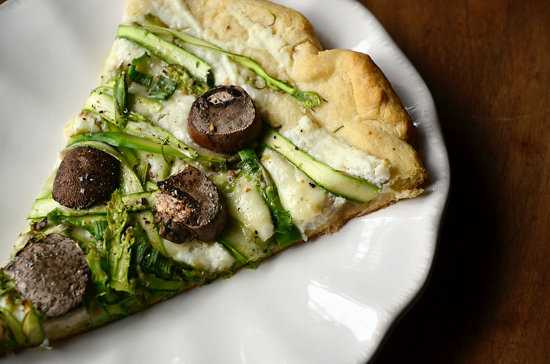 For well over a year, since hearing a friend "Ooo and Ahhh" over shaved asparagus as a pizza topping, this pizza has been a regular part of our menu plans — especially in the summertime when Hubby cranks up his grill. That's right, we typically grill this pizza…. or, Hubby does.
(I'm not the pyromaniac he is so I leave all things "grilled" to him.)
But now, it's winter, which for most folks means snow, blustery winds and chilly temps that aren't conducive for a night of grilling on the patio. So, for this version of my Shaved Asparagus and Portabello Three Cheese Pizza, I baked it right in the kitchen.
This pizza is fresh, light and full of that wonderful, grassy asparagus flavor that signals spring. The ricotta, mozzarella and tangy parmesan cheeses hold up well to the vegetables, creating the perfect creamy backdrop of flavor. And the mushrooms? Who needs meat when you have cremini mushrooms (which are just baby portobella mushrooms) dotting the green landscape?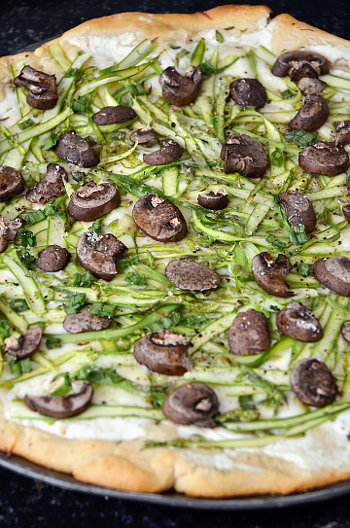 If you have a carnivore in your family — like my husband — I promise this pizza will satisfy him.
Promise.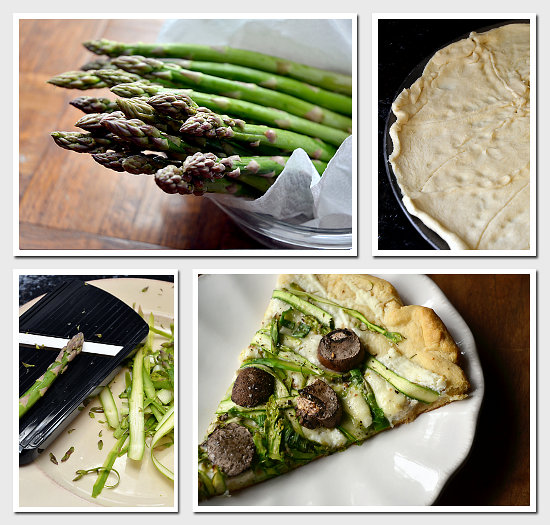 Shaved Asparagus and Portobello Three Cheese Pizza
Use your favorite homemade or premade pizza crust to bring this delicious dinner to the table!
Ingredients
4 ounce Ricotta Cheese (roughly half of an 8 ounce container)
¾ cup Shredded Mozzarella Cheese
2 tablespoons Grated Parmesan
½ bunch of Fresh Asparagus Spears, shaved*
1 and ½ cups of Sliced Mushrooms ("baby portobello" or creminis)
2 tablespoons of Chopped Green Onion Tops
2 cloves of Garlic, minced
Fresh Cracked Black Pepper
One prepared pizza crust -- homemade, canned, or precooked, "store-bought" crust
Instructions
To Bake this Pizza:
In a small bowl, mix the 4 ounces of ricotta with the 2 tablespoons of minced garlic and set aside.
Prepare your pizza dough and lay it on a pizza pan or stone. Pinch any seams together and fold over any excess around the edges to create your pizza crust.
Spread the ricotta/garlic mixture over the dough and then sprinkle the shredded mozzarella on top.
Top with the shaved asparagus, sliced mushrooms and cut onion greens.
Sprinkle Parmesan and black pepper (to taste) over the top of the pizza.
Place into a preheated 350 degree oven till the crust is golden brown and the vegetables have cooked, darkening in color (roughly 15-18 minutes).
To Grill this Pizza:
Place the raw, prepared pizza crust on your heated grill (hot enough that you can only hold your hand to it for a few seconds) and close the lid. Allow it to cook, undisturbed, for 2-3 minutes.
Check on the crust, which should have a nice color to the side directly on the grill. Remove it and flip it, placing the cooked side up.
Add your toppings, in the following order, to the cooked side: prepared ricotta/garlic mixture (see above), shredded mozzarella, shaved asparagus, sliced mushrooms and cut onion greens.
Sprinkle Parmesan and black pepper
Return the pizza to the grill, placing the uncooked side directly on the grill grate. Cover and cook 2-3 minutes until the crust has an even color and your cheeses have melted.
Using a grill spatula, remove the pizza onto a baking sheet/pan.
Serve immediately.
Notes
*To shave your asparagus, you can use a mandolin or a vegetable peeler to create long, thin slices. If using a mandolin, snap off the bottoms of the asparagus. If you use a peeler, you can leave the bottoms intact, creating a handle to hold as you peel the asparagus slices.
**When I grill this pizza, I use a normal, homemade pizza dough (half whole wheat/half all purpose flour). But, you can nearly get away with any crust with this recipe -- I've even used crescent rolls as a crust before!