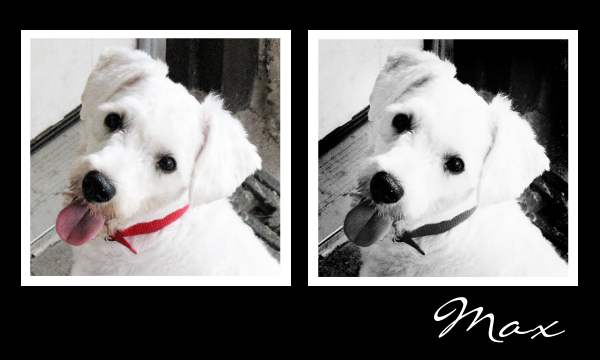 Our Story
This past weekend, after the hooplah of the birthday party was over . . . and after The Little Lady had headed off for a camping adventure with her grandparents . . . Hubby and I decided to adopt a new family pet.
(No, we have not lost our minds.)
After the death of Charlie, we knew that we wanted another pet for our animal-obsessed little girl.  The Little Lady has always, always loved "creatures," whether they by bunnies, cats, dogs, or slugs . . . or snails.
(I'm convinced this girl will end up in some type of animal or bug science.)
While we loved Charlie, we decided not to get another bunny.  Bunnies are fragile and the Little Lady wasn't able to "play" with him or hold him — even though that girl WANTED to.  She needed a more interactive pet.  Since we are dog people and not cat people (sorry, cat people), the answer as to what type of pet was clear.
We would get a dog.
Our family has raised dogs in the past and all but one was a shelter dog or a rescue dog.  Jack (a Great Dane mix) was adopted as a puppy from the Bryan/College Station Animal Shelter.  Sarabella (a Boston Terrier/Cavalier King Charles mix) was rescued from a family in Oklahoma that was going to euthanize — she came to us as a 6 week old puppy with a severe staph and worms.
Both dogs overcame their obstacles, turning into delightful family pets; we raised them through the puppy stage, spent time training them, and then found a "forever" home for them: the sweet daughter of a family friend who dresses Jack up as Scooby Doo and sings Karaoke with Sarabella.
Now it was time for us to offer a forever home.   After a few days of online research, we chose to bring home a Poodle or a Bichon Frise; thanks to having hair instead of fur, both breeds are considered hypoallergenic — a plus in our home as Hubby as problems with allergies.
We chose to adopt from Poodle Rescue of Houston — a completely privately funded, nonprofit, 501 (c) (3) organization.  Poodle Rescue of Houston takes in owner surrendered pets, strays, and abused rescues from state-shut down puppy mills.
Max, our new family member, is a Bichon Frise, 12 month old puppy.  Thanks to his current shaved style (the result of a skin condition that had to be treated when he first arrived at the rescue shelter), he looks like a Schnauzer or a Westie, but he's all Bichon.
He's been with us for three days now and he is a good dog.  Even though he was brought to the rescue shelter as a stray, Max was probably someone's pet at some point.  His tail is docked, he was heartworm negative, he is housebroken, and he knows not to jump up on furniture.  The softest, cuddliest lap dog ever, he loves to snuggle.  Sadly, whether the result of being abandoned or his nearly two months spent at the rescue shelter, he does have a bit of anxiety whenever we leave the room.  Hopefully, over time, he will learn we aren't permanently leaving him and his anxiety will subside.
Max also does well with Mr. Boy — he's very curious about him and wants to play with Mr. Boy, but he doesn't growl or snap at him and lets Mr. Boy pet him, bat at him, etc.  Of course, we still make sure they don't get too close to each other, just in case.  I can't WAIT for the Little Lady to return from her trip . . . she will be in HEAVEN!
So, why rescues and shelter dogs?
Because EVERYONE wants a cute, fluffy little ball of energy from a pet store (perpetuating puppy mills and irresponsible breeders) but VERY FEW are willing to take an "abandoned" dog or stray from a shelter.  Puppies are cute and "new," but shelter dogs are older and usually mixes or "mutts."  Most people will choose the cute "Designer Doggy in the Window" over a sad animal waiting in a shelter kennel.
Things to Consider Before Adopting a Shelter/Rescue Dog
Pro:  Shelters and Rescue organizations nearly always spay/neuter the animal and provide initial vet care (rabies/bordatella/distemper shots/heartworm testing and treatment).
Con:  The cost of those services may or may not be subsidized, which affects the cost of adopting these animals.  Example, the Montgomery County Texas Animal Shelter (funded by the state of Texas) charges $75 for fully vetted dog adoptions, while Poodle Rescue of Houston (like other privately funded rescues) charges a minimum of $250 for adoptions, which helps cover the extensive vet care for the animal.
Pro: You can adopt an older dog/adult, which means you miss out on the biting/chewing puppy stages and may end up with an already trained dog.
Con: Since the dog is older, it may be set in its ways or have learned bad habits (excessive digging, barking, etc); most of these habits can be worked through with extensive training and handling.
Pro: You can handpick which dog you want.
Con: If you have your heart set on a very specific breed, you may have to wait for that breed to arrive at a shelter or you go with a breed specific rescue group (which, again, is typically more expensive than a shelter)
Pro: If adopting from a Rescue organization, your dog is more likely to have been socialized and exercised daily.
Con: If adopting from a shelter, the pet was most likely kept in a kennel all day and may have developed a fear or distrust of humans (again, something that can usually be worked through with its new owner)
Pro: Shelters and Rescues can provide medical information on the animal.
Con: Some of that medical information may include special needs — many adoptable animals need long term medicines for diabetes, eye problems, etc.
Pro: Rescue organizations work extensively with the dogs and can generally give you pretty good emotional/behavioral information on the dog, i.e. if they are good with kids, if they are hyper, if they respond well to strangers, etc.
Con: Shelters, because they deal with hundreds of animals, do not spend as much time, one on one, with the animals, which leaves them unable to give detailed emotional/behavioral info.
Pro: (without a con) When you adopt from either a Shelter or a Rescue, you are saving a pet's life.  There are good animals to be had at both organizations — animals that will love you, defend you, and provide companionship for many year.
Shelter and Rescue Services
If you're thinking about adopting your next pet, here are some links to get you started.
Nationwide:
Petfinder (online listing of shelter/rescue pets — you can search by state/area as well as breed)

Greater Houston Area Shelters (just a few):
Citizens for Animal Protection
MCAS (Montgomery County Animal Shelter)
Galveston Island Humane Society
STAAR (South Texas Animal Rescue)
Tomball AAR (Abandoned Animal Rescue)
Breed Specific Rescue Organizations in the Greater Houston Area (just a few)
Lone Star Shih Tzu and Lhasa Apso Rescue
Spindletop Refuge (Texas Rescue group for Pit Bull Terriers and Staffordshire Terriers)
Boston Terrier Rescue of Greater Houston
Miniature Schnauzer Rescue of Houston
**For a more complete list of Houston Area Shelters and Rescues, please visit Houston Area Dog Rescues.