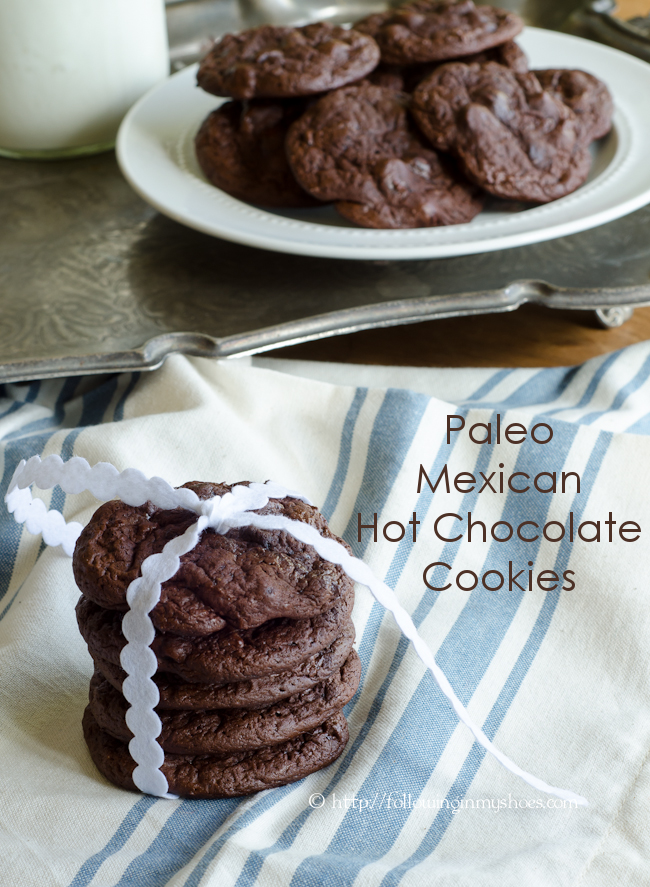 I don't think it's any secret I am obsessed with the flavor of Mexican Hot Chocolate — cayenne, cinnamon and chocolate mingling together for the ultimate chocolatey flavor explosion.
Let's see — I've made Cake-Mix Mexican Hot Chocolate Cookies (back in our wheat-eating days),  Mexican Hot Chocolate Muddy Buddies (which, according to the clamoring of the Husband's coworkers, who have been bemoaning the fact I haven't made any yet this holiday season, are the BEST THINGS EVER), and even my Double Espresso Chocolate Meringues have an option for cinnamon, hearkening back to my love affair.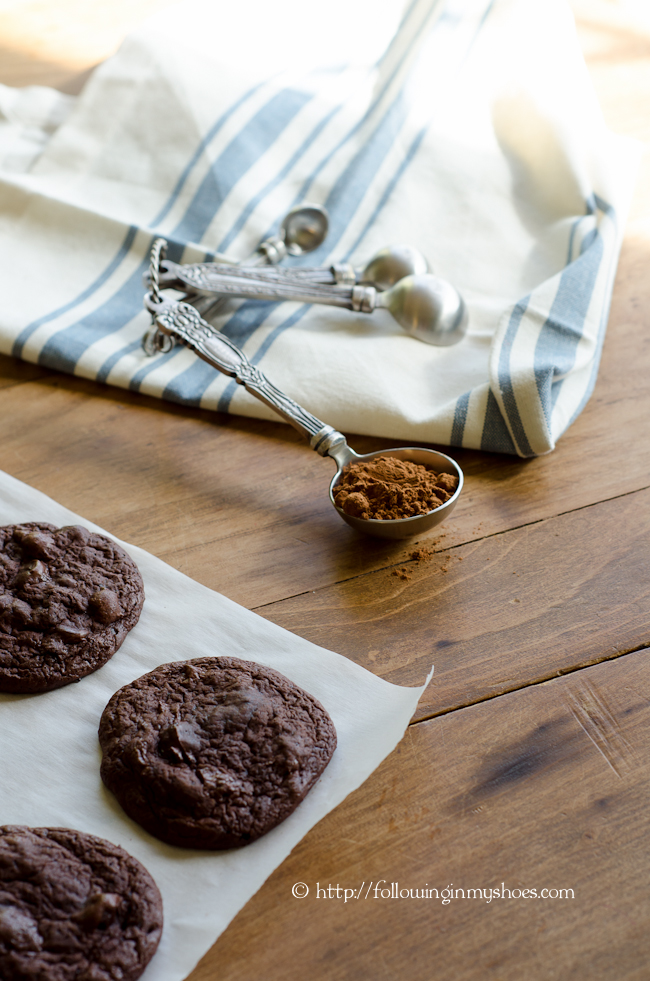 This year, for the 2014 Food Blogger Cookie Exchange*, I didn't think once that three recipes using chocolate and cinnamon were plenty.  I didn't tell myself, "Rachel – you don't NEED to create another Mexican Hot Chocolate Treat."
No, I never thought enough is enough.  There is NEVER enough Mexican Hot Chocolate in the world.
Never.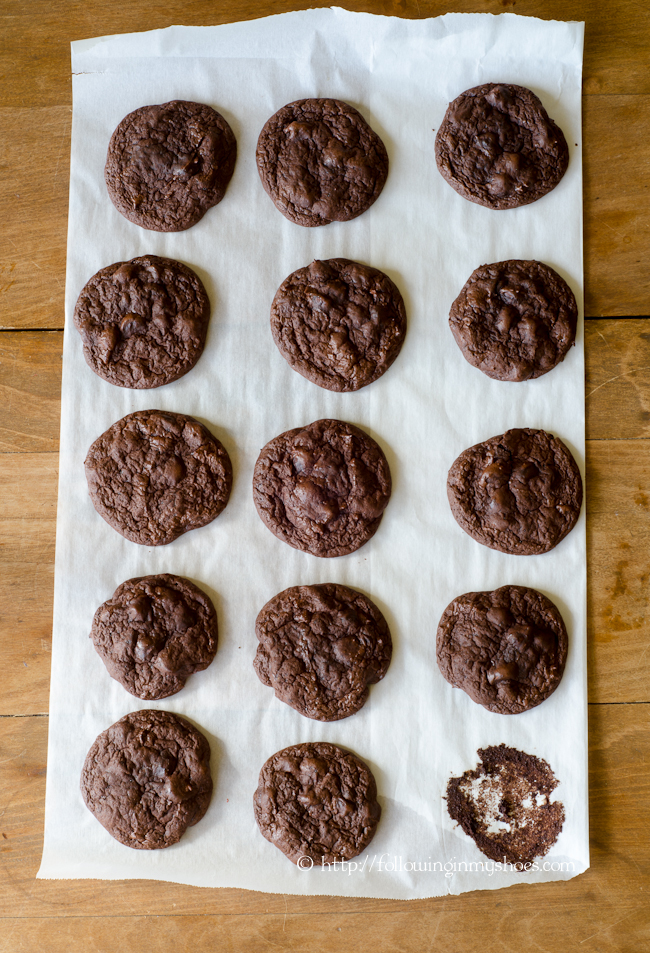 For this recipe — Paleo Mexican Hot Chocolate Brownie Cookies — I did choose to keep in line with our grain-free, paleo-esque lifestyle by staying grain-free.  Adapted from the idea of a traditional Flourless Chocolate Cookie (a la Starbucks), I experimented with unrefined sugars.  That's right — in addition to being flourless, this recipe is refined sugar free, relying on powdered coconut sugar for sweetness and structure.
BOOM.  An indulgent, brownie-like treat made with healthy ingredients.  The chewy, fudgey center and crispy edges will not disappoint.
You're welcome.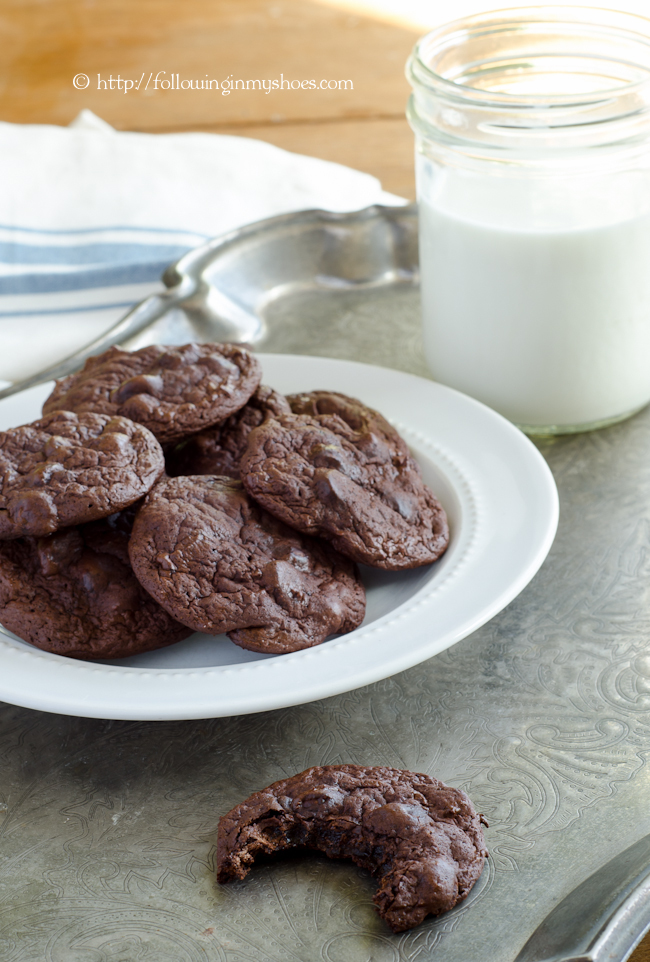 Flourless Mexican Hot Chocolate Brownie Cookies
Refined Sugar Free and Paleo Friendly
Ingredients
3 cups of Powdered Coconut Sugar*
1 cup Dutch Processed Cocoa
½ teaspoon Salt
1 tablespoon Ground Cinnamon
1 and ½ teaspoon McCormick Cocoa Chili Powder**
3 or 4 egg-whites
1 teaspoon Vanilla
1 cup Semi-Sweet Chocolate Chips (Enjoy Life Brand is paleo friendly)
Instructions
Preheat the oven to 320 degrees and put your oven's two baking racks in the bottom third and top third of your oven.
Put the powdered coconut sugar, cocoa, salt, cinnamon, and cocoa-chili powder into the bowl of a stand-mixer. Whisk till throughouly combined. (depending on the depth of your bowl and whisk attachment, you may need to scrape the sides and/or scrap the bottom with a spatula to ensure the dry ingredients are completely mixed).
Add 3 egg-whites and the one teaspoon of vanilla, whisking to combine. The batter should be in a very thick brownie-batter like state. If it is too dry, add the 4th egg white.
Fold in the semi-sweet chocolate chips.
Using a 1-tablespoon cookie scoop, scoop batter onto two parchment lined cookie sheets, leaving 1 inch in between each cookie.
Place both cookie sheets in the preheated oven and bake 8 minutes. Rotate the pans between the top and bottom racks and bake another 9-10 minutes.
Remove the pans from the oven and let cool one-two minutes. Test a cookie by attempting to remove it from the parchment; if it removes easily, the cookies have completely baked and you can move the parchment paper of cookies onto a wire rack to completely cool. IF the cookie sticks to the parchment when you attempt to remove it, return the cookie sheet to the oven and cook another 2-3 minutes.
Once completely cooled, store in an air-tight container.
Want more grain-free cookie recipes for your Holiday Cookie Exchange or to share with neighbors?  Browse through my latest collection on Foodie.com: 15 Grain-Free Holiday Cookie Recipes.
Check out 15 Grain-free Holiday Cookie Recipes

by Rachel Hamill Lacy at Foodie.com
*The Great Food Blogger Cookie Swap supports Cookies for Kids Cancer.  Every participating food-blogger donated $5 to take part in the exchange and, this year, the cookie swap raised over $12,000!  HUGE thanks to Lindsey, from Love and Olive Oil, and Julie, from The Little Kitchen, for organizing this annual event.
disclosure: I partnered with Mode Media and Foodie.com to present the recipe slideshow. The recipe and my love affair with all things spicy and chocolate were uncompensated.