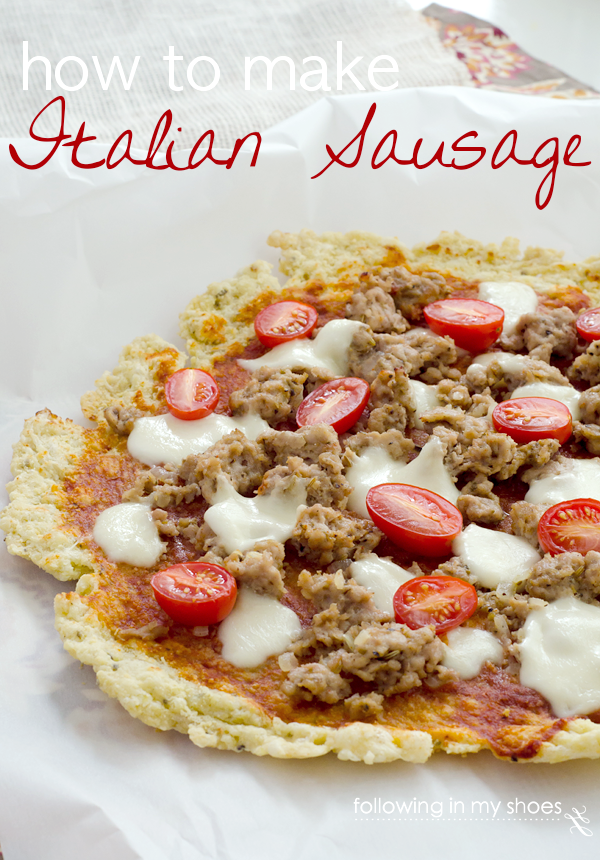 Pizza Night has been a weekly feature on our menu since I can remember.  We LOOOOOVE pizza in this house — grilled pizza, veggie pizzas, and even scary, Halloween pizzas … they're all good.
Seriously, it's like a food group for us!  A "gotta have it," "absolutely mandatory", "you won't survive without it" food group.
But things change once I committed to my sugar detox.  No grains meant no pizza.
OH, THE HORROR!!!!!!!!!!!
Providentially, Kelly showed up with a paleo pizza crust recipe that she promised would deliver a grain-free (and still yummy) way to eat my favorite weekly meal.
But what to top this crust with?  Now, THAT was the question.  While I've always been great about making things from scratch and evaluating what is in our food, I have yet to make the turn to 100% organic, grass-fed, massaged, sung-to, loved on meat.  I *wish* that I could but our budget just can't make that work.  I'm lucky that we get a side of beef every year from my family (gotta love a cattle-raising family), so I know where THAT meat comes from and how it is treated.  But chicken and pork?  When it comes to that, I get the best but cheapest I can afford.
Are ya feelin' me on that one???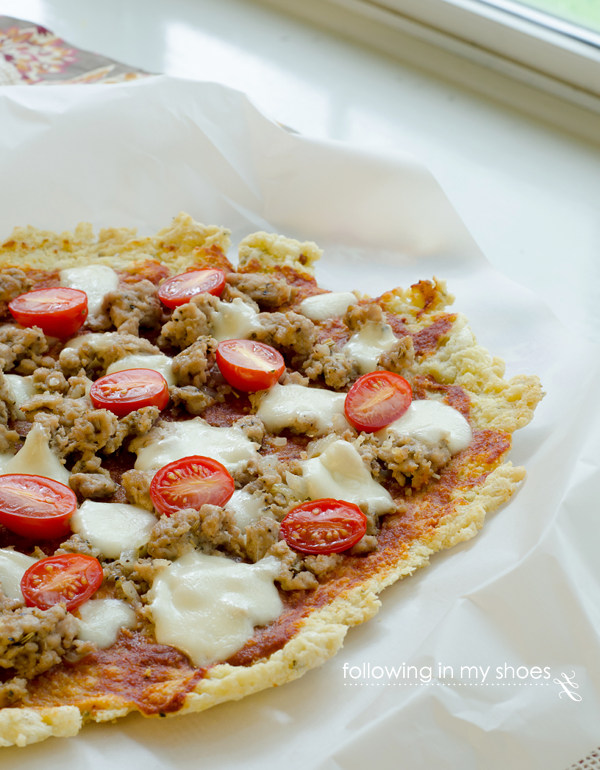 How To Make Italian Sausage
A few weeks ago, as I shopped sans children (the most glorious grocery trip experience of my LIFE), I took time to read the back of various packages of sausage.
Whoa.
There's a whole heck of a lot in sausage that I didn't realize.  MSG, BHT, Dextrose and more.  A lot more.
Ummmm — I don't want to eat that.  Not anymore.
I decided it was time to start seasoning sausage at home — just spices and aromatics …. no chemical preservatives that are banned in other parts of the world.
After bit of playing around, I now have a sausage recipe that reminds me of the sausage pizzas from our favorite pizzerias but is mild enough to be kid-friendly. And, thankfully, the question of "how to make Italian Sausage at home" has a simple answer.  Easy Peasy, as the Little Lady says.
No grinding of meat to mess up your kitchen; sure, it's be nice to start that way but I have three kidlets, yo!  No way I'm going to attempt grinding up sausage meat with them running around, pushing chairs up to watch and crying for a bite (all of that amid fights over broken crayons and books they normally never want to read).
Just pick up a pound of freshly ground pork from your butcher's case; at least in my store, that's the only way to get ground meat without anything added to it (not even water or sugar).
With that pound of meat, you're just a few spices away from the perfect Italian Sausage for your pizzas or spaghetti sauce!
How To Make Italian Sausage
Ingredients
1 pound Ground Pork
2 teaspoons Fennel Seeds
1 teaspoon Salt*
½ teaspoon Black Pepper*
1 teaspoon Ground Oregano
1 teaspoon Dry Marjoram
¼ teaspoon Cayenne Pepper
1 clove of minced Garlic
1 Shallot, finely chopped
Instructions
Open the ground pork and put the meat into a large bowl.
Using a blender or spice grinder, give a few pulses to the fennel seeds, which will give you about half ground fennel and half whole.
Add the partially ground fennel seeds and the rest of the dry spices, along with the salt and pepper to the pork.
Use a sturdy spoon to mix well.
Heat a large frying pan over medium heat. Add the seasoned pork and the minced garlic and chopped shallot.
Cook until the meat is no longer pink, stirring frequently to break up the meat.
Drain and then use as desired.
Notes
*After the meat has cooked, you may find it needs more salt or pepper, depending on your tastebuds. Feel free to adjust at that point as needed.