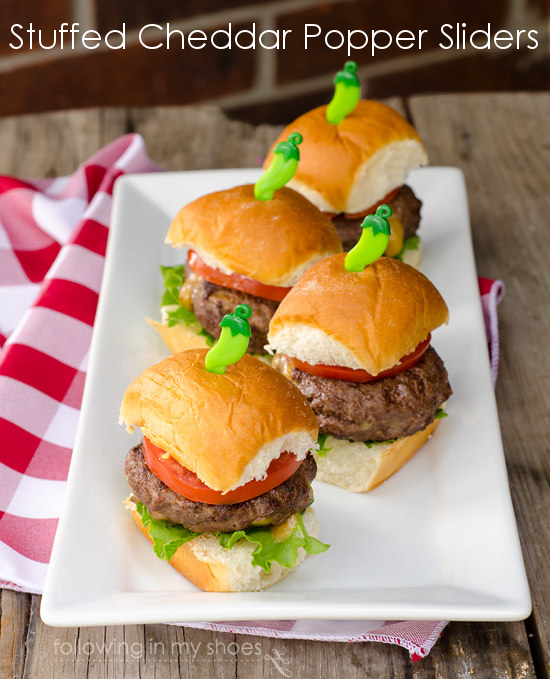 I'm not pregnant and never will be again.
(unless some miraculous moment happens … but we're not gonna go there or my husband might start hyperventilating)
But, I still get my "pregnancy cravings" from time to time.  Moments of "I MUST HAVE" x, y or z.  I crave dishes with cilantro — an herb I despised before pregnancy forever changed my taste-buds.  I yearn for glorious fried catfish.  And, I am always ready for the one item I wanted pretty much every day of my pregnancy with Barney Kneeknuckles: Bacon-Wrapped Jalapeño Poppers.
If those things aren't a part of your life, you are missing out on one of the most amazing gastronomic experiences ever.
No, that's not too dramatic.  They are the best of all that's good in the world: grilled jalapeños, cheese, and bacon.
And that favorite of favorite foods is the inspiration behind these Stuffed Cheddar Popper Sliders.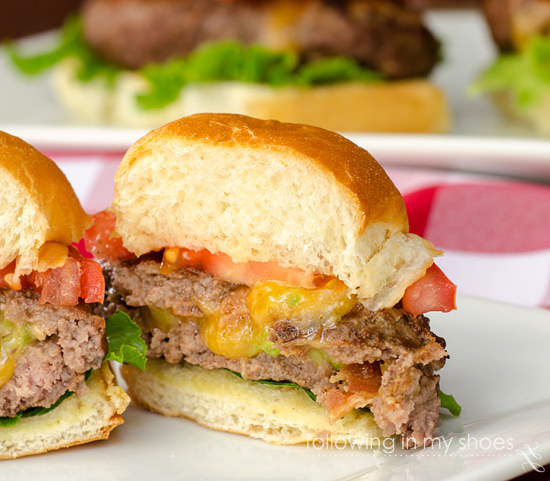 I love a good hamburger — plain or "gourmet" with extra goodies cooked into it like my Blue Cheese Bacon Burgers.  The Cheddar Popper Burger has been swirling in my brain for awhile now; it was just an idea that neeeeeeeeeded to happen.
It took two tries before I had the recipe perfected.  Believe it or not, as simple as this recipe is, it takes a certain way of putting the ingredients inside the hamburger to get the BEST flavor with each bite, AND it takes using high-quality ingredients.
Yes, I'm a bacon snob.  And, my husband is a cheese snob.  So for this burger, it was all about thick-cut, hickory smoked bacon and Tillamook Cheddar cheese.
It's hard to go wrong with either of those.  Especially when you let the grill do it's thing … creating a cheesy, bacon-y, jalapeño-y flavor explosion.
Go ahead.  Try 'em.  I dare you.
p.s.  In case you need more reasons to break out the Tillamook Cheese for this recipe … (1) It's National Burger Month and (2) I have a giveaway for 5 Full-Value Tillamook Natural Slice Cheese Coupons.  So, really … you'd be saving money.  Yeah.  Exactly.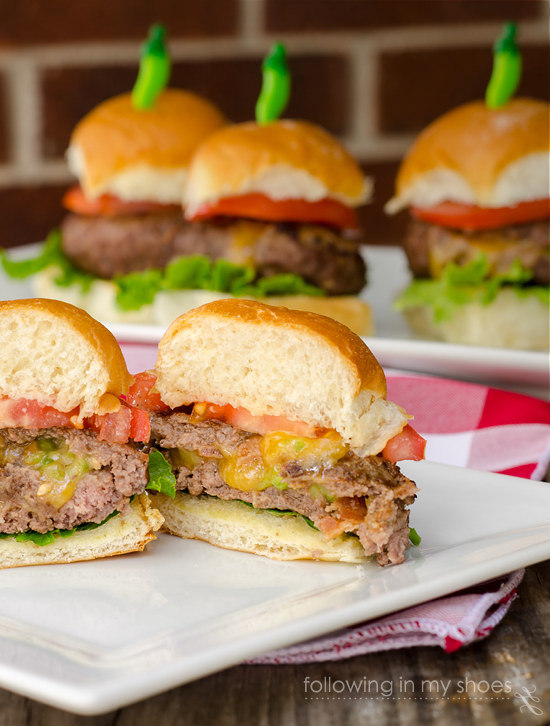 Stuffed Cheddar Popper Sliders
The perfect bite of beef, cheese, bacon, and jalapeños. Makes four sliders. Can be easily doubled or tripled to feed a crowd.
Ingredients
1 pound Ground Chuck
4 slices of thick-cut, hickory smoked Bacon, cooked and crumbled
¾ cup of grated Medium Cheddar Cheese
1 medium Jalapeño, minced
½ teaspoon Salt
¼ teaspoon Cracked Black Pepper
Slider Buns*
Green Leaf Lettuce
Tomato
Instructions
In a small bowl, mix the crumbled bacon and the shredded cheddar cheese. Set aside.
In a second bowl, season the ground chuck with salt and pepper, mixing well.
Divide the meat into 8 small balls (roughly 2 ounces each). Flatten each ball using the palm of your hand or a burger press. Set four of the slider patties aside.
With the remaining four patties, carefully flatten out just the center of each patty, creating a slight "well". Into that well, put 1-2 tablespoons of the cheese/bacon mixture and then top with 1-2 teaspoons of the minced jalapeño, depending on preference.
Top each filled patty with one of the remaining "unstuffed" patties and gently press the edges to seal.
Prepare your heated grill (medium heat) by oiling the grate. Place the patties on the grate, gently, and do NOT flatten them with a spatula (you will lose internal juices).
Cook the burgers 3-5 minutes on each side till you reach your desired level of "doneness."
Serve on slider buns with lettuce, tomato and any other desired condiments.
Notes
* I used Kings Hawaiian Rolls (the normal dinner roll variety) for our burgers. The sweet bread was perfect against the smokey bacon, cheese and jalapeño. Seriously ... perfect.
double p.s.  I need to also share that I received a Tillamook burger kit in exchange for creating this recipe and hosting the giveaway.  This recipe and any opinions expressed in this post are my own.  Now, go eat!!!