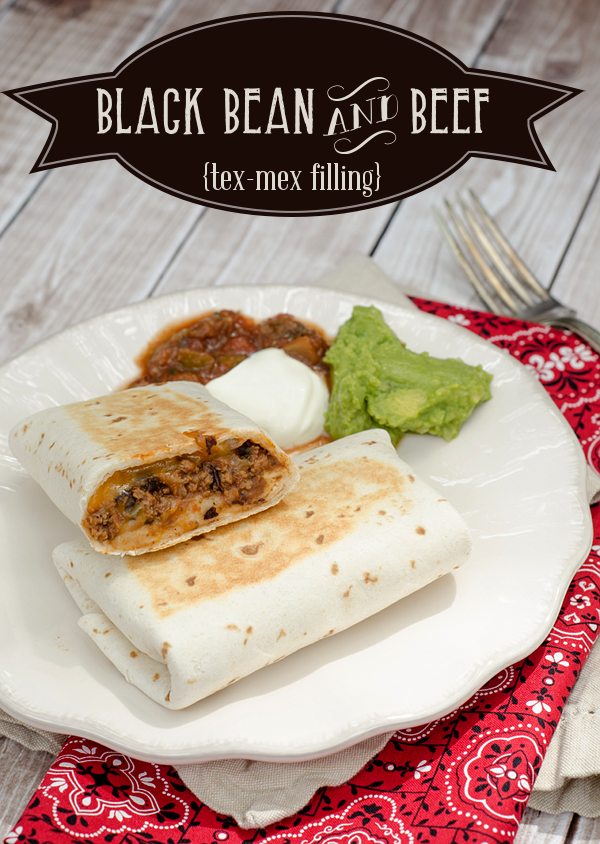 Sometimes, recipes aren't planned.  Sometimes, you are tired.  Kidlets are screaming and riding each other through the kitchen.  Sighing for the umpteenth time, you just throw some stuff in a pan, turn on the stove-top and hope for something edible.
THIS was just such a recipe.
It's perfect. Filling. Spicy (but not tooooo spicy for picky eaters. Ahem, I'm looking at YOU, Mr. Boy.). And works for either tacos, burritos, a Tex-Mex pizza, or baked under a layer of cornbread.
This stuff's just GOOD!
After I shared a picture of using it for pizza, a few asked (on Facebook and by email) for the recipe.
Because I'm nice and learned to share in Kindergarten, here is the recipe for the EASIEST "all-purpose" Tex-Mex base for whatever your little heart desires. Make some now and you'll have enough for two meals … unless you are Old Mother Hubbard or are feeding 300-pound linebackers. Otherwise, this recipe makes enough for a meal now and a meal later. Throw it in the freezer and use it the next time YOU have children climbing the walls and dinner prep is that last thing you want to do.
OH … the leftovers??? They also make a great Kidlet Lunch!  Even the pickiest of picky eaters will declare themselves a "Burrito Man" after one bite.
Yup.  Mommy wins again.
Black Bean and Beef Tex-Mex Filling
A perfectly spicy and filling combination that can be used in burritos or as a Tex-Mex pizza topping. Ole!
Ingredients
1 pound ground beef
1 14.5 oz can black beans (drained and rinsed)
1 12-16 oz jar of your favorite salsa
3 tablespoons of HomemadeTaco Seasoning
1 medium white onion, diced
Instructions
Brown the ground beef with the diced onion until the meat is fully cooked; drain the grease and then return the beef and onion back to the frying pan.
Add the drained/rinsed black beans, the salsa and the taco seasoning, stirring to combine.
Simmer until the liquid (from the salsa) has reduced slightly, thickening the mixture. (you can add salt and pepper if you feel it needs it, but I found our salsa to be salty enough for the entire pan of filling)
Can then be used immediately for tacos, burrito filling, or for a "taco bake" (baked under a layer of cornbread batter), OR as a tex-mex pizza topping.
Notes
This makes a lot of burrito filling (more than our family of five can eat in one meal), so I generally use half and freeze the other half (in a freezer bag) for use at a later time.