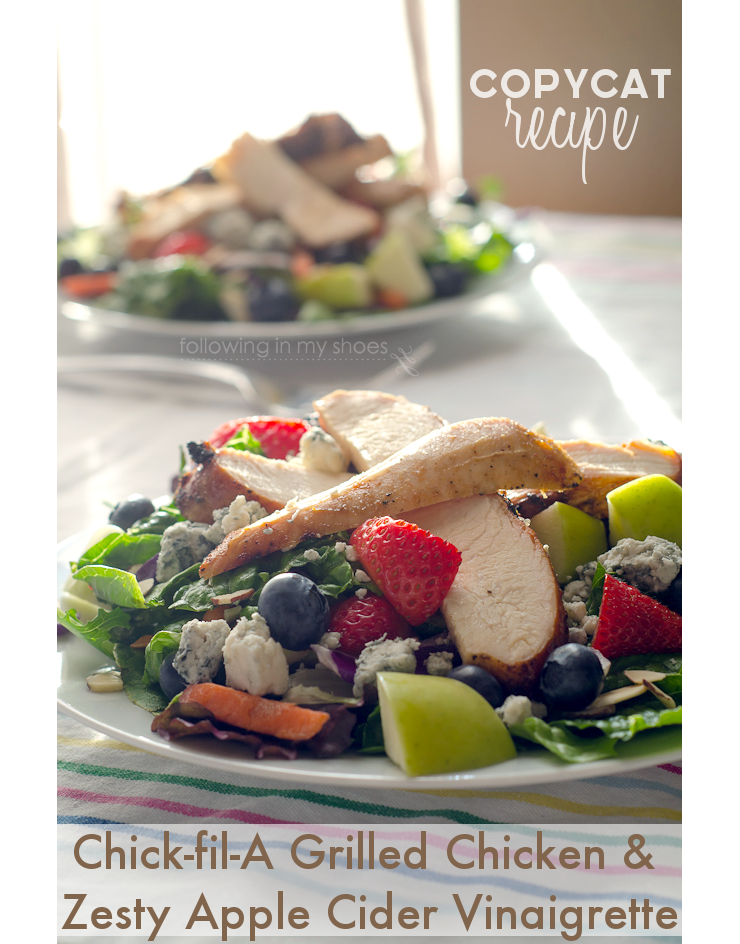 This recipe is honor of all of those who adore Chick-Fil-A's new Grilled Chicken AND their Grilled Market Salad AND their Zesty Apple Cider Vinaigrette.
You're welcome.
I. Am. Obsessed. with the Chick-fil-A Grilled Market Salad.  Spicy Chicken.  Fruit.  Bleu Cheese.  And that tangy Apple Cider Vinaigrette.  Mamacita, I lurrrrrrrrrrve that stuff!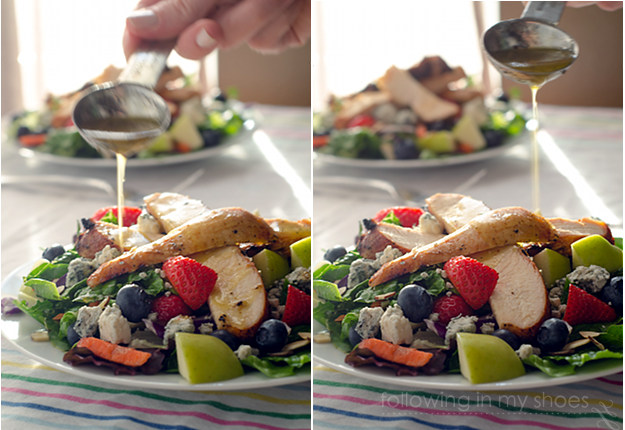 It is, hands down, my favorite salad of all time and, when Chick-Fil-A introduced their new Grilled Chicken … well, I grew to love it even more.  When I finally cracked the recipe, making a Copycat Chickfila Grilled Market Salad,  discovering how to make the chicken, the salad, AND that infamous dressing at home, the Husband became a fan too.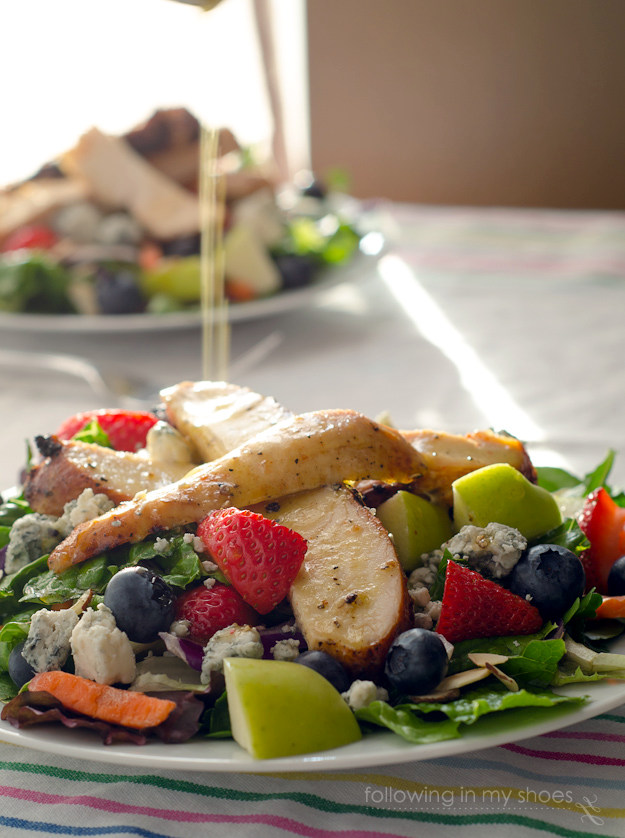 And, the Kidlets raved and raved and raved and RAVED about the chicken.  Y'all, this chicken marinade is the absolute best chicken marinade and is my new "go-to" recipe when grilling chicken.  Regardless of whether or not you use it to top a salad, it's absolutely delicious.  The Little Lady ate her portion of grilled chicken, asked for seconds, and then stole pieces from the plates of her brothers while they were glued to an episode of American Ninja Warrior.
She was not sorry.

Copycat Chick-fil-a Grilled Chicken Marinade
Ingredients Listed are per 1 Boneless/Skinless Chicken Breast
Ingredients
2 teaspoons Apple Cider Vinaigrette
1 tablespoon Extra Virgin Olive oil
½ teaspoon Coarse Ground Sea Salt
⅛ teaspoon Fresh Cracked Black Pepper
¼ teaspoon Ground White Pepper
⅛ teaspoon Cayenne Powder
⅛ teaspoon Garlic Powder
¼ teaspoon Onion Powder
⅛ teaspoon Smoke Paprika Powder
Instructions
Mix all ingredients in a bowl or plastic bag (make sure to increase measurements if doing more than one breast).
Add the chicken. Marinate 30 minutes - 2 hours.
Prep your grill, getting a medium-high heat (roughly 375-400 degrees).
Remove the chicken from the marinade and discard marinade.
Place the marinated chicken breasts over direct heat, grilling for 3-5 minutes per side -- until an internal thermometer registers a temp of 160 degrees.
Remove from heat to a plate, covering it with foil. Allow the chicken to rest another 5 minutes or until an internal temperature of 165 is reached.
Slice for a salad or serve as desired.
Copycat Chick-fil-a Zesty Apple Cider Vinaigrette
Ingredients
5 tablespoons Extra Virgin Olive Oil (I prefer this brand)
2 tablespoons Apple Cider Vinegar
1 tablespoon fresh squeezed Lime Juice
2 tablespoons Honey
1//2 teaspoon Salt
¼ teaspoon freshly cracked Black Pepper
¼ teaspoon White Pepper
⅛ teaspoon Onion Powder
⅛ teaspoon Garlic Powder
pinch of Cayenne Powder
Instructions
Briskly whisk all the ingredients together to emulsify/thicken the dressing.
Serve immediately
To store: seal in air-tight container and store in the fridge. Bring to room temperature before serving.
Copycat Chick-fil-a Grilled Market Chicken Salad
Serves 3-4 as main dish; 4-6 as side
Ingredients
5 ounces Salad Mix (I have found a romain or iceberg blend to be best for the flavors in this salad)
½ cups of Blueberries
½ cup Sliced Strawberries
½ cup Diced Golden Delicious Apple (Granny Smith also works)
Blue Cheese Crumbles
Roasted and Sliced Almonds (or a nut blend of roasted almonds, pecans, and walnuts)
1-2 Copycat Chickfila Grilled Chicken Breasts, sliced
Zesty Apple Cider Vinaigrette
Instructions
Assemble the Salad as follows:
Greens
Fruit
Blue Cheese
Nuts
Sliced Grilled Chicken
Vinaigrette
Enjoy how easy it is and chow down!