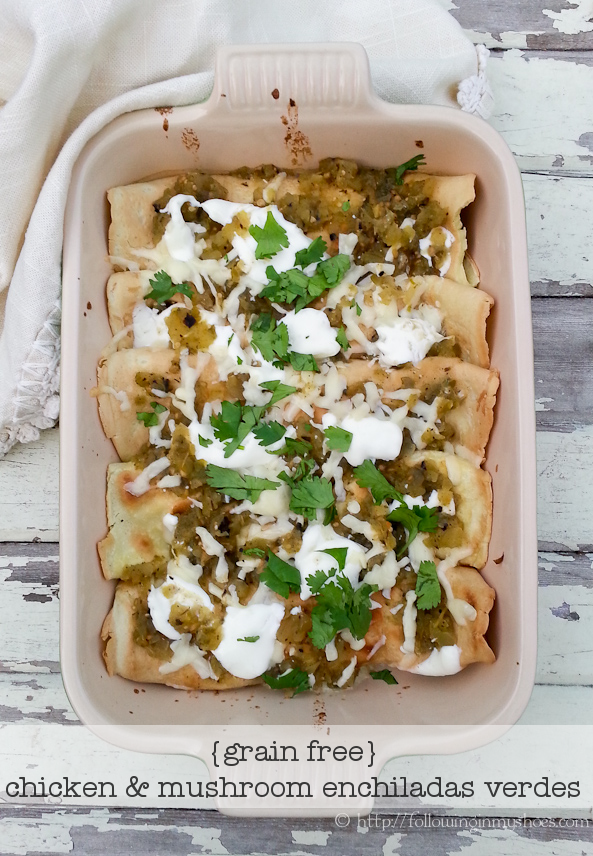 This post was created as part of the #MushroomMakeover 30 Day Weight Loss Challenge in which I am a financially compensated blogger ambassador for the Mushroom Council (ad). The opinions are my own and based on my own experience.
After I posted the gazillionth mushroom photo on my Instagram account the other day, a friend asked if I was tired of mushrooms yet.
No.  Nada.  Not even close.
I've discovered — during this whole Mushroom Makeover challenge — that I really do enjoy mushrooms.  I'm not to the point where I can chow down on them raw, but once they are roasted or sauteed or grilled …. oh, Mamacita.  They are soooo good.
As long as I continue to have recipe ideas flow through my little ol' brain — new ways to add the umami factor to my life — I will be good with the abundance of mushrooms in my refrigerator.
Recipes like these Grain Free Chicken and Mushroom Enchiladas Verdes … a concoction that I threw together this past week whilst my In-Laws were in town.
(side-note … "whilst" really deserves to more popular)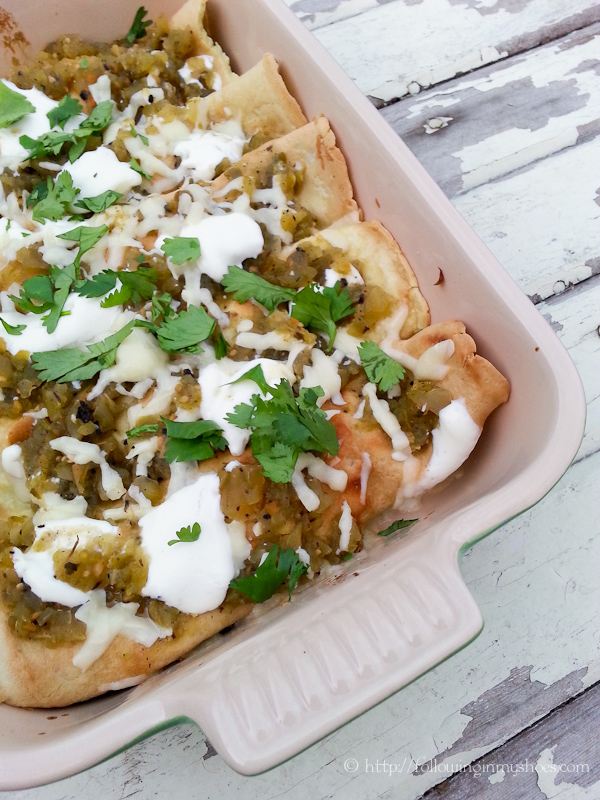 Enchiladas Verdes — with the tangy combination of tomatillo sauce and sour cream sauce — has always been one of my favorite dishes.  I've been a happy girl ever since this traditional Mexican fare started showing up on our Tex-Mex menus.  Whether it's the traditional chicken filling or a combination of cheeses, I'm all over this dish.  In a very unladylike and undignified way.
(the Husband just makes sure I have plenty of napkins)
A few years ago, the Husband gave me a copy of Rick Bayless' Mexico: One Plate At A Time — an amazing book that is part food history and part cookbook.  Rick offers several different recipes (traditional and contemporary) for enchiladas and I nearly jumped in excitement when I saw a green enchiladas recipe with a chicken and mushroom filling.
Only problem?  The recipe would take OVER TWO HOURS TO MAKE.  Oh, and yeah — it required traditional corn tortillas.
I needed the recipe cut down to 30-45 minutes and it needed to be grain-free.
Guess what?  I succeeded.

Grain Free Chicken and Mushroom Enchiladas Verdes
Ingredients
2 tablespoons Extra Virgin Olive Oil
8 oz Cremini (baby portobello) Mushrooms, washed and sliced (approximately 2 cups of sliced mushrooms)
1 cup diced White Onion
2 cloves of Garlic, minced
2 cups cooked and shredded Chicken*
Salt and Pepper to taste
2 cups of shredded Sharp Vermont Cheddar, divided**
2 cups of prepared Salsa Verde***
5-7 Grain-Free Tortillas
½ cup Quick Mexican Crema
2-3 tablespoons chopped Cilantro (optional)
Instructions
In a large frying pan or saute pan, heat the olive oil over medium-high heat.
Add the diced onion and sliced mushrooms. Cook until the onions have softened and the mushrooms have released their liquid and it has evaporated.
Add the minced garlic and let cook another 30-60 seconds, stirring the entire time to keep the garlic from burning.
Remove from heat.
Toss the mushroom mixture with the shredded chicken and season with salt and pepper to taste.
Fill each grain-free tortilla with ¼-1/3 cup of the chicken and mushroom mixture. Sprinkle a little of the shredded cheese over the mixture and then carefully roll up the tortilla, laying it seam side down in a baking dish.
Continue until all of the tortillas have been filled and placed in the dish.
Spread the Salsa Verde over the top of the enchiladas and then sprinkle with the remainder of the shredded cheese.
Drizzle the Quick Mexican Crema over the cheese.
Bake uncovered at 350 degrees for 20 minutes, or until the cheese and salsa are bubbly.
Remove from the oven and garnish with chopped cilantro. Serve immediately.
Notes
*Leftover rotisserie chicken works well for this; you can use all white, all dark, or a combination of meat.

** If you aren't a fan of sharp cheddar, Monterrey or Monterrey Jack are good, creamy alternatives.

*** You can use your favorite green salsa; I prefer a tomatillo based salsa that has minimal ingredients and no preservatives.
Grain Free Tortillas
The perfect grain-free tortillas -- adapted from Stupid Easy Paleo's "Simple Paleo Tortillas". These can be made ahead of time and stored in the fridge or frozen.
Ingredients
4 large Eggs, room temperature
2 teaspoon melted Butter
2 tablespoons Water
½ cup Arrowroot Powder (tapioca or potato starch will also work)
2 teaspoons Coconut Flour
Pinch of salt
Instructions
Crack the eggs into a large mixing bowl and then quickly stir in the melted butter and water.
In a separate bowl, combine the dry ingredients.
A few tablespoons at a time, carefully add the dry ingredients to the wet ingredients, whisking until all of the dry ingredients are incorporated into a smooth batter.
Heat a small non-stick skillet over medium heat. Add 3-4 tablespoons of the batter into the pan and IMMEDIATELY begin rolling the pan around so that the batter evenly coats the bottom of the pan.
As the tortilla cooks, it will pull away from the edges of the pan.
Cook for 1 minute per side. Remove from the pan. Repeat the cooking steps for each each tortilla.
Quick Mexican Crema
Traditional Mexican Crema -- made with buttermilk and cream -- takes 24 hours to properly prepare. In this "cheater's method," you can have it ready in less than 5 minutes. It's the perfect creamy, tangy sauce for Mexican or Tex-Mex dishes
Ingredients
½ cup Sour Cream (full fat)
¼ cup Whipping Cream
¼ teaspoon Salt
Instructions
Mix all the ingredients together. If the mixture is still "thick" like sour cream, add more whipping cream -- a teaspoon at a time -- until the crema is pourable.
Serve with enchiladas, tacos, steak or any of your favorite Mexican dishes.
Store in a sealed container in the refrigerator.
This post was created as part of the #MushroomMakeover 30 Day Weight Loss Challenge in which I am a financially compensated blogger ambassador for the Mushroom Council. The opinions are my own and based on my own experience.