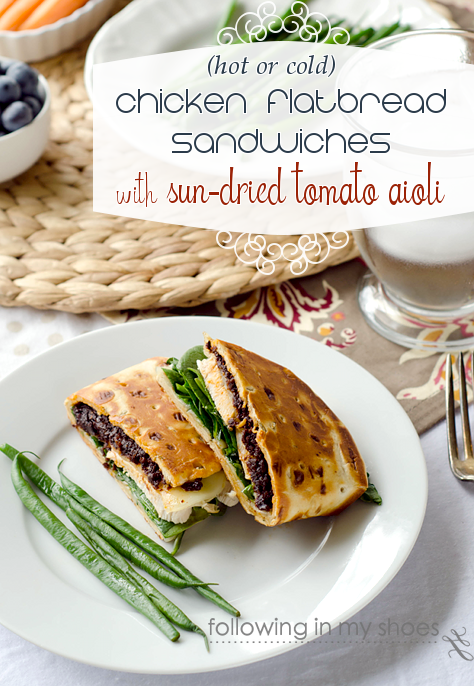 When I first moved to College Station, Texas over ten years ago, the first restaurant I was taken to — with the assurances I was going to be blown away by the food — was a restaurant specializing in chicken wings.
On that day, I learned I hate wings.  I don't care what sauce is on them or what vegetable stick is served on the side.  I can't stand wings…. way too much work!!!
Unfortunately, I had moved to a college town at the start of football season; wings were darn near unavoidable between functions, parties and every restaurant menu.  My tastebuds were sad.
Then, a coworker invited me to lunch at a sandwich shop.  After one bite, The Blue Baker became my most favorite place to eat.  It is similar in concept to Panera but a locally owned/created business that is completely unique in flavor and personality.  Wood-fired pizzas, handmade artisan breads, AMAZING sandwiches, fantastic cookies and brownies.  This menu was hands-down better than any ol' wings.
The Grilled Indigo is still my favorite sandwich from that restaurant: grilled chicken breast on herbed foccacia, with fresh vegetables, cheese and the most lip-smacking, swoon-worthy sun-dried tomato aioli.  Sigh …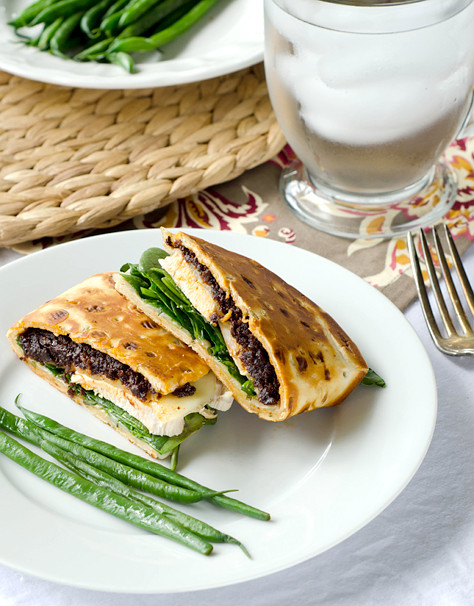 When the folks from Flatout Bread asked me to make a sandwich with the new Flatout Hungry Girl Foldits Flatbread, I instantly knew this was the sandwich to make.  (1) It's delicious and (2) would be easy to make and (3) since my Kidlets were absolutely bonkers the last time we were at the Blue Baker, I'm not sure I can ever show my face there again.
With these new Hungry Girl Foldits Flatbread (only 100 calories per serving!), perfectly cooked chicken breast, dark green baby spinach, and a smear of freshly made aioli … it's the perfect hot lunch for you or enjoy it cold for a picnic lunch date!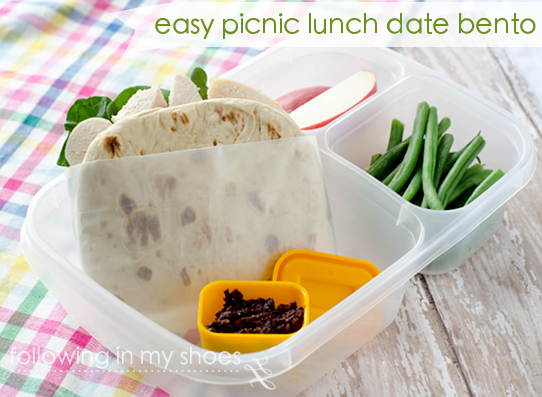 (hey … after nine years of marriage, the Husband and I count our lunch dates as real dates!)
So … where can you get this bread?  At your grocery store or your local Wal-Greens.  Yup — pick up Tylenol for the teething toddler (whose little mouth insists on getting 4 teeth at once every. single. time.) and grab a package of the Foldits.  Easy-Peasy, as the Little Lady is wont to say.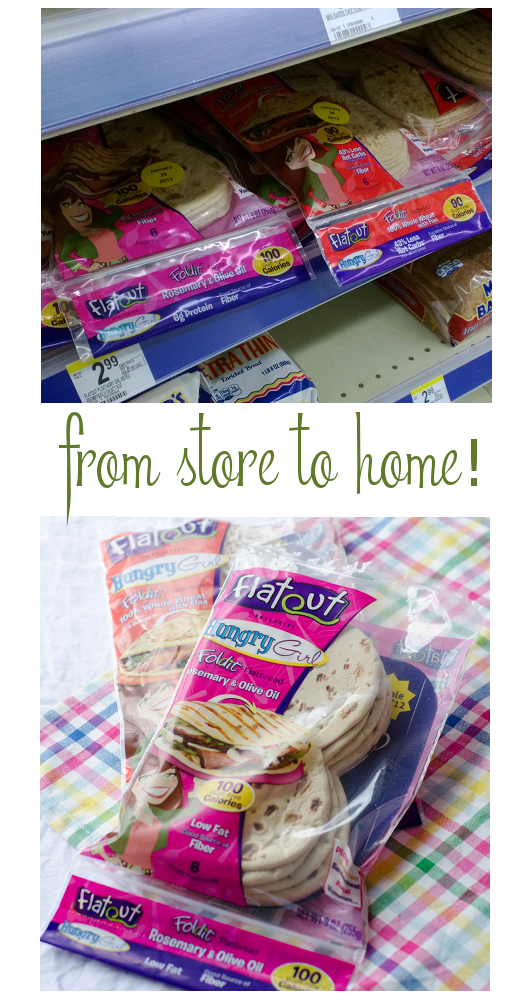 On To The Aioli
Now, about this aioli business . . . DON'T BE INTIMIDATED by the fancy sounding word.  Aioli is nothing more than fresh garlic ground up with olive oil and occasionally flavored with additional ingredients.  *Some* recipes will call for the addition of Mayo, but not this one.  You don't need any fats other than the olive oil.  Grind it all up in your food processor, blender, Baby Bullet … whatever works for you!
Now, Get Cooking!
(hot or cold) Chicken Flatbread Sandwiches with Sun Dried Tomato Aioli
Ingredients
Aioli
⅔ cup Sun-Dried Tomatoes with Italian Herbs (dry -- not packed in oil)
1 Garlic Clove
1-2 Tablespoons of Water
1-3 Tablespoons of Extra Virgin Olive Oil


Sandwiches (amounts are per person served)
1 Flatout Hungry Girl Rosemary & Olive Oil Foldits Flatbread
1-2 slices of Provolone
1 Cup of Baby Spinach
1-2 Tablespoons of Sun-dried Tomato Aioli
3-6 ounces of Cooked Chicken Breast*
Instructions
To Make the Sun-Dried Tomato Aioli
Using a blender, food processor, etc., puree the sun-dried tomatoes and garlic.
Slowly add 1 tablespoon of water (which will help soften the tomatoes instead of adding extra oil) and 1 tablespoon of Extra Virgin Olive Oil. Puree to mix.
If needed, you can slowly add additional water and EVOO, 1 teaspoon at a time, until the aioli is an easily spreadable paste.
Refrigerate in an air-tight container (3-5 days) until ready to use.
To Make a Pan Toasted Sandwich
Heat a skillet over medium to medium-high heat.
Either spray it with cooking spray or spread a small bit of butter on the outside of the flatbread.
Place it in the skillet or pan, buttered side down.
On one half of the exposed flatbread, layer the ingredients in the following order: Provolone Cheese, Spinach, Cooked Chicken, Provolone Cheese (if a second slice is desired).
Then, on the other exposed half of the flatbread, spread 1-2 tablespoons of the aioli.
Carefully fold the aioli covered side of the flatbread over the sandwich ingredients, closing the sandwich.
Cook 1-2 minutes, until the bottom side of the flatbread is toasted. Flip and cook an additional minute or two until the second side is also toasted.
Remove and serve.
To Assemble and Pack a Cold Sandwich
To avoid soggy bread before you are ready to eat, pack the aioli separately in a small, air-tight container.
Assemble the sandwich on one half of the flatbread in the following order: Provolone, Spinach, Cooked Chicken, Provolone (if a second slice is desired).
Fold the flatbread together and place in a sandwich container or bento box. If desired, you can wrap it with wax-paper to help keep everything fresh.
When ready to eat, spread the aioli inside the sandwich and enjoy!
Notes
This is the PERFECT sandwich for when you have leftover chicken from dinner or rotisserie chicken in your fridge.... no need to prepare additional chicken unless you have a craving and no leftovers!
disclosure: I wrote this post on behalf of The Motherhood and Flatout Hungry Girl Foldits Flatbread. All opinions expressed are my own.