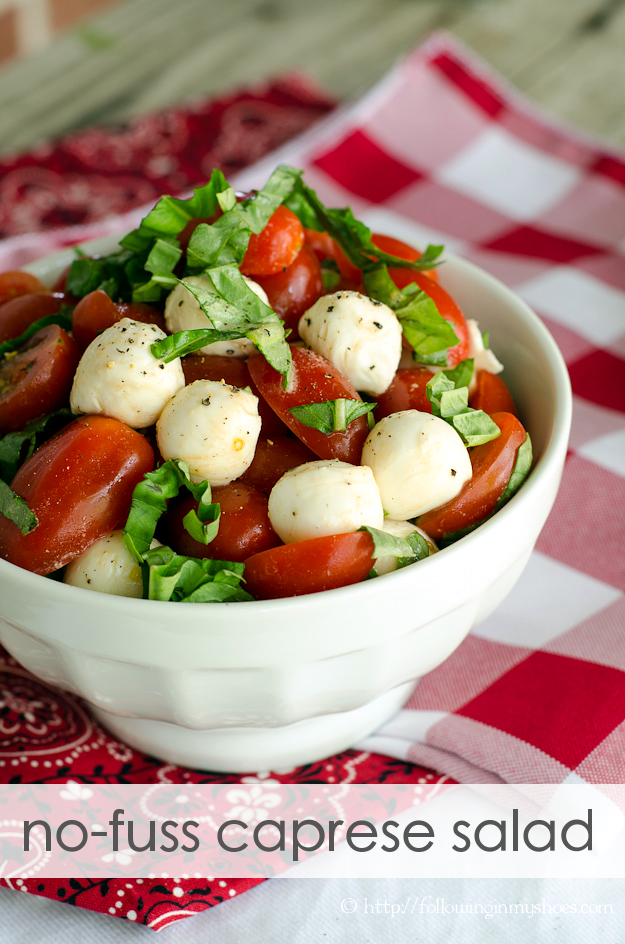 Basil, tomatoes, and mozzarella.
As far as this girl is concerned, you don't need much more in life to achieve perfection.  Whether it's pizza, sandwiches or salads, those three ingredients can make anything jump into the delicious realm.
When if comes to a Caprese Salad, you really don't need more than those three ingredients … which is perfect for those times you get sucked in to watching back to back episodes of Once Upon A Time on Netflix … you're immersed in the world of Emma Swan, Captain Hook, Snow White and the Evil Queen … then, the episodes stop because NETFLIX DOESN'T OFFER SEASON THREE … frantically, you get online and find out where to find season three because THE LOVE OF ALL THAT IS HOLY, you neeeeed to start season three.
Then, just as your heart barely calms down from the drama, you realize it's nearly 2 o'clock and you haven't eaten lunch.
What?  I'm the only one to get caught up in a show?  Pshaw.  I know you people better!
So, back to what I was saying about Caprese Salad — it's the only option that makes sense when you want a satisfying lunch and you need to have it quickly (so that you can find out whether or not Emma will defeat Peter Pan and win her son back).
Traditionally, a little drizzle of good quality olive oil helps to season the ingredients. Sometimes I add it and sometimes I don't — honestly, I'm happy either way when it comes to this salad.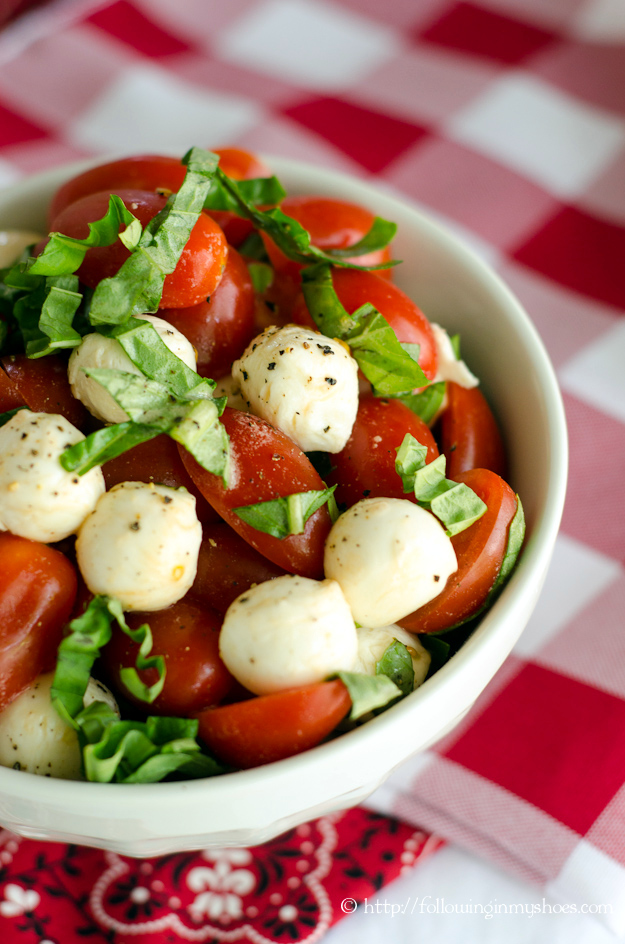 Salt and pepper, however, are a must.  Fresh cracked pepper always gets sprinkled on and then it's just a matter of salting to taste.
And, voila — an easy salad that only took 5 minutes of your precious, Netflix watching time.

No Fuss Caprese Salad
Ingredients
8 oz of fresh Mozzarella Pearls
1 pint Cherry Tomatoes, washed and dried
6-8 large Basil leaves, washed and dried.
Salt and Pepper
Olive Oil (optional)
Instructions
Drain the Mozzarella balls and pour them into a mixing bowl.
Slice the tomatoes in half and add them to the mozzarella.
Stack the basil leave on top of each other and then roll the stacked leaves up like a cigar. Using a sharp knife, cut across the rolled leaves, creating thin (chiffonade) strips of basil.
Add the basil to the bowl, stirring the ingredients to combine.
Sprinkle with plenty of cracked black pepper and then add salt to taste.
Optional -- drizzle a small amount (1-2 teaspoons) of good quality olive oil and toss to combine.
Serve.