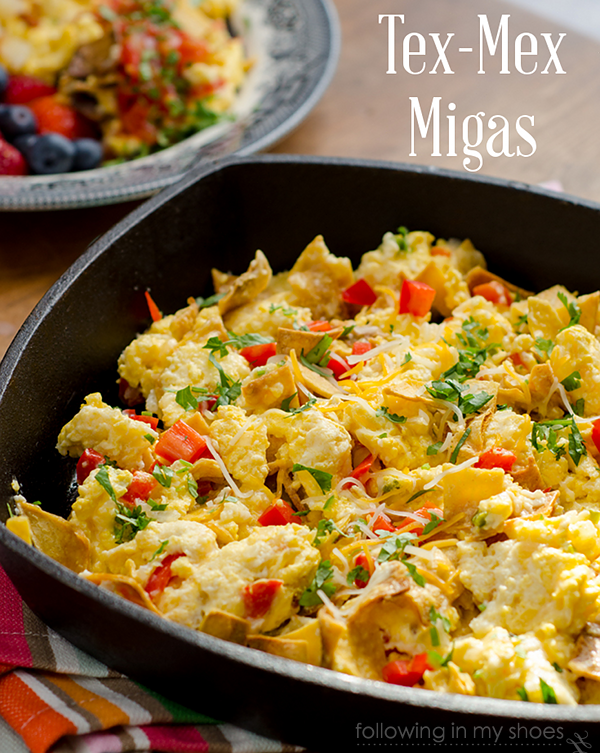 When I moved to Texas, it wasn't supposed to be a permanent thing.  I was single and eager for a change of scenery but I did not want to leave my family long-term.  I was an Oklahoma girl through and through and fiercely close to my sisters and parents.
Live in Texas forever?  Um, no.  And along those lines, I promised (crossed my heart promised, y'all) my Mother that I would most definitely NOT fall in love and marry Texas boy.
It was her one rule for me leaving the state.
Yeah, I totally didn't comply.  A year after I had moved to College Station, I saw him.  The Boy who would become The Husband.
It was over.  I fell head over in heels in love … instantly … and my fate was sealed.  And about 3 months after our first date, I was walking down the aisle of a small Texas United Methodist Church, on my father's arm, to tell that Texas Boy, "I do."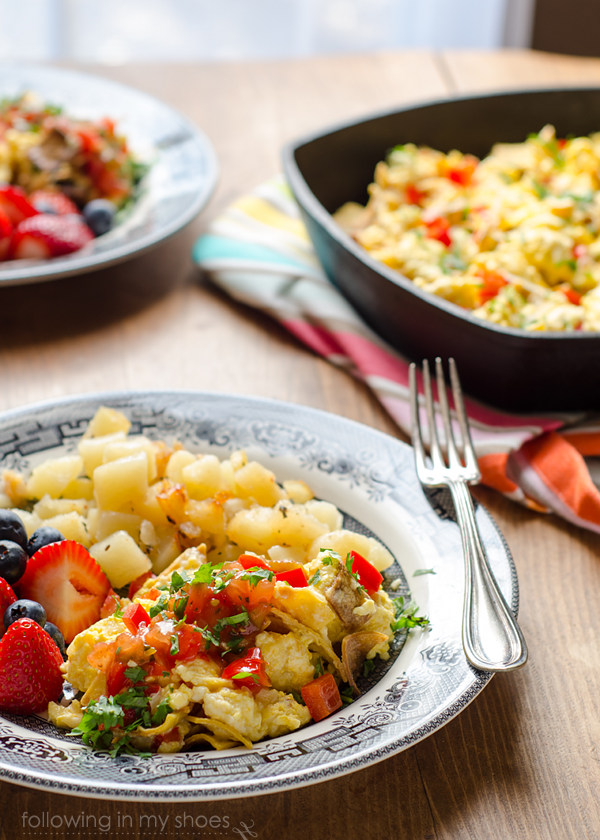 Since the day I became a permanent Texan, I've found myself falling in love with more than just my Husband (although he's still at the top of the list).
I now love the Texas A&M Aggies, love rodeos, love Bluebonnets, and love, love, love, love, LOVE Tex-Mex cuisine.  Give me Salsa and Cilantro and Corn Tortillas.  Give me Spicy Peppers and Creamy Cheese and … oh,yeah.  A fork.  Give me a fork so I can stuff my face with all things Tex-Mex: pico de gallo, tacos, enchiladas, chile con carne, quesadillas, refried beans, and taquitos.
And, Tex-Mex Migas.
Oh, honey-child … if you haven't been to Austin and ordered a big ol' plate of Migas, your life isn't complete.  If food could hug you, Migas totally would.  They are like that favorite Grandma — the one who accepts you for all your flaws and wraps her arms around when you walk in the room.  She feeds you and nourishes you and comforts you.  And all is (once again) right with the world.
Migas are totally that Grandma.
Whether you have them for breakfast, lunch or dinner, Migas are nothing short of comfort food and a dish that will appeal to any member of the family.  When I worked on this recipe for the Meal Maker Challenge, I had to make it more than once and, lemme tell ya, that Texas Boy of mine was THRILLED each time I told him my photo shoot hadn't gone well.  Another meal of Migas?  There were no complaints from that boy.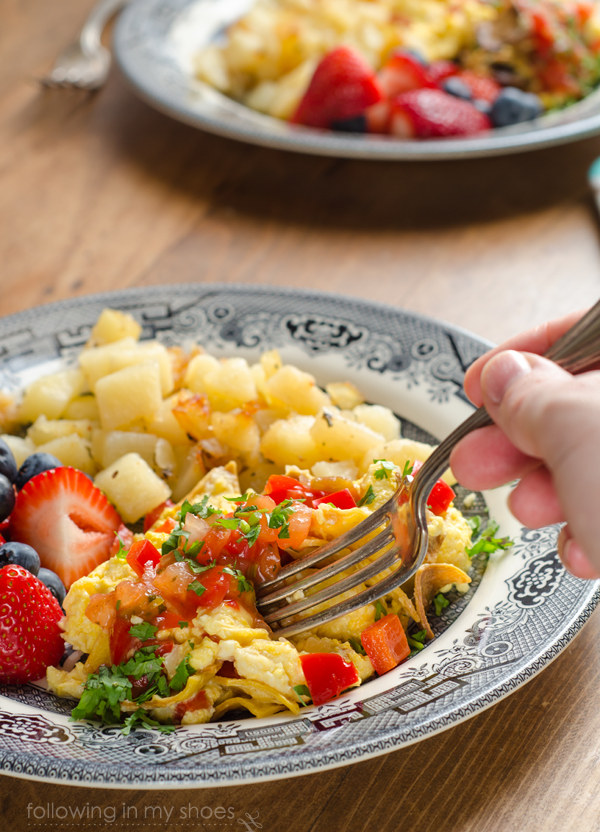 So, what are Migas?  Eggs scrambled with onions and peppers … and tossed with a handful of cheese and broken but crispy tortilla pieces.  DON'T SKIMP ON THE TORTILLAS!  They're only about the best part of this dish.  I keep leftover corn tortillas in the freezer JUST for this dish.
To keep my Tex-Mex Migas a little on the lighter side, I break with tradition and bake the tortilla pieces instead of frying them.  You get full corn flavor instead of a mix-mash of corn and grease.  That's much better, right?  Yes, yes, it is.
And, since I am sharing this recipe as part of the H-E-B- Meal Maker Challenge, I avoided cracking shell after shell after shell by using EggBeaters for these Tex-Mex Migas.  Easy.  Peasy.  Done.
Now … where's that fork?

Tex-Mex Migas
Total prep/cook time: under 30 minutes. Serves 4-5
Ingredients
2.5 cups of Egg Beaters (equivalent of 10 large eggs)
4-6 corn tortillas, chopped
1 cup dice white onion (roughly half of a medium onion)
1-2 serrano pepper (2 for more heat)
1 small red bell pepper
2-3 TB EVOO
1 cup shredded cheddar cheese
Optional:
Instructions
Prepare the aromatics by finely dicing the onion and the serrano and bell peppers (before dicing the peppers, remove the ribs and seeds).
Stack the corn tortillas and slice the stack into 4-6 strips and then cut the strips cross-ways to create chopped tortillas pieces.
Place the chopped tortillas (single layer) onto large cookie sheet or pizza pan and place under the broiler until golden brown and crispy. It will only take a few minutes -- watch them carefully so they don't burn. Remove and set aside.
In a large skillet, heat the extra-virgin olive oil over medium heat Add the diced onion and both peppers and allow it all to cook until the onion and bell pepper are softened.
Next, add the Egg Beaters. As they cook, gently fold the aromatics and eggs together with a rubber spatula. Continue doing this every few seconds to pull up the cooked eggs from the bottom of the pan and allowing the raw mixture to move to the bottom for cooking.
When the eggs are nearly completely set, add the cheese and baked tortillas and gently fold to fully incorporate. Cook another minute or two until the scrambled eggs are creamy but cooked.
Remove from heat and serve, topped with chopped cilantro and salsa (if desired).
P.S. HELP A GIRL OUT … AND (MAYBE) WIN!

If you like the sound of these Tex-Mex Migas — my Fourth Recipe in the Meal Maker Challenge  —  you can "vote" for it in this challenge … simply by repinning it! Yes, it really is that easy and you don't have to live near an H-E-B to re-pin my recipe!


(you can re-pin my recipe by clicking the pin shown above)

[exceptional-citing quoted="rachel" template="bubble-gray-round" date="" ]Head over to the Meal Maker Challenge page to get all the details on voting for this recipe, to check out all of the Egg-Beaters recipes in this week's challenge, and to learn how — if you live in Texas — you can enter to win your share of $1500 in prizes.[/exceptional-citing]
disclosure: I have been compensated for my participation in this Meal Maker Challenge for H-E-B.