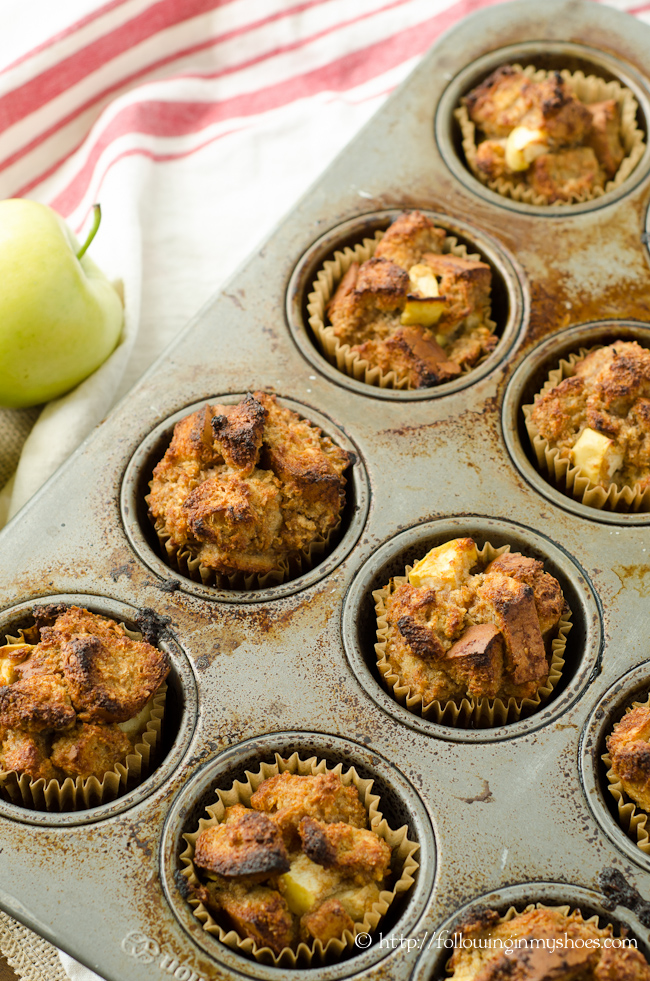 Our family is a hodgepodge of tastebuds and dietary needs.  I am primarily grain-free; the Little Lady is gluten-free; the boys eat anything and everything; the Husband just wants Pop-Tarts and Toaster Strudels.
Oy.
For the most part, our family enjoys whatever Mama wants with a plethora of grain-free recipes finding their way onto our kitchen table.  But, for Kidlet treats and lunches, I regularly use non-gmo grain-free products that allow the kids to have their favorite staples.
This Apple French Toast Muffin recipe is no exception — a completely gluten-free and moderately sweetened treat that packs a punch of comfort food flavor.  The secret to this gluten-free goodness?  Udi's Ancient Grains Millet-Chia Bread.
Udi's is a go-to for the Little Lady because I trust them and their non-gmo, certified gluten-free products that keep her stomach happy.  Plus, with their new "Ancient Grains" Line, she gets added protein, fiber, Omega-3s and a whole host of nutrients found in those grains and seeds.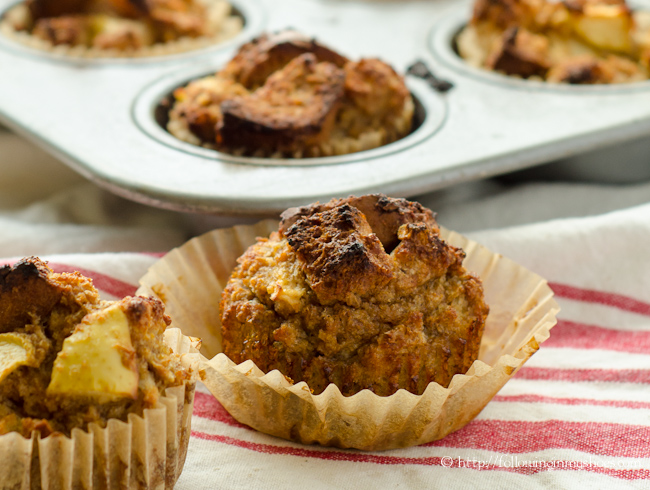 Ancient grains have been around forever.
(I know — that's kind of a "duh" moment, isn't it?  Hello, Rachel!!!  They're called "ancient" for a reason!)
Udi's has turned to six ancient whole grains and seeds: Millet, Chia, Flax, Amaranth, Quinoa, and Oats.  Not one of them has been altered or modified from their original form that was first known to the world over 8,000 years ago!  Initially, they were used by populations like the Incas and the Aztecs, but they are getting a revival now due to the fact they are (1) a food that our ancestors ate and (2) full of nutritional benefits. . . protein, antioxidants, healthy fats, vitamins, and minerals.
In our house, I'm the only one who cares about the nutritional side of things (I'm such a mom!); the kids just want something that tastes good.  The Udi's Ancient Grains line has won them — and the Husband — over.  Mr. Boy is obsessed with the Udi's Steel Cut Oats with Currents, Flax, and Chia. . . and I think I've spoken about his pickiness enough for you all to recognize the VOLUMES his approval speaks!!!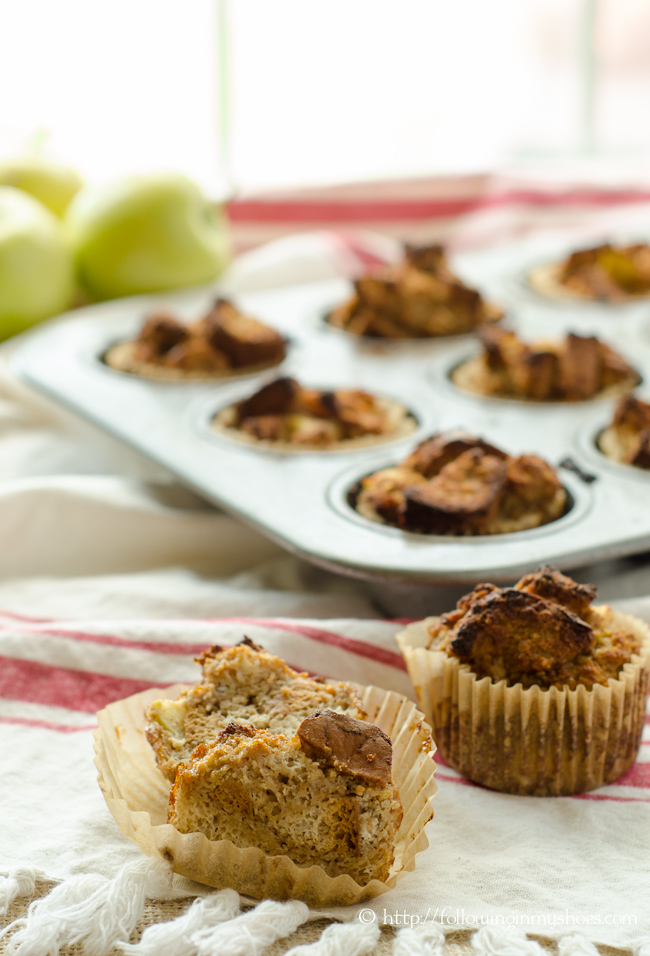 As for the recipe I'm sharing today — it is a little different than what I had originally planned to share after Udi's asked me to create a recipe using one of their Ancient Grains products.  In my mind, all I could think about was a good banana-walnut french toast muffin using one of the breads I was sent.
Then, the Little Lady decided she hates all things banana.  At seven, she had come to realize food is something which she can control!  Sigh …
No, she wanted something with apple and cinnamon.  And, with that, these Apple French Toast Muffins were born.
Incredibly light thanks to the texture of Udi's bread and the batter made primarily of eggs and applesauce, these are an easy snack to devour.  Since these were for my kids, I kept the sugar at a minimum with unsweetened applesauce and just a few tablespoons of maple sugar (coconut sugar or even ground turbinado would work well for trying to avoid white sugar).
After sampling the first batch, I was informed by the Little Lady that these would definitely need to be in her lunch the next day.  Definitely.
And that's how you know you have a winner.

Apple French Toast Muffins (gluten-free)
Ingredients
1.5 cups Unsweetened Applesauce
3 eggs
3-4 tablespoons of Maple Sugar
1 teaspoon Ground Cinnamon
¼ teaspoon Ground Ginger
½ teaspoon Baking Soda
5 cups cubed Gluten Free Bread*
1 cup diced Apple (your favorite -- I used Golden Delicious)
Instructions
Preheat the oven to 400 degrees. Line a muffin tin with parchment paper muffin cups.
In a large bowl, whisk together the applesauce and eggs until slightly frothy; add the maple sugar, cinnamon and ginger and whisk to incorporate.
Mix in the baking soda.
Gently fold in the cubed bread and diced apple until all of the bread has soaked in the wet ingredients.
Fill the muffin cups (mounded up over the top) with the french toast mixture.
Place your muffin pan in your oven and bake for 20 minutes or until an inserted toothpick comes out mostly clean.
Remove from the oven to a wire wrack and cool before serving.
Notes
*I used Udi's Ancient Grains Millet and Chia Bread.
disclosure: I received the Udi's projects and was compensated for this recipe creation.