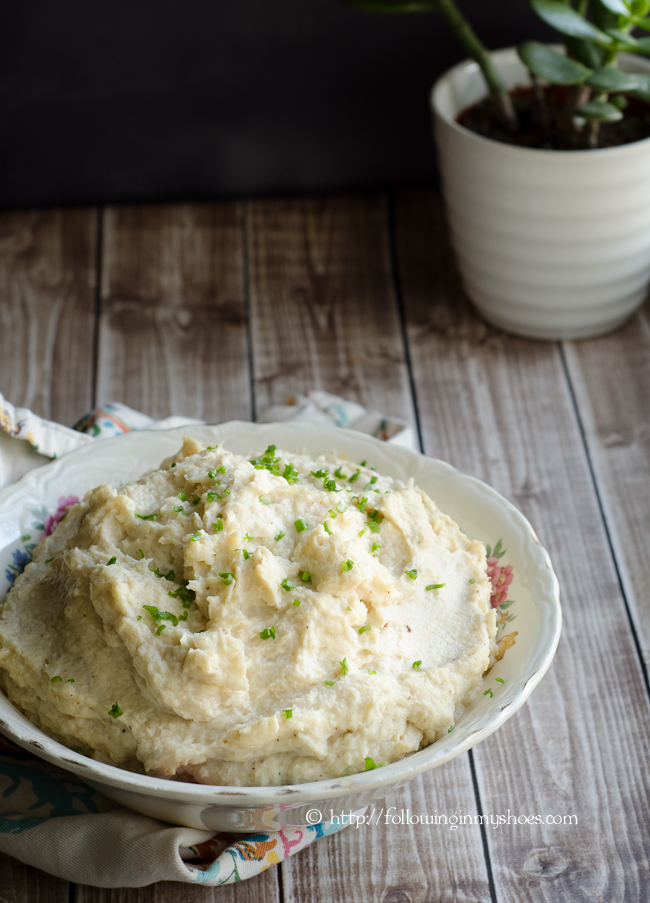 Last fall, I experienced my first parsnip recipe. Roasted parsnip puree. It only took one bite for me to realize that parnsips were what I had been missing my. entire. life.
Why DON'T more people eat parsnips? Before that beautiful day last year, the only thing I knew about this root vegetable was that Candace (from Phineas and Ferb for the those not immersed in the world of Kidlet Television) was strangely allergic to them and would begin talking like a burly man anytime she was exposed to them. That's a tough life and isn't doing the parsnip any favors.
This white root veggie — sweet like carrots — is beautiful and absolutely at its best in a mashed or pureed form. Served alone or under a gorgeous roast and gravy … or, as we've done twice now the past week, served with the perfect smoked turkey breast and chipotle cranberry sauce, the humble parsnip become the most amazing side dish for any occasion.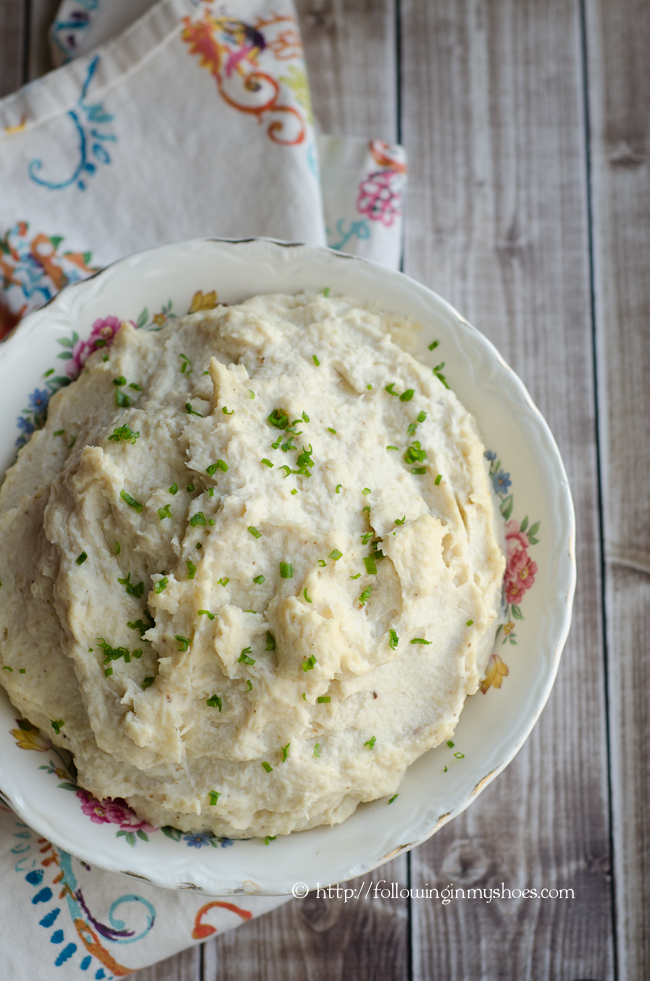 The only downside to most parsnip recipes is that they need to be parboiled or roasted. That's all good and hunky-dory when you have time for multiple steps. With a million and one Kidlets under my feet, gymnastics, church activities, house-work and every. other. single. thing. that goes on any given day, I need a side-dish that cooks itself.
Enter the Slow Cooker. Every week, I'm becoming more and convinced there isn't anything a crock-pot can't do.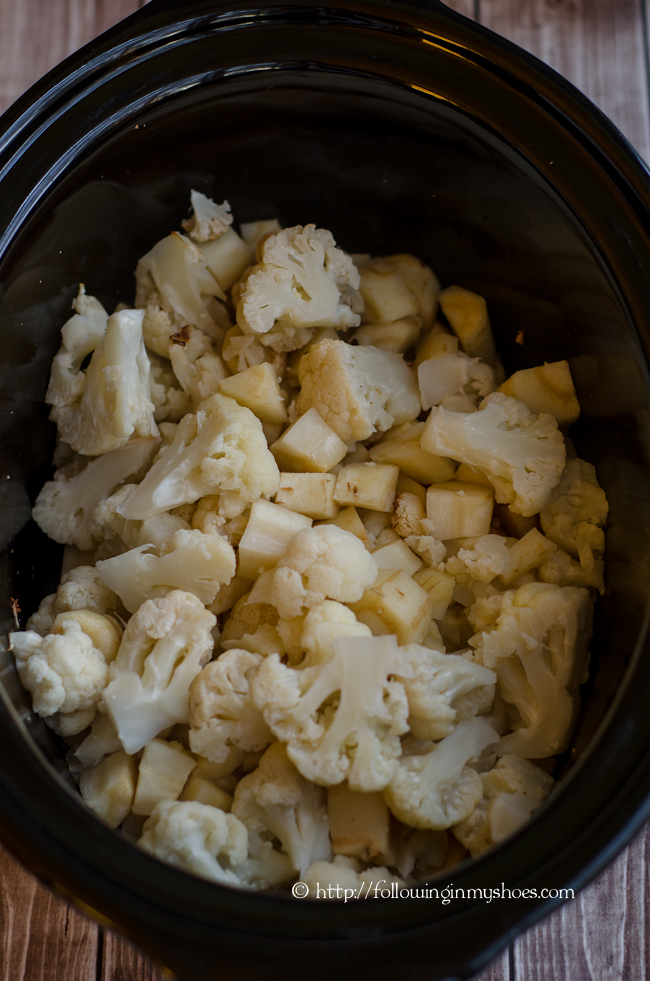 The slow-cooker both roasts and steams the parsnips and the cauliflower (which I decided to add into the mix to help lighten and stretch this recipe) in the matter of a few hours. Fuss-free and practically hands-free. All you have to do to transform the cooked veggies into the best "mashed" side dish (that's right — move over, Mashed Potatoes) is add a few cloves of roasted garlic, some cream cheese, and then let your immersion blender or food processor take over.
Add this to your Thanksgiving menu. You can thank me later.
Slow Cooker Parnsip-Cauliflower Puree with Roasted Garlic
If you need to serve more than 4-6 people, you can easily double this recipe ... just keep the 1:1 ratio.
Ingredients
1 pound Parsnips
1-2 pound head of Cauliflower*
2 Tablespoons Butter
4 oz Whole Milk Cream Cheese**
4-6 Cloves Roasted Garlic
Salt and Pepper to taste
Chives for garnish if desired
Instructions
Wash and chop the parsnips and cauliflower.
Add the butter to the bottom of the slow-cooker and then put the chopped veggies in the slow-cooker.
Cover and cook on high 2-3 hours or until the parsnips are fork-tender.
Open the lid and add in the the cream cheese and roasted garlic cloves (garlic mellows as it roasts so I find that I prefer more cloves in this dish; you can start with 4 and add more to taste). Use an immersion blender (or place all ingredients in a food processor) to puree all of the ingredients.
Salt and pepper to taste and serve.

How to Roast Garlic

Remove any loose skin from a head of garlic and then cut off the top ¼ to ½" inch of the garlic. Do not separate the cloves.
Place the garlic on a piece of aluminum foil and then drizzle good quality olive oil over the cut ends.
Wrap tightly with the foil and place the garlic on a baking dish and put in a pre-heated 400 degree oven for 20-40 minutes, or until the largest cloves are fork tender.
Remove from the oven. You will be easily able to squeeze the cloves out of their skin wrappers or use a fork to pull them out. Use as needed.
Notes
* The larger the head of cauliflower, the more pronounced its flavor will be in the final dish. I prefer a smaller head, which is practically undetectable.

** If you need this dish to be dairy-free, you can use canned coconut milk in place of the cream cheese. You can either use the thickened cream at the top of the can or the liquid -- a little at a time -- until the puree consistency is to your liking. We tolerate dairy so I chose to use the cream cheese to help bind everything together (and because it's awesome!).