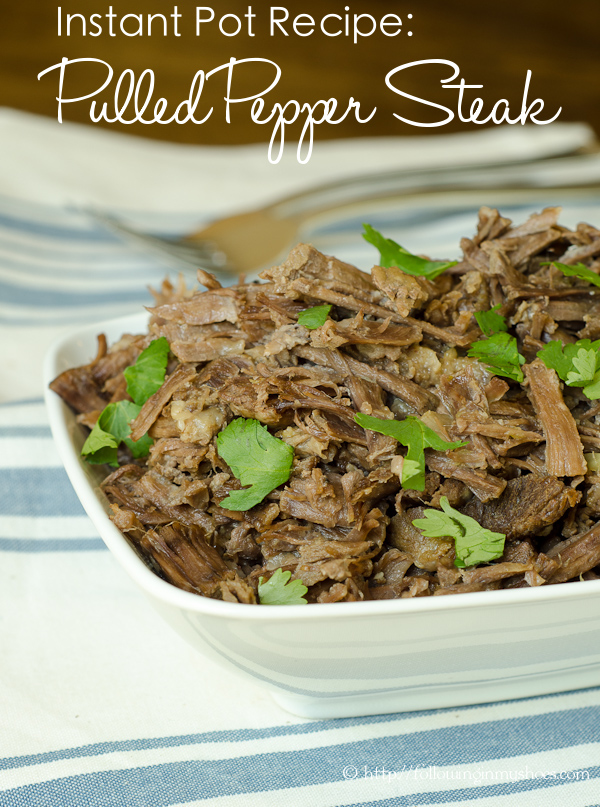 So, like most of the world, I am infatuated with my Instant Pot, which I've owned nearly two years. It gets way more use than my slow-cooker most weeks and not just because of how quickly it cooks a meal… I find the texture of nearly every Instant Pot dish to be so much better than most Slow-Cooker versions.  Instant Pot Beans are always perfectly cooked without being mushy.  Meat is always tender without being dried out.
I. Just. Love. It.
Last night, I discovered a new reason to love this machine … it can take frozen steaks from freezer-burnt shame to delectable tasty glory.
One of the benefits of having family members in the beef industry is that, for years, I've been gifted ground beef, roasts and steaks.  Beef raised on my Grandpa's Oklahoma prairie-grass pastures tastes better than anything I can find in the store (yes, I'm sure I'm a wee bit biased). But … BUT … sometimes, I just don't know what to do with all the steaks, especially the more unique cutes like club steak or pike's peak steak.
That's how I end up with meat lasting longer than it probably should at the bottom of my deep-freeze. I just don't KNOW what to do with them … well, DIDN'T know what to do. But, that is all now a thing of the past — the Instant Pot changed my LIFE last night (cue dramatic music).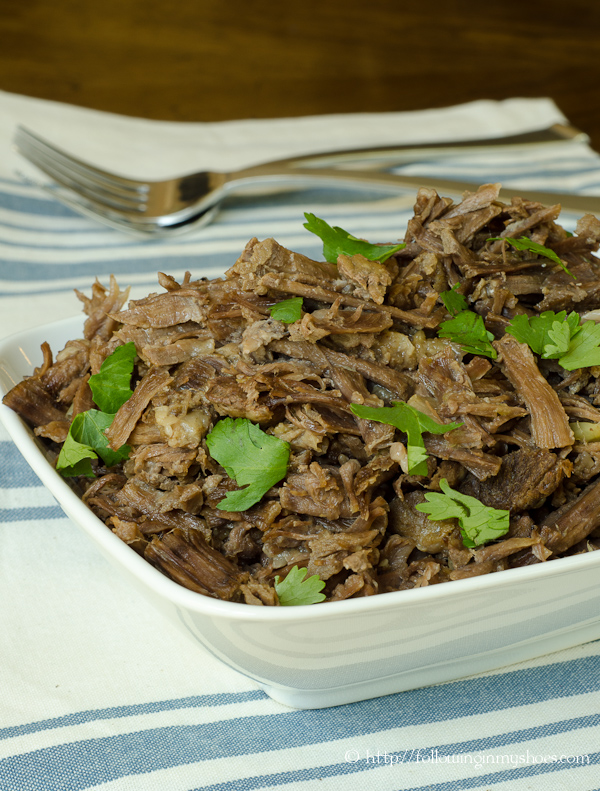 A few pounds of steak, a jar of mild peppers, a little salt, pepper, and garlic and in less than two hours I had fork-tender, perfectly spiced Pulled Pepper Steak.  We loaded up some grain-free tortillas (not my recipe but THE BEST OUT THERE) with the meat and a little cheese and devoured them. After we ran out of tortillas, the pickiest eater, Mr. Boy, ate and ate and ate the meat by itself (which, if you had ever read his manifesto agains all things pepper, you would understand the shocking feat of this recipe).
Now, about the jarred peppers in this dish — they are SO mild and the kids didn't even notice them mixed in with the meat. They were already sliced and so they were practically dissolved at the end of the cooking time. They won't make the dish too peppery but simply provide a little "umami" and depth to the flavor of the steak. Oh, and the reason I even decided to throw those in the mix? They had been hanging out in the pantry long enough and it was time for them to have a life-purpose before the calendar reached their expiration date. I'm starting to worry that I might have a hoarding problem. Thankfully, it was a risk that paid off!!!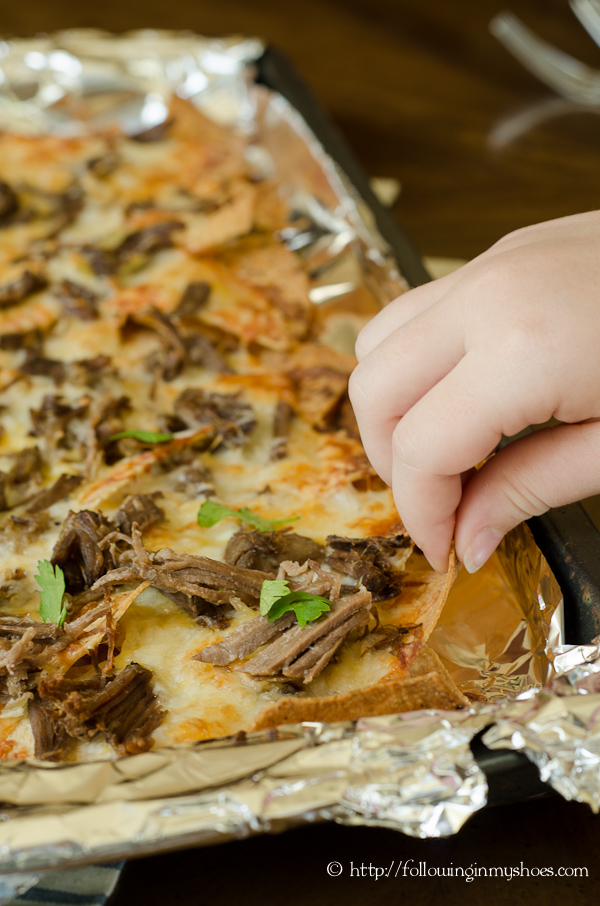 There just enough leftovers to use for either breakfast scrambles or to use as a salad topper for lunch or for a quick plate of nachos for hungry Kidlets.
Whether you have a stash of freezer-burnt meat or not, you need to put this recipe in your back pocket.  It's a great one!

Instant-Pot Recipe: Pulled Pepper Steak
Ingredients
3-4 pounds beef (cheap steak or roast cuts will all work)
1 16-oz jar Mild Pepper Rings (banana peppers or pepperocini)*
3 TB Adam's Reserve House All Purpose Rub**
½ cup broth or water
Instructions
Season all sides of the beef with the rub and place in the Instant Pot.
Pour Peppers (including juice) over the meat and then add the broth/water.
Seal the Instant Pot and select the Meat setting, and set for 70 minutes.
Use a natural release before opening the Instant Pot.
Shred the meat and serve as desired over rice/potatoes, in tacos or enchiladas, or on top of salads.
Notes
The jarred peppers can typically be found in the "Italian" foods section of your grocery store.
Adam's Reserve House Rub is my go-to spice; it's simply a prepared blend of salt, cracked black pepper, and dried garlic. It's AWESOME and is what we use to season beef and pork regardless of cooking application.