This past weekend, the Kidlets and I headed to Oklahoma for some family time; the weather here is absolutely beautiful right now: everything is green, lush … butterflies are landing on all the vibrant blooms and Grand Lake, visible from my Mom's kitchen window, shimmers in the distrance.
Sunday was made just a wee bit more perfect thanks to adorable handmade Mother's Day gifts the Kidlets fashioned in their Sunday School Class … and thanks to my Dad's impeccible grilling skills.
There is just something about a man and fire.  My grandfather, my father, the Husband … and even his father all possess their own grill tongs and their preferred way of grilling.  For Grandpa, it's always been straight charcoal — briquets which smolder and cook hamburgers to his preferred level of doneness … which is very, very, very, VERY well done.
Dad has spent years working on his routine: charcoal and soaked wood chips are all he needs to create the perfect smoked chicken breast or mouth-watering juicy burger.
My Father-in-law built his own barbeque grill.  The thing is HUGE and can handle a brisket like nobody's business.  He is a fan of imparting flavor through dry-rubs and slow heat and believes "if you have to use sauce … you don't have good meat."
With the Husband, it used to just be all about the fire — he was notorious for setting up a good blaze and then forgetting about the proteins or vegetables left to burn at the stake (pun intended, of course).  And, then there was the time his grilling efforts resulted in his arm hair and eyebrows … well … let's just say he didn't have any for awhile.  Yeah — let's just leave it at that.
But, over the years, my Boy has grown-up, donning his grill apron with a sense of pride, eager to create the perfect dish for our special occassions — usually the arrival of summer-time guests.  The meal most requested of my grill guy?  Garlic Shrimp.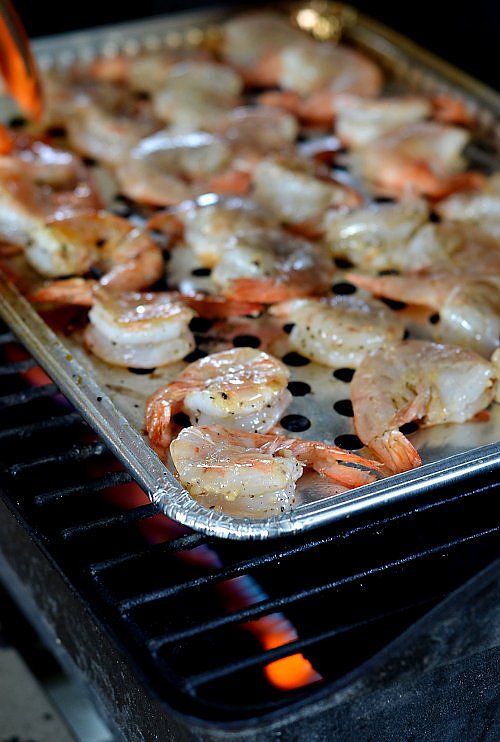 I think my Little Lady may be the biggest fan of this recipe, with its simple and fresh ingredients.  Every time we pass the seafood counter at our grocery store, she begs and pleads for me to buy some gulf shrimp, promising to clean her room forever and always be nice to her brothers if only Daddy will fix her favorite meal.
For being only 4 years old and under 35 pounds, this little girl can put away some shrimp.  As soon as the steaming plate is placed on the table, she digs in — pausing only to remove the coral-pink shells.
For my daughter, those summer nights with family and friends are gleaming highlights to end her days of playing, running, squealing and pretending.  Twilight moments as the sun sets, the smell of the grill making everyone's taste-buds tingle. . . the sound of laughter as we all look forward to Daddy's special meal.
 Tips For Grilling Shrimp
Fresh is always best but previously frozen, raw shrimp (from your seafood department) will do well too.
Don't buy the shrimp too far ahead from when you plan to cook it; it's best to purchase the day of your meal/event or no more than 1 day out.
Not sure how much shrimp to buy? Check the numbers listed on the seafood counter; you'll see a set of numbers (8/12, 16/20, etc.) that will give you an indication as to how many shrimp you can expect per pound purchased.
Invest in good quality, "First-Cold Pressed" Olive Oil; the flavor imparted on the shrimp is just unequalled.
Use (pre-soaked) wood skewers or a grill pan to grill shrimp and keep them out of the fire.  Grill pans are inexpensive (ours was $1.50) and can be found in the grilling supplies section of your grocery store.
Want to save time on the minced garlic?  Don't want to overwhelm your guest with the smell? Buy jars of pre-minced garlic; it is sold in a variety of sizes.  We can find it in both our produce department and with the jarred olives, peppers, etc.  It's a HUGE time saver.
Grilled Garlic Shrimp
[print_this]
[/print_this]
My husband's Griled Garlic Shrimp recipe is why our family — especially the Little Lady — loves grilling. Now … what about you?
This was a sponsored recipe I developed on behalf of Sears. The opinions and text are all mine.