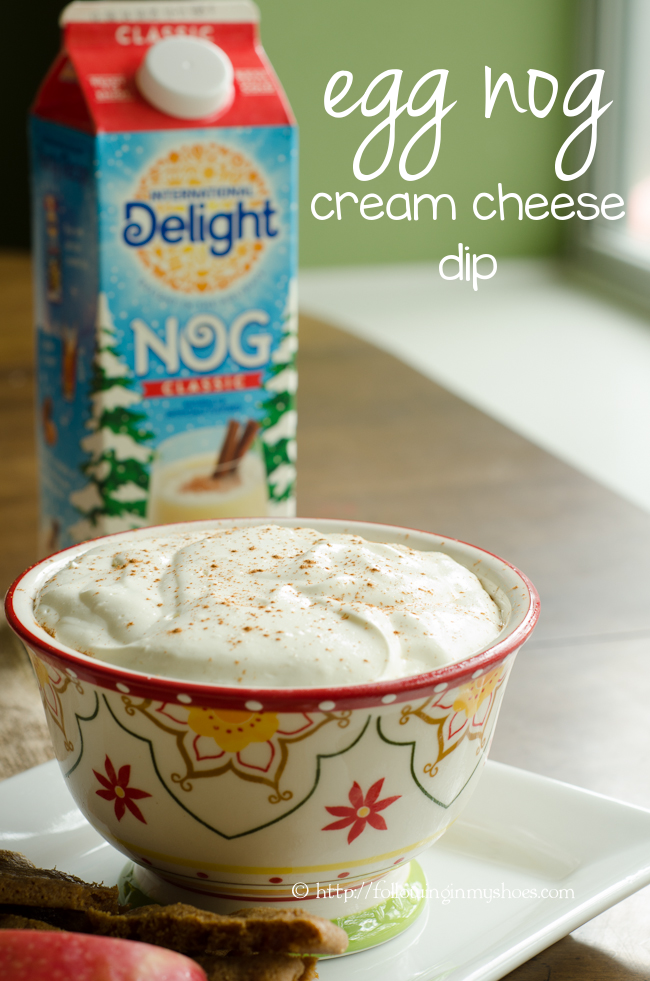 When I was a little girl — probably a mere 5 or 6 years old — my older cousin challenged me to an egg-nog drinking contest.
I was foolish.  He was a teenager with a stomach like a bottomless pit.
The contest didn't end well, and it was decades before I again let any of that decadent holiday drink cross my lips.
Decades.
Two Christmases ago, the Husband persuaded me to take one wee sip of his nog.  Egg-nog — whether in drink or ice cream or an egg-nog dip — is his favorite holiday flavor and he was eager to get me on board with keeping the drink stocked in our fridge.
I tried to tell him I hated egg nog.  That just the smell of it brought back those stomach-turning memories of Christmas past.
But, to appease him (because his stubborn self would. not. give. up.), I agreed to try egg-nog for the first time since Reagan was president.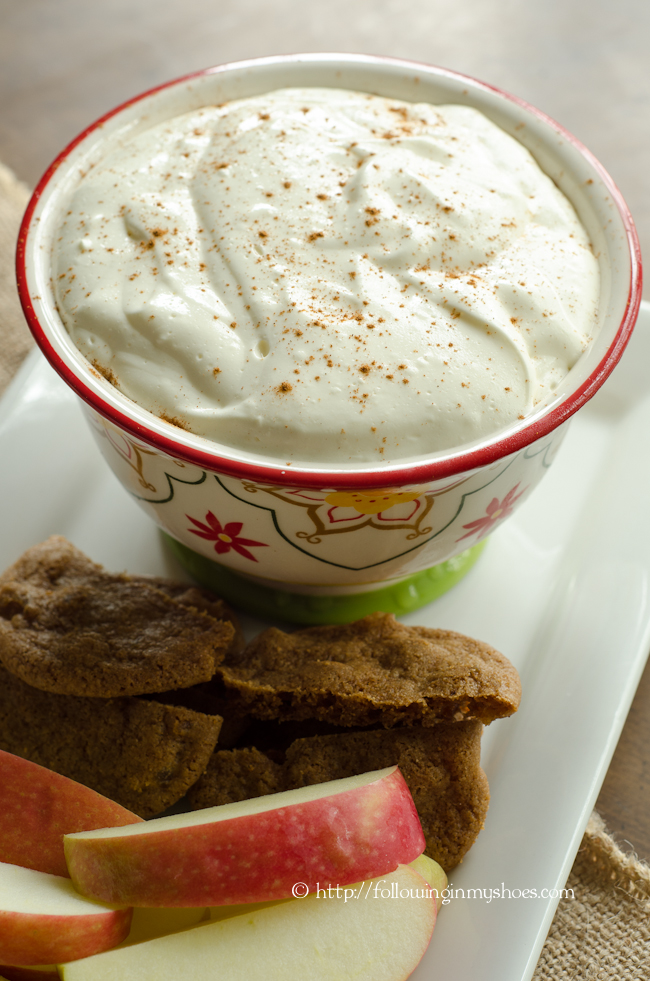 Man, am I glad that boy is so stubborn!
Egg-nog repulsive?  Egg-nog not my thing?  HECK NO!  Egg-nog is delicious.  Egg-nog is perfection in a glass.  Egg-nog is my new Christmas tradition.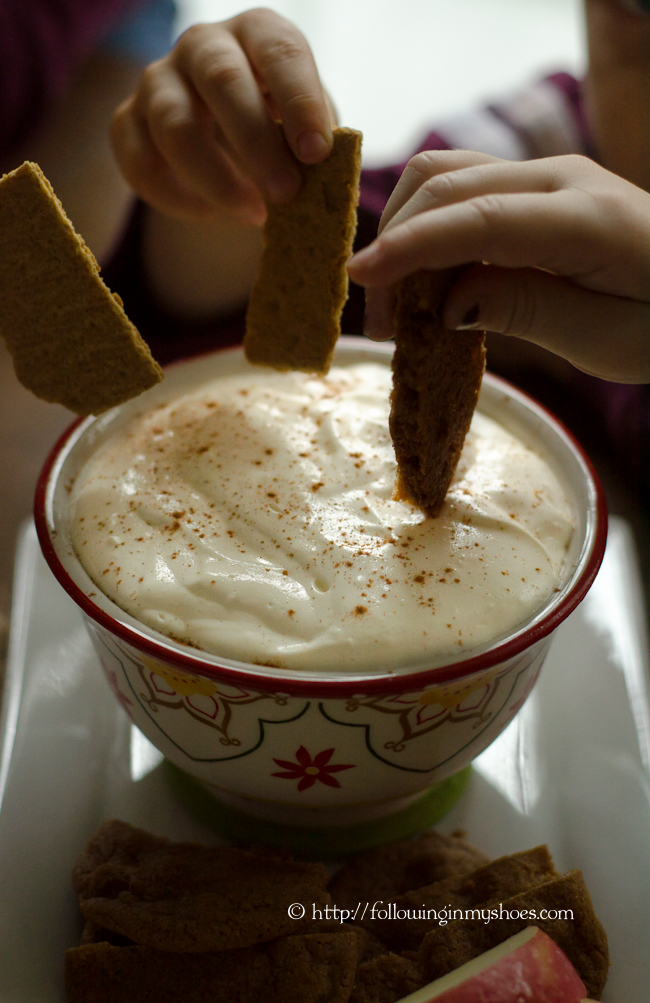 Despite wanting to hoard all of the nog for myself, I decided to spare a little for an easy after-school snack.  Egg-Nog Dip … or, as Mr. Boy put it, "The Best White Stuff EVER."
He's five.  Adjectives will come eventually.
You only need two ingredients to whip up the perfect dip for freshly sliced apples, graham crackers or ginger snaps.  That's right — just egg-nog and cream cheese find their way into this recipe.  Use your stand mixer (or your mega muscles if you are NOT me) to blend it all till smooth and then serve.
Of course, as with most dips, chilling it in the fridge makes it even better.
Feeling fancy?  Sprinkle a wee bit o' cinnamon and a dash o' nutmeg on top.
BAM … you're done.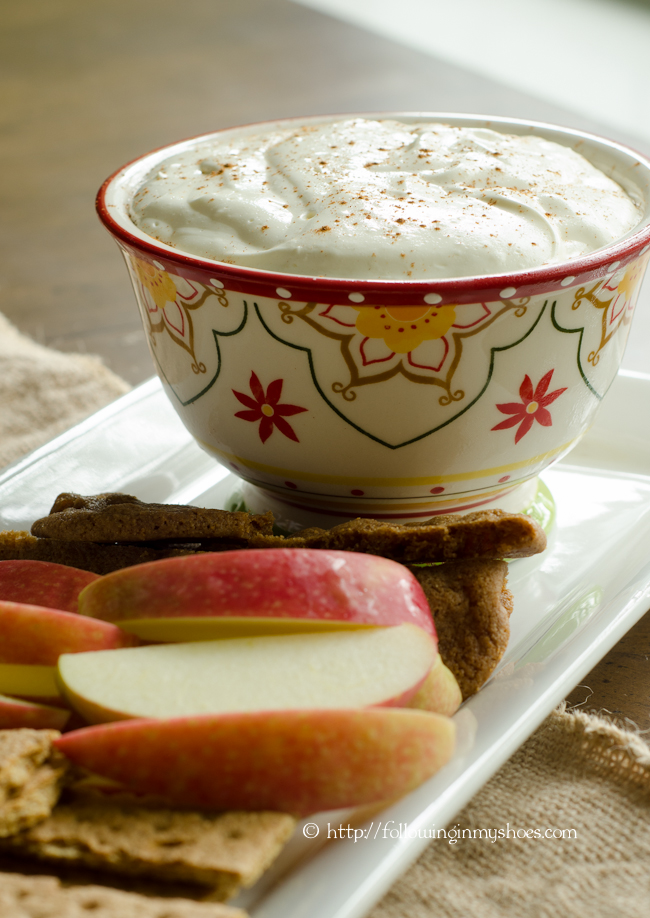 Egg-Nog Cream Cheese Dip
Ingredients
1 8-ounce block of Whole Fat Cream Cheese
¼-1/2 cup of Egg Nog
Apples, graham crackers, gingersnaps for dipping
Instructions
Place the block of cream cheese into your stand mixer. Beat on medium-low till softened and then add the egg-nog until you reach your desired consistency and flavor.
Chill or serve immediately with fresh apples, graham crackers or gingersnaps.
Pssst … International Delight Nog
Did you notice the International Delight egg-nog in the recipe photo? That's right — they've expanded their line to include our favorite holiday drink! If you're curious to try it, join the International Delight community and get a coupon (plus recipes and other member-exclusive things like giveaways).
This is a sponsored conversation written by me on behalf of International Delight. The opinions and text are all mine.