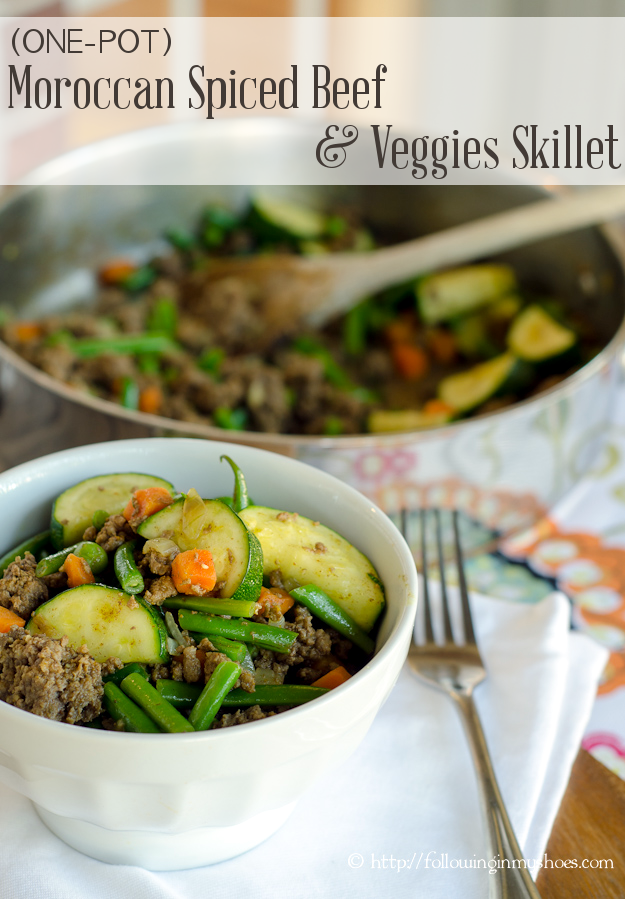 Growing up, I remember my mom making a lot of one-pot dishes … all of which used ground beef.
No, I'm not talking Hamburger Helper here, folks … my mother never used a box mix for her one-dish dinners.
(side-note: I never tasted Hamburger Helper until I was married, when the Husband tried to convince me they were the best thing at the grocery store. That poor, deluded man. He has since learned the error of his ways)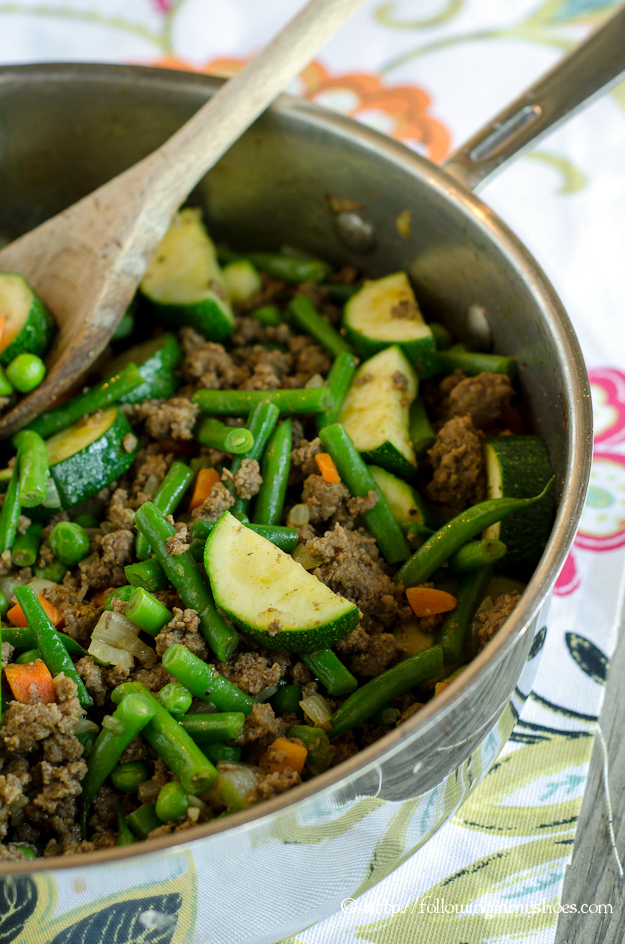 Now, my Oklahoma mother catered to my father's conservative taste-buds which meant the meals she made were solidly Southern (with a dash of mid-western thrown in for kicks).  Spaghetti was about the most exotic dish she made.
Note that there was anything to complain about — Mom was and is a fantastic cook.
But, thanks to our very typical American kitchen, there wasn't a lot of variety with her beef and vegetable dishes.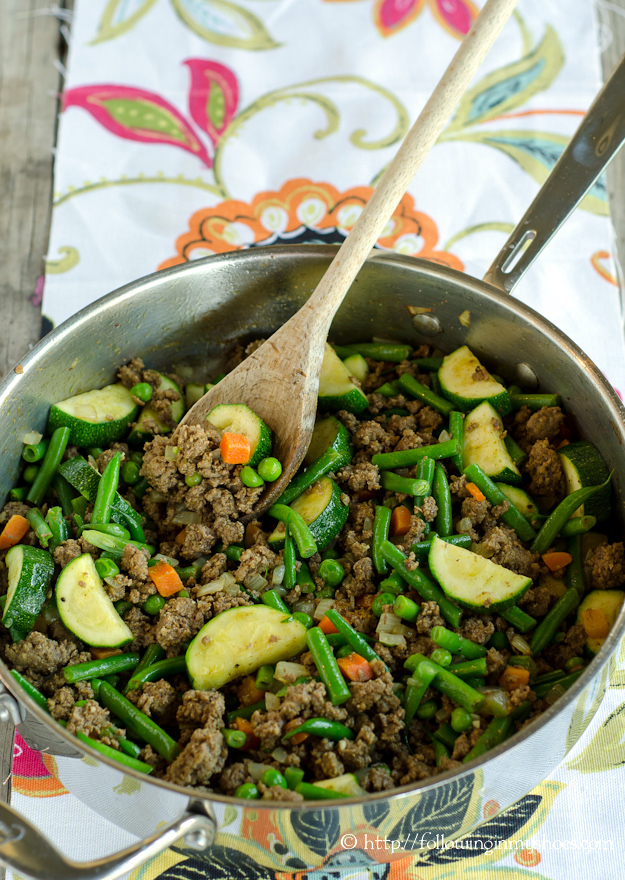 Yet, as I threw together ground beef and a variety of fresh, frozen, and leftover vegetables … and experimented with a quintessential Moroccan spice blend, Ras El Hanout … I couldn't keep my thoughts away from Mom's fragrant kitchen and her ability to feed a family of six on very little.
Beef from the family farm and vegetables from the enormous garden she planted each year were the staples of each meal she prepared … there were no exotic spices or ingredients because they weren't economical (not to mention nearly impossible to find in our small rural community).
She didn't have the time or means to be a "foodie".  She was busy being a mom and a thrifty cook.
And that was just what she needed to be.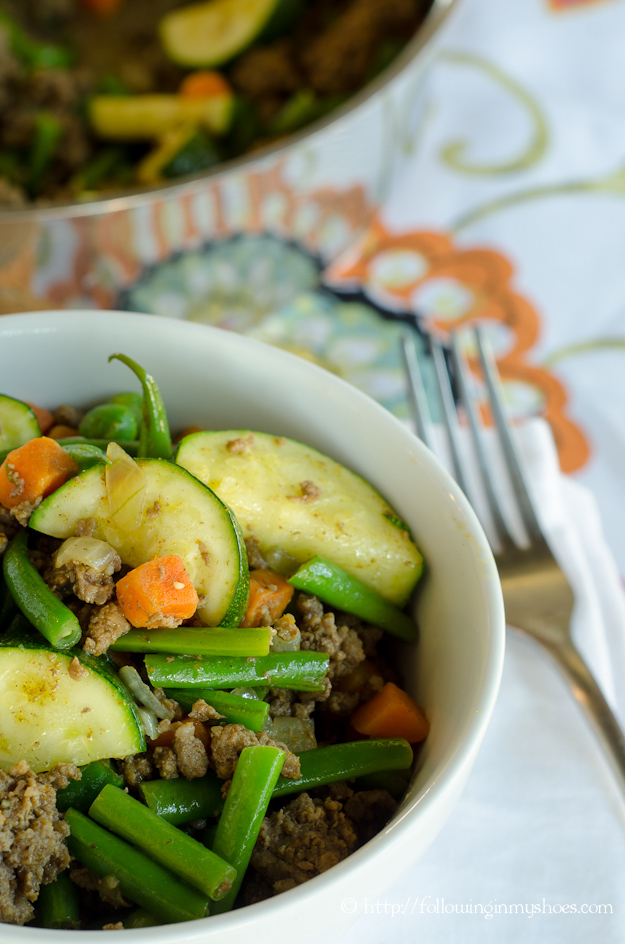 In this Moroccan Spiced Skillet Dish, I pull from my mom's frugal example … and that's the beauty of any skillet meal.  Any protein will work — ground beef or turkey or pork … even diced chicken would be delicious!  After that, it's simply a matter of using whatever vegetables you have on hand in the fridge or freezer.
This particular meal ended up being so delicious, I had to promise the Little Lady that I would make it exactly the same way again and again. . . which is the main reason I decided to share this recipe.  I need to be able to remember what went in it!!!
Ras el hanout is friendly, warm and just barely spicy — a perfect way to tip toe into the world of Moroccan cuisine.

Moroccan Spiced Beef and Veggie Skillet
Ingredients
1 pound Ground Beef
1 half of a medium Yellow Onion, diced
1 medium Zucchini, thickly sliced
1 cup frozen Peas and Carrots
2 cups steamed Green Beans, chopped
1 minced clove of Garlic
1 tablespoon Ras El Hanout
1 tablespoon fresh Lemon Juice
¼ cup Water
Salt and Pepper to taste
Instructions
In a large skillet and over high heat, brown the ground beef with the diced onion. Once browned, drain the grease and lower the heat to medium-high.
Add the minced garlic, the lemon juice and stir in the Ras El Hanout. Cook 1 minute.
Stir in the water, using it to deglaze the pan if necessary.
Add the vegetables and cook until the zucchini is cooked (3-4 minutes).
Taste as season with salt and pepper to taste. (I added ½ a teaspoon of salt and several dashes of cracked black pepper)