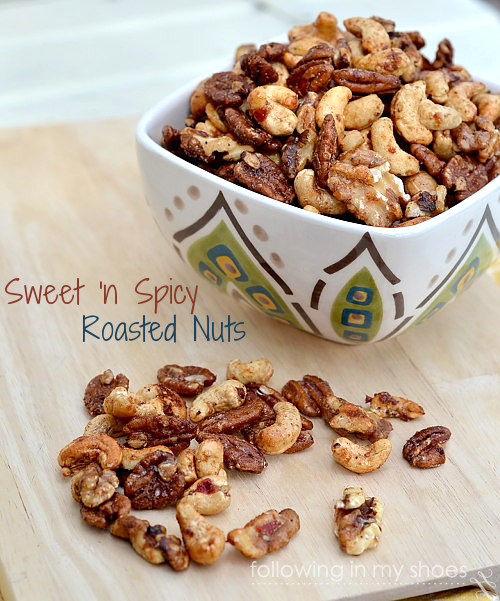 Right now, I'm sitting in my Mother's living room, listening to Mr. Boy giggle as he rough houses with the Husband … and smelling all the wonderful aromas of Thanksgiving wafting from the kitchen.
I love being with family, regardless of the occasion; there is the feeling of "all is right with the world" when you are surrounded by the people that love you.  And my mother, like so many Mamas, shows her love through thoughtfully planned meals.
Like my Mama, I enjoy being the one who prepares food for those who visit my home.  Picking menu items based on what I know guests and family enjoy — showing them I'm glad they are a part of my life.
As corny as it sounds, these nuts were created for such a purpose.  I know how much my father-in-law and husband like pecans, so … I bought them some to snack on while watching the A&M vs Alabama game a few weeks ago.
But, I decided to make things a little more interesting.
(why not?)
I started with my grandmother's recipe for Sugar Frosted Pecans — a sweet staple on the dessert table every Christmas.  And then I brought out the cracked Black Pepper.  The ground Cayenne.  The Chili paste.  And the caramel-colored Brown Sugar.
(I'm trying not to drool as I type this.)
By the time of the first kick-off, nearly half the nuts were missing from the bowl.  By half-time, only a small handful was left.
Everyone was going back and back and … for more.
THAT'S when you know, folks.  You know you have a winner.
Perfect for a snack or poured into a jar and given as a gift.  Either way, somebody is going to be happy.  Happy.  Happy.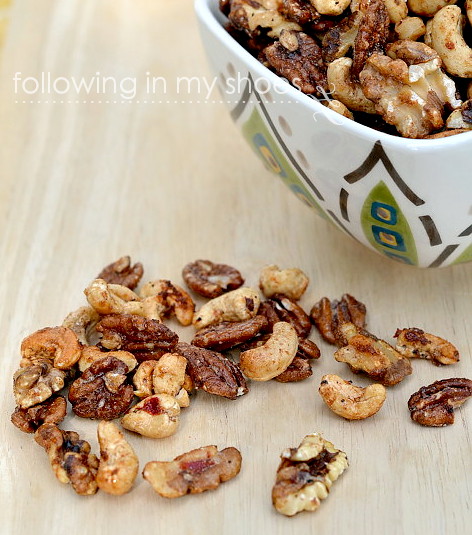 Holiday Snacks: Sweet and Spicy Roasted Nuts
The perfect blend of heat and caramelized sugars raise the bar on these roasted nuts. Give them as an easy gift or eat them yourself!
Ingredients
2 pounds of Raw Nuts (single variety or mixed)
1 Egg White
½ tablespoon of Water
1 tablespoon of Sambal Olek*
⅓ cup of Packed Brown Sugar
¼ teaspoon Cracked Black Pepper
1 teaspoon of Ground Cinnamon
Salt/Pepper (added at the end of cooking)
Instructions
Preheat your oven to 350 degrees and line a baking sheet with foil.
In a small bowl, whisk together the egg white and water till frothy.
Add the Sambal Olek, brown sugar, black pepper and cinnamon and whisk to fully incorporate.
Add the nuts and toss to coat.
Pour onto the baking sheet and place in the oven.
Cook for 30 minutes and then remove from the oven. Toss the nuts, scraping to loosen any nuts that have caramelized to the pan.
Sprinkle with sea salt and additional cracked black pepper (to taste). If desired, for an additional kick, you can sprinkle ¼ - ½ teaspoon of ground Cayenne pepper over the nuts.
Return to the oven and cook an additional 5 minutes.
Remove and transfer to a wire wrack to cool or empty the nuts onto a clean sheet of parchment paper.
Store in an air-tight container.
Notes
When you remove the nuts from the oven, don't be alarmed if they are soft; they will harden back up as they cool. *Sambal Olek can be found in the Asian food aisle at your grocery store.