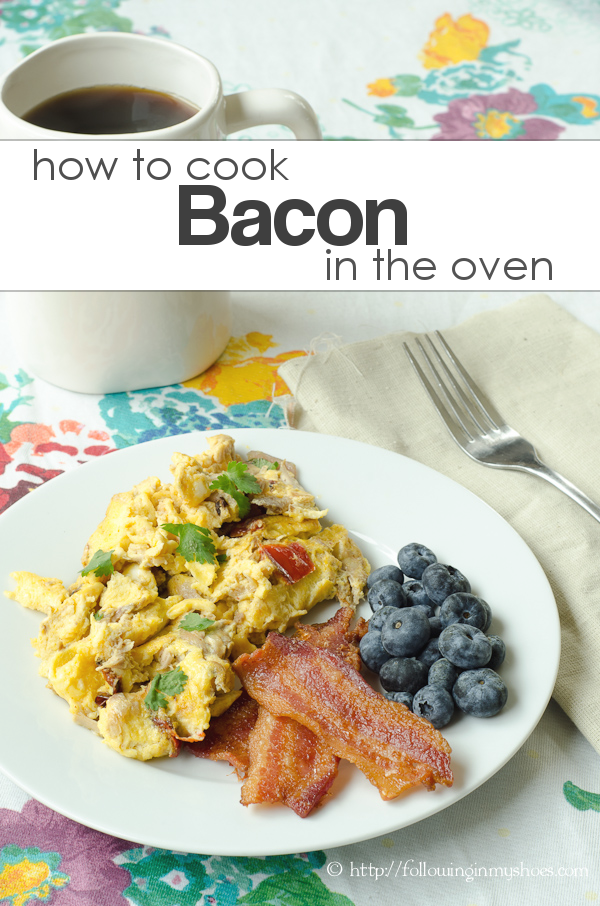 Every time I mention to someone that I ALWAYS cook bacon in the oven, I am ALWAYS surprised that this is a novel idea to them.
"What? You can cook BACON in the OVEN?  But … it won't get crispy!"
Oh, my friends.  My friends.
Crispy bacon — in the oven — is a very real thing. And you don't have to flip anything. Or get splattered. Or smell like bacon grease for the rest of the day.
(I hate that.)
My Mama was the one who taught me how to do this and I haven't looked back once.  So, free yourself up! Go ahead and drink coffee or watch your children argue over the remote. It's all good – that bacon won't get the stove-top greasy while you're looking away.  Promise.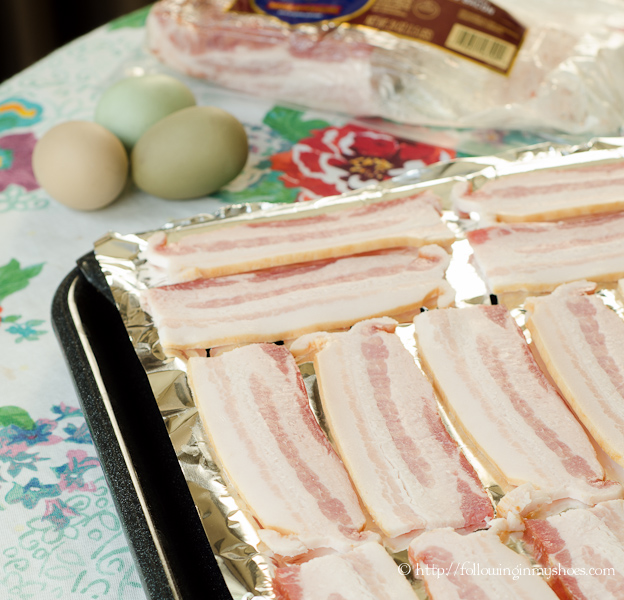 First off — get yourself some good. quality. bacon.  I can't stress this enough — thick-cut bacon is the way to go. I am a bacon snob (and I have no shame in that); thin-cut bacon is worthless to me. Thick, hickory-smoked bacon is something I willingly splurge on … the Husband learned this lesson the hard way when he brought home value bacon once.  I think it had a ridiculous name like "Corn King".  Seriously? CORN KING for a BACON BRAND??? Ugh.
And it tasted worse than the brand name.
Never. Again.
No, I cut corners elsewhere in my grocery bill but never when it comes to bacon.
#EndRant
Line that glorious meat on a foil-lined broiler pan and place it in a preheated oven. Now, this is the where my Mama and I differ. She puts the bacon in a cold oven and then heats her oven to 350. And then she waits 30-40 minutes. I am too impatient for this method.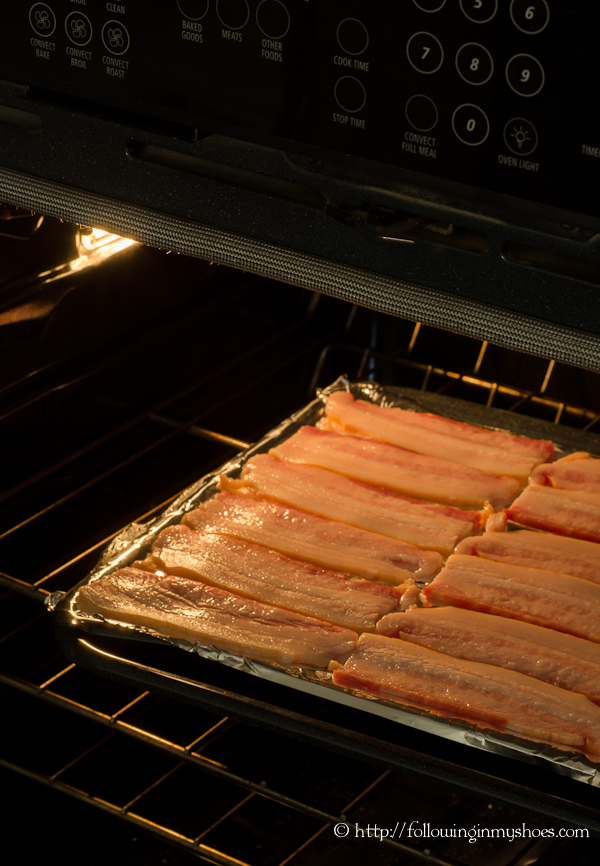 (don't like how dark I left this photo? Sorry — I was trying to hide how dirty my oven is. Just keeping it real, folks.)
I preheat my oven to 450 and then put my bacon in. (p.s. leave your oven-rack in the middle position).
In 15-18 minutes, I have perfectly crisped bacon. It's that easy.
OBVIOUSLY, it goes without saying but I'm gonna say it anyway: do check on it as you start getting to the 15 minute mark, especially if you don't heed my advice of using thick-cut bacon. Ovens vary and thin bacon will cook even faster. It *is* possible to char a previously beautiful pan of bacon — especially if you find yourself binge watching something on Netflix whilst making breakfast.
Just a friendly reminder.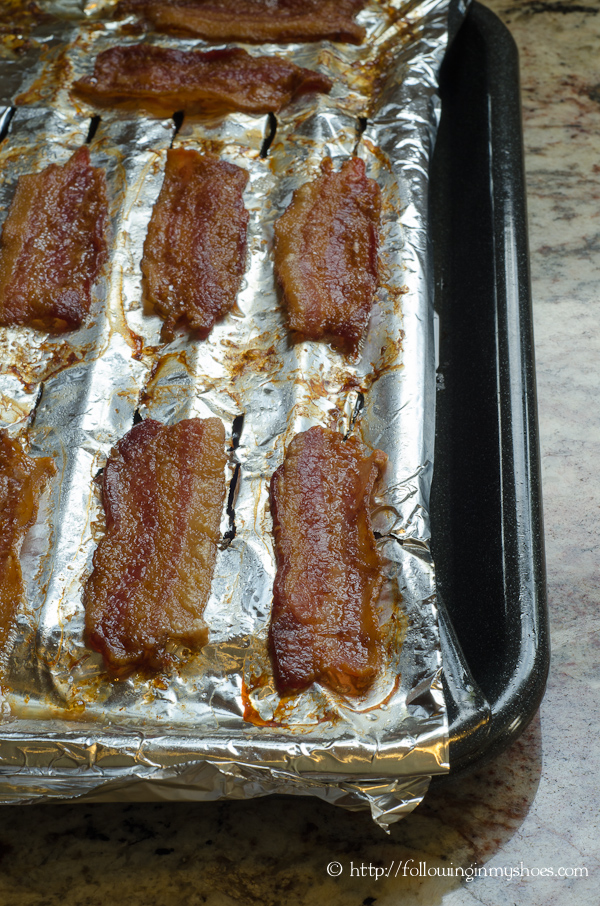 Once finished, remove and enjoy.
It really is that easy.
P.S. You can FREEZE this glorious bacon if you want to make life even easier!!!!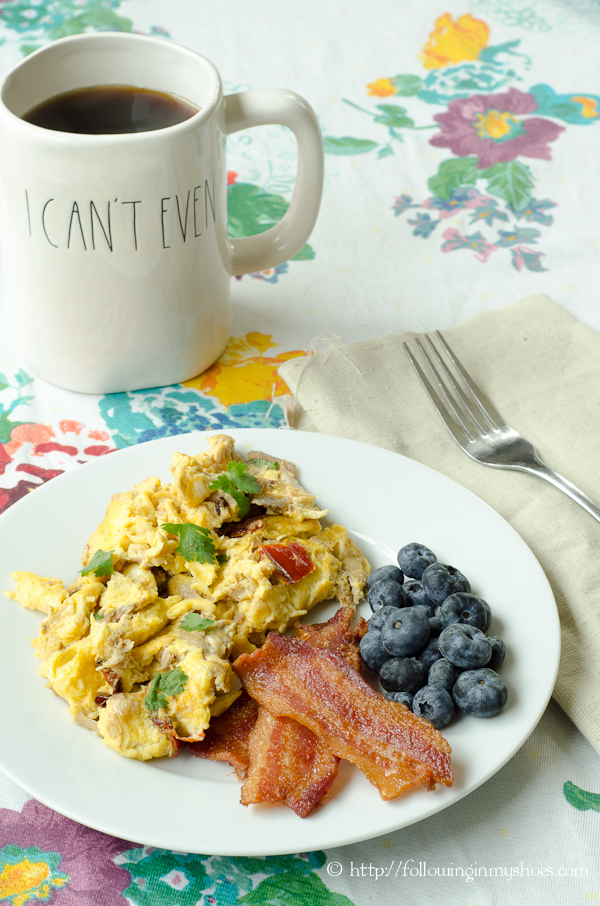 How To Cook Bacon In The Oven
Ingredients
1 package of bacon, thick-cut preferred
Instructions
Preheat your oven to 450 degrees.
Line the top of a double-layer broiler pan with foil, using a butter knife to cut through the foil just above the pan's drain-holes to allow bacon grease to drain into the bottom pan while cooking.
Place in the oven and allow to cook. Check the bacon at the 15-minute mark and remove from the oven when desired level of crispiness is reached.
Serve immediately or freeze for future use.