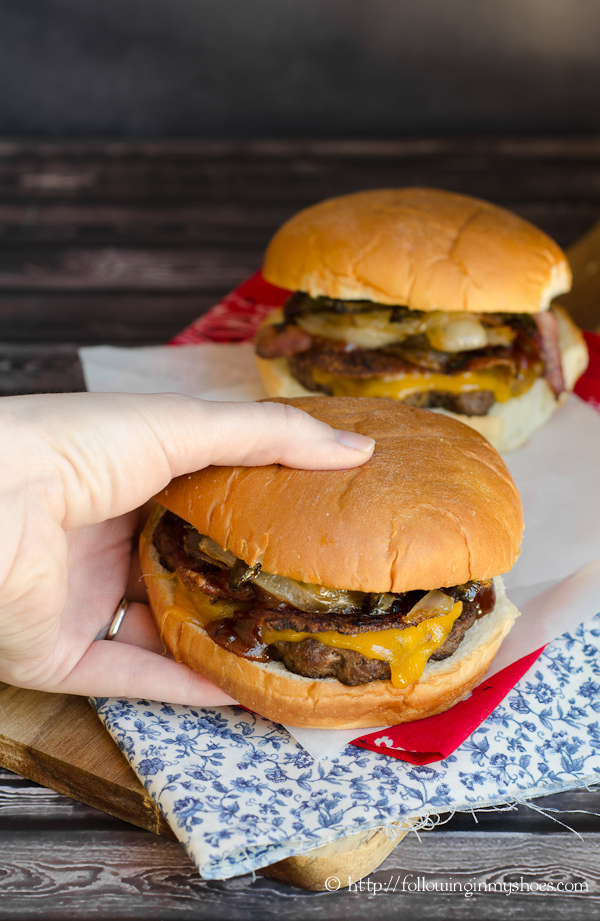 We are in full on tailgating mode here in College Station, home of the Fightin' Texas Aggies.
(whoop!)
Every Friday, my friends and coworkers head to campus to lay claim to their tailgate spots (you better believe it is competitive!) and I spend the day choosing my game-day menu.
I'm not sure how it is around other universities, but here in Texas, game food is all about the beef!  Ribs, brisket and burgers get cooked, smoked and grilled and the aroma definitely hits you when you walk through the sea of pop-up tents and  cooking trailers (yes, trailers — some of these die-hard fans have spent more on mobile kitchens that I have on anything in my life!).  If you don't arrive to the game hungry, you will be just smelling everyone's food!
This week, The Husband is excited because we are going to be eating all of his favorite foods at once: roasted jalapeños and sweet onions, thick-cut bacon, cheddar cheese, and smokey barbeque sauce on a Texas-raised and finished beef.
And don't forget the bread — sweet King's Hawaiian hamburger rolls: the Husband's favorite.  Even though I try to limit my grains, I still buy King's Hawaiian breads and rolls for The Husband … he can't get enough of the irresistible mix of savory flavors on sweet bread.
(confession: I broke my gluten-free lifestyle to taste-test while I developed this recipe.  Um, yeah. Totally worth it.)
And now that they also have a line of barbeque sauces — from the Hawaiian inspired Original Sweet Pineapple Sauce and Kona Coffee Barbeque Sauce to their Smoked Bacon Sauce and the spicy Big Island Lava Barbeque sauce — the Husband is even more in love.
And. So. Am. I.
For this week's perfect Texas tailgate recipe, I paired the King's Hawaiian Smoked Bacon BBQ — a thick, tangy sauce with plenty of bacon in it — with my burger.  I mean, seriously … how can you go wrong with beef, bacon and BBQ????? It's the best, crowd pleasing #GameTimeGrilling combination, especially with roasted sweet onions and jalapeños.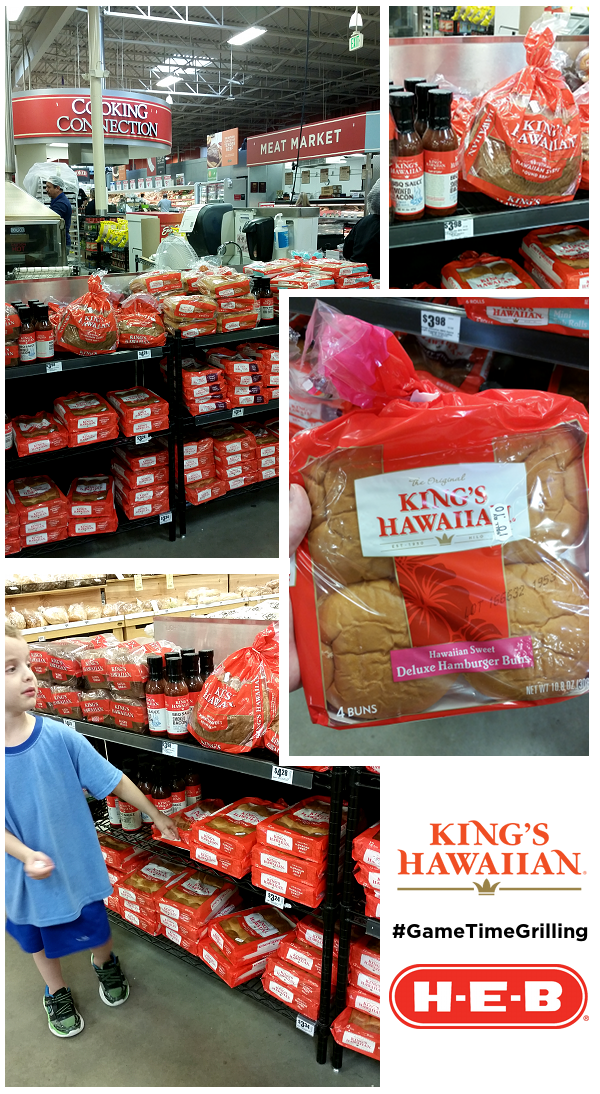 If you're a fellow Texan, you can find everything for this recipe at H-E-B (I lurrrrrve that place).  In fact, they make it super easy and have all of the King's Hawaiian rolls, hamburger and hot dog buns, and their new sauces right smack dab out in the open.  You can't miss it … and if you do, just put a little curly-headed assistant on the job and he'll make sure you find everything you need for the best Game Day Burger evah!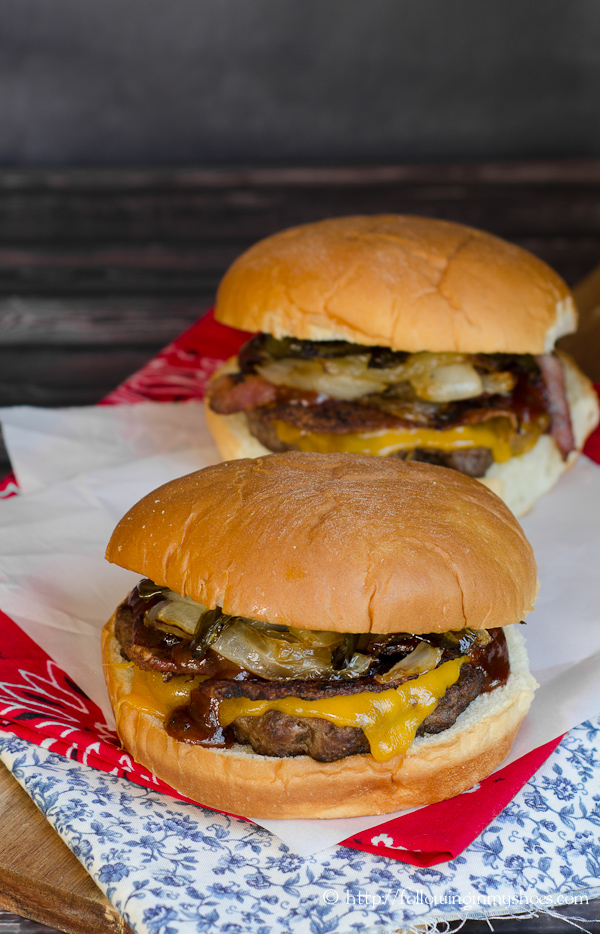 Grilled Sweet 'N Spicy Bacon Burger
You can't go wrong with zesty bbq, bacon, roasted jalapeños and sweet onions, and cheddar onto of grilled beef and sweet bread. It's the perfect, irresistible Game Day Burger! This recipe will make four, quarter-pound burgers so make sure to double or triple if grilling for a crowd!
Ingredients
1 pound of ground beef
salt
pepper
Sliced Cheddar Cheese
10 slices thick-cut uncooked bacon
1 sweet onion, halved and sliced
4 jalapeños (ribs and seeds removed), thinly sliced
King's Hawaiian Smoked Bacon BBQ Sauce
King's Hawaiian Hamburger Rolls
Instructions
Line a grill pan with foil. Cut two of the bacon strips into ½ inch slices. On one half the pan, place the sliced onion and jalapeño and then top with bacon slices.
On the other half of the pan, lay out the remaining slices of bacon.
Place the grill-pan in a preheated grill (over indirect heat) to begin cooking while the burgers are prepared. Allow them to cook until your desired level of cooking is reached -- some may prefer crispier bacon than I do .... and some may prefer their vegetables grilled longer to bring out more sweetness.
Divide ground beef into four patties. Season each side with salt and pepper. Place on your grill and cook till desired cooking temperature is reached (flip once).
Top with cheddar cheese and then remove patties and place on King's Hawaiian hamburger rolls. Top with bacon, King's Hawaiian Smoked Bacon BBQ Sauce, grilled jalapeños and onions.
Enjoy!
Notes
Want to save some time on Game Day? You can prepare the jalapeño, onions and bacon ahead of time in your oven. Cook them (foil lined cookie sheet) in a preheated 425 degree oven for 10-20 minutes, or until your desired level of cooking is reached for the vegetables and the meat.
The post was sponsored by King's Hawaiian but all opinions are my own!