Take a look at my bookshelf and you'll quickly notice a couple of things about me: (1) I'm addicted to books and (2) I'm equally addicted to mystery novels.  Agatha Christie, Dorothy Sayers, and other great novelists of the genre line my black, wooden shelves — each book worn as it has been read over and over (and over).
One thing I have wanted to do since college (where, yes, I took several courses in Detective Fiction) is attend a Murdery Mystery Dinner.  Hello?  Food?  Mystery?  Acting?  It's right up my alley!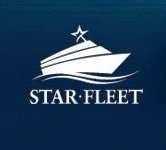 Here in the Houston area, you can enjoy all the elements of a Murder Mystery Dinner AND a beautiful time in the Gulf thanks to Star Fleet Yachts.  That's right, mystery buffs . . . a Murder Mystery CRUISE!
A little over a week ago, while my kidlets spent the week with grandparents (thank you, thank you, THANK YOU, grandparents), Hubby and I had a "Week o' Mystery."  One night, we were at the Alley Theater for Agatha Christie's, "And Then There Were None."  The next night, we were in Kemah, Texas for a night with "Big Band Bobby" and "The Big Band Theory."
And, despite owning every Agatha Christie novel, I have to admit the cruise was the more fun of the two date nights.  By FAR.
The Ship
We boarded the Star Cruiser (one of the five yachts that make up the Star Fleet), along with close to 80 others, and everyone — eyes discretely looking around at the other passengers and, also, sizing up the buffet — quietly waited for the cruise to start.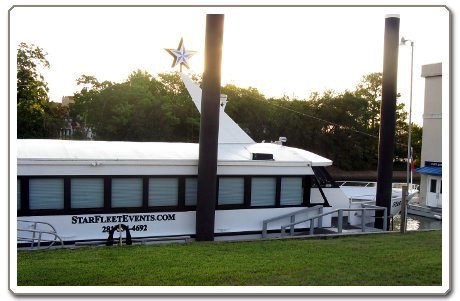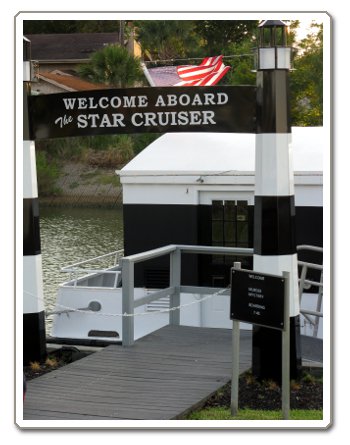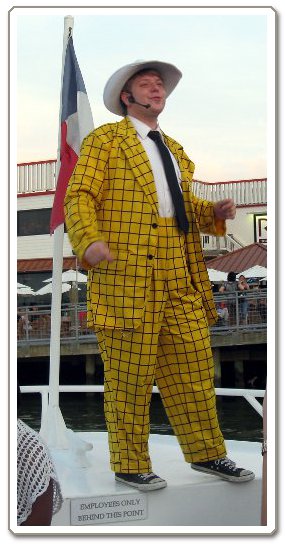 We didn't stay quiet for long!  Big Band Bobby was quick to quell any shyness among the passengers with his over the top personality and his enthusiastic role.  It was only a matter of minutes before he had people laughing and chatting with their table-mates.  That's right … table-mates.
The interior of the yacht is air-conditioned (which this hot, preggo mama greatly appreciated) and there is assigned seating for all passengers.  Hubby and I sat with half of a LARGE birthday party (a hilarious group of women — think the "Ya Ya Sisterhood" — celebrating a friend's 60th birthday), and, even for someone as shy as me, it was fun to talk with our fellow passengers.
The Star Cruiser was much roomier than I anticipated … aside from the dining area, there was a roomy deck, buffet area, dance floor, bar, and restroom.  Yep, every amenity is covered on this yacht!
 The Food
The food on this cruise was a big concern for this Mama. . . a fact which probably doesn't surprise anyone.  Hubby and I were both pleased to realize, after just a few bites, that the dinner was good!  The dinner buffet included fresh fruit, salad, two entree options (chicken and fish), two sides (one of which was a nice steamed vegetable medley… no really, it was nice!  I loved it.), a variety of breads and TWO kinds of desserts.
That's right — two desserts.
(sigh)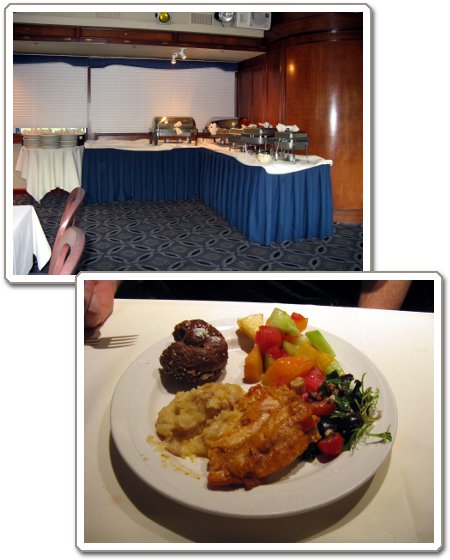 (tsk, tsk — it doesn't look like Hubby went for the vegetables.)
The Entertainment
Murder Mystery Cruises — like the mystery dinners we're all used to — require a bit of audience participation.  Just after our cruise began, tables were polled as to individual willingness to have a role in the mystery.
Shy and don't want to play along?  It's fine!  You'll have more than enough fun watching Big Band Bobby, his "band" (a collection of passengers and their fake instruments), and the other characters act out the mystery right before your eyes.
Passengers also get the chance to enjoy the sights of the Kemah Boardwalk.  On our cruise, as the yacht drew close to the boardwalk, "Mardi-Gras" beads were available to toss over to those people enjoying the restaurants and amusements.
Later that night, as the ship headed back toward the marina, we all saw another view of the boardwalk … a gorgeous, neon reflection of all the Kemah Boardwalk has to offer.
Star Fleet Yachts
Star Fleet, which has been a part of Kemah for nearly 20 years, is based from a private, easily accessible marina and offers free parking for passengers.  From our area of north-west Houston, it took a little less than an hour to reach the marina . . . and this was in the middle of Houston's rush hour traffic!
The Murder Mystery Cruise isn't the only option you have with this company.  Family sight-seeing ventures, wine cruises, Sunday brunch, and disco cruises are just a few of the options from which you can choose … you can also charter a yacht for a private event (birthday parties, receptions, etc.)
For regular scheduled events, cruise tickets are $69 for adults and $39 for children, which includes:
A two hour cruise on Clear Lake and Galveston Bay
Dinner Buffet
Murder Mystery Dinner Theater
Soft drinks, coffee, tea and juices
(cash bar for alcoholic beverages)
Hubby and I both had a great time on the cruise; it was the perfect date night with food, beautiful sights, and lots and lots of laughter.  It's a fantastic time for those looking for a unique experience.
*Disclosure: my husband and I were provided with two complimentary cruise tickets in exchange for my review.  All opinions expressed in this post are 100% mine and were not influenced by anyone else.