Last weekend, the Little Lady experienced her first hockey game.
Oh, and it was Mama's first game too.
But, I can assure you, it won't be our last game.  We both realized we LOVE hockey.  Yes — capital letters L-O-V-E the game.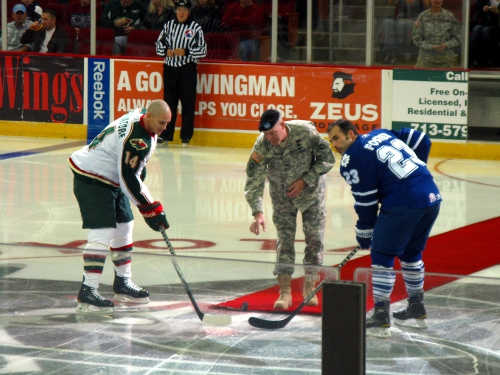 For me, it was the crazy fast pace of the game; it went so quickly.  I loved that — no waiting around like with golf.  No loooooong innings like with baseball.
Swish . . .swish. . . swish . . . hit.
Then the other teams turn to skate across the ice and attempt a goal.
Fast and sweet.
My kinda sport.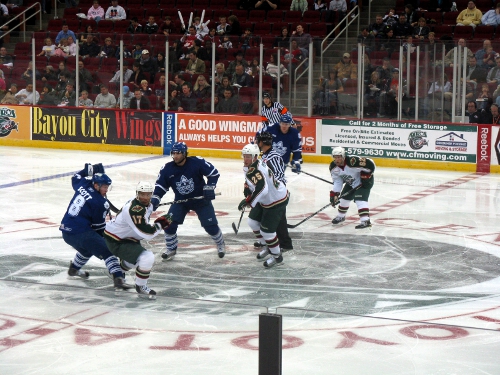 The Little Lady, however, loved something VERY different about Hockey.
She loved . . . the "Hockey Boys."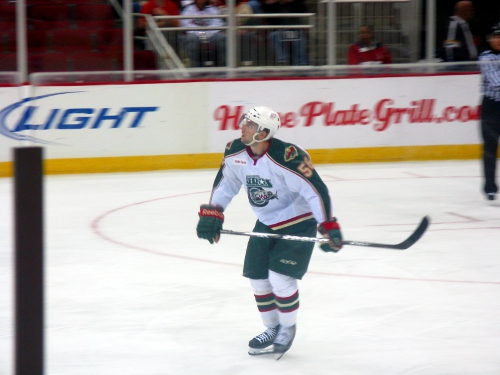 For some reason, my petite and precocious three year old was ob-SESSED with the "Hockey Boys."  During the game and after, the Little Lady twittered on and on about them.
The ultimate preschooler crush, people.
THEN, something happened — something that shocked the Little Lady (even though I'd tried to warn her).
F–I–G–H–T!!!!!!!!!!!!!!!!!!!!!
Shocked but unable to look away, the entire family gawked as an offending Aeros player and the Canadian Marlie player duked it out  — punch after punch after punch that ended with the Marlie opponent a wee bit bloodied.
And BOTH sent to "time out."
The Little Lady was aghast.  "BIG boys can get time out," she asked, eyes as round as saucers.
I instantly saw the teachable moment
(go ahead — nominate me for Mother of the Year)
"Oh, yes — big boys can go to timeout, " I sagely assured her, pointing to a "Big Boy" trying to catch his breath in his time out box.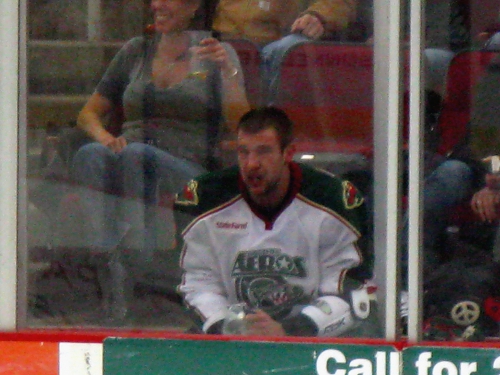 "It's not nice to fight, is it Mommy?"
"Not at all.  Everyone goes to time out if they act ugly and fight someone."
"I won't NEVER EVER fight my brudder, Mommy.  Is that nice of me?"
"Yes, it is, Little Lady.  I'm so glad you're a nice girl."
"Thank you, Mommy.  I don't want to be in the time out box.  Never EVER."
So, thank you, dear Aeros — it's nice to see my parenting practices put into play on ice.
Yay for the Time Out Box!
Oh, and as far as Mr. Boy is concerned . . . Hockey is the best sport ever.
The perfect excuse to scream and yell as loudly as your little one-year-old heart wants.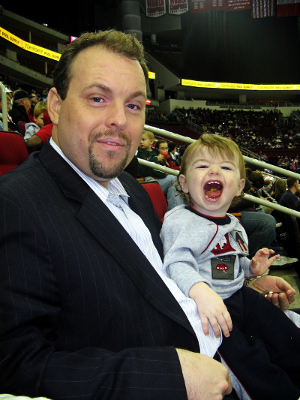 Linked with "Photo Story Friday," hosted by My Chaos, My Bliss and Better in Bulk.
Disclosure: My family and I were given free tickets to a Houston Aeros game as part of a Bloggers' Night Out. No post was required of me in exchange for the tickets and parking.