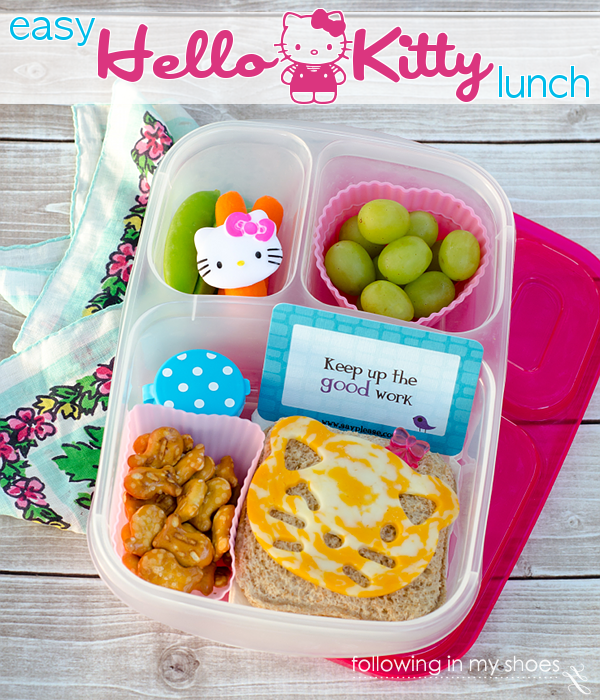 [exceptional-citing quoted="featured-bento" template="bubble-gray-round" date="" ]Peanut Butter & Jelly Uncrustable with a Colby-Jack Kitty Face; Goldfish Pretzels; Homemade Ranch Dip (in the blue polka-dot container); Grapes; Peas and Carrots[/exceptional-citing]
The Cute Z Cute cutter has been on want list for months and months and months.  Finally — finally — I have one in my possession.  Now, in a few minutes, I can have add perfect, cute little animal details to the Kidlets' school lunches!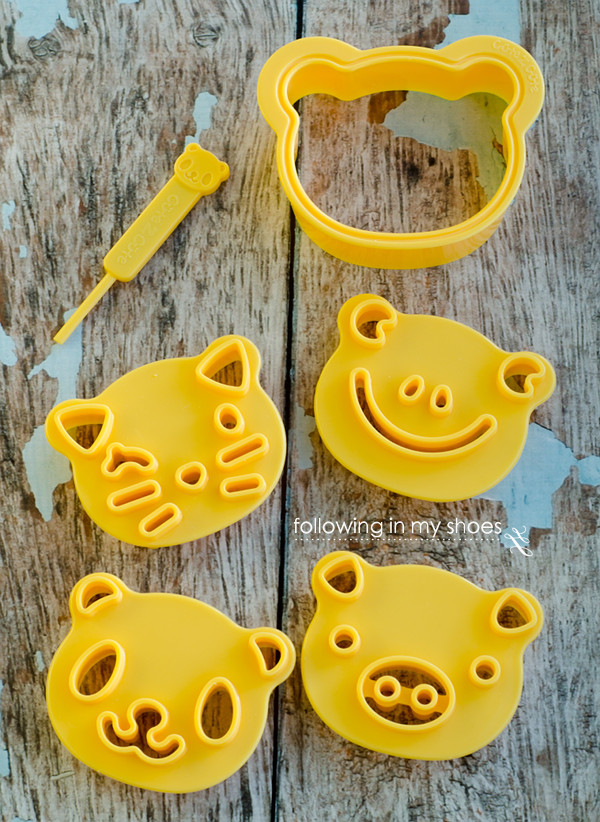 Using the CuteZCute Cutter:
Use the head-shaped cutter to go through bread, cheese (and other edible materials like nori, ham, etc.)
Choose one of the four animal faces (frog, pig, panda or cat) to cut out the face details
OR use the blunt side of the face cutter to stamp the face image onto your bread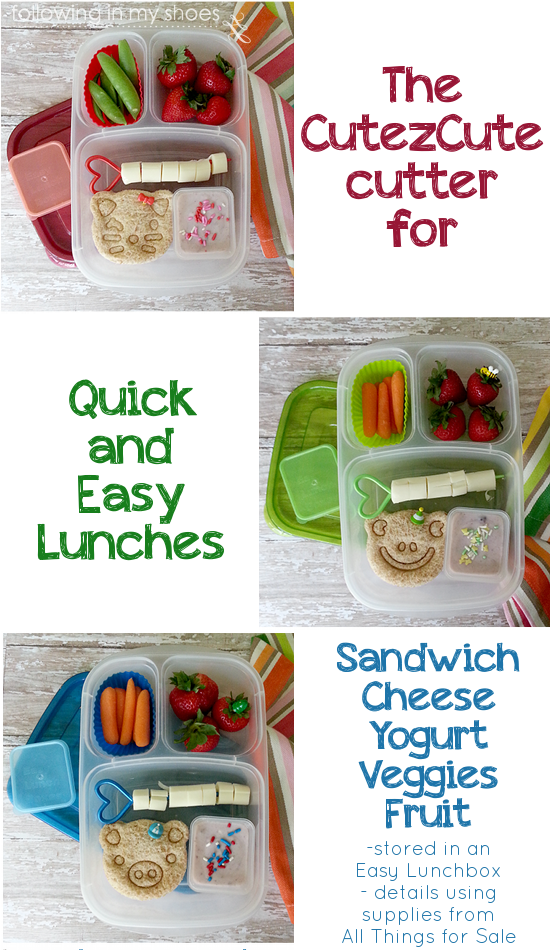 In just a few short minutes, you have a lunch that appeals to children … kids who — just like adults — eat with their eyes first!  (There are a bunch of tutorials and ideas for crazy amazing food on the CuteZCute site)
Pros:
I love that the Cute Z Cute make it so simple to create an animal themed lunch … no more carving eyes and noses for this Mama!
The Cute Z Cute comes with a small pick that can be used to push the bread (or cheese) face details out of the face cutter.  I absolutely love this and use it for nearly all of my other cutters when food gets stuck in them.
The cutters are dishwasher safe (top-rack).
They are made of BPA Free, Food Grade plastic.
Not just for sandwiches — you can use this to make cute sugar cookies or anything else that comes out of your imagination!
No sharp edges = my preschoolers can use them!
Cons:
Because the cutter IS made out of plastic instead of metal, you will have to use a bit more force to cut through some foods (such as flour tortillas).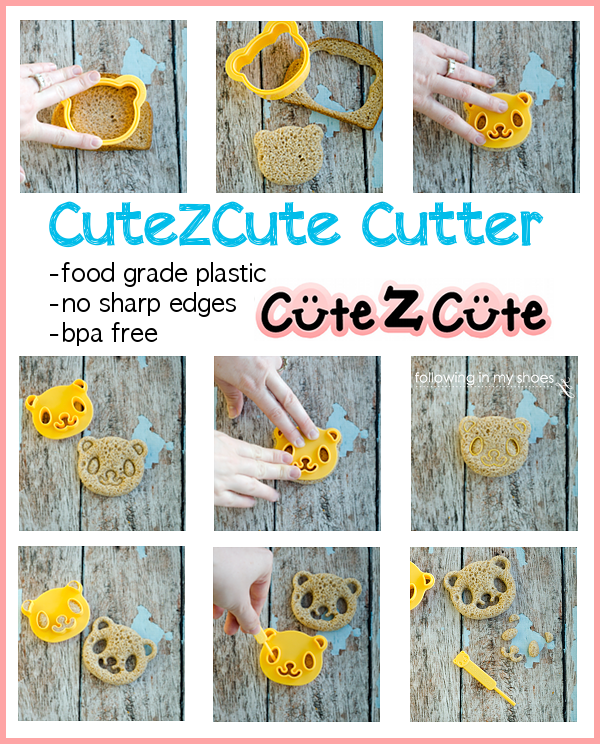 Buy It
The Cute Z Cute cutter retails for $9.99 and can be purchased from Amazon or Bento USA.
GIVEAWAY (closed)
Cute Z Cute has graciously offered a cutter set for one of my readers!  If you want an easy way to add fun details to your school lunches, here's your chance!
To Enter: (mandatory)
In a comment below, tell me which animal face your child would be most excited to see in his or her lunchbox.
Bonus Entries
These extra entries are completely optional; if you do choose to use them, you must submit a separate comment for each additional step you complete.
Giveaway ends October 11 at Noon , CMT.  Winner will be notified by email and will have 48 hours (from the time the email is sent) to  confirm his or her win.
Affiliate links were used in the post and Cute Z Cute provided the cutter for the purposes of this review/giveaway.