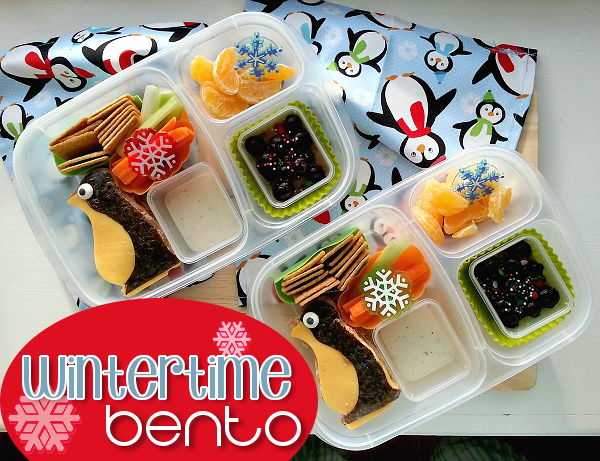 A Wintertime Bento (in an Easy Lunchbox System)

(In upper, larger section) Wheat-Thins, Carrot and Celery Sticks, homemade Ranch Dressing, Sunbutter & Honey Sandwiches (on Sandwich Thin Bread) with Cheese and Nori Penguin Cut-outs.

(In the smaller compartments) Clementine Wedges; homemade Applesauce and Frozen Blueberries (in an Easy Lunchbox Little Dipper).
Yesterday, it was in the freaking 80s.  The week after Thanksgiving.  Christmas is around the corner and everyone in Southeast Texas was sweating.  Donning shorts and flip-flops.  Turning on the AC.
While decorating for Christmas and pinning Christmas gift ideas.
Seriously, y'all — 95% of the year, I am convinced I live in the wrong state.  I. Hate. Being. Hot.   It makes me grumpy.  Moody.
I need crisp temps, brisk breezes  — excuses to wear scarves and light a fire in the fireplace.  I want to head out the door and quickly start huffing and puffing, looking in the air to see if my breath is visible.
(yes, I'm 5 years old and still get a kick out of that… don't judge)
This Penguin Bento — a nod to Wintertime — was for the Kidlets … but also for me.  no, I didn't eat a bite of this, but I NEEDED to see something iconically "cold."  Something that hearkens to snow and ice.  That makes me forget the fact yesterday, November 26th, was hot enough to cause one's make-up to "Sweat Off."
Ugh.
Link Up With I Heart Lunch
I adore getting inspiration and ideas (and even "THAT'S how you do that" moments) from others out there … so let's share with one another with the "I Heart Lunch Weekly Link-up."

You can link to a blog post or flickr photos — this linky is for any kind of healthy school lunch, regardless if it is Bento-style or not. I want to celebrate our efforts to provide good and enjoyable school lunches for our children!

The linky is offered each Tuesday when I share our Bento lunches so you'll be able to add your lunches every week.  My only request is that you either add a link back to this post or include the Lunch Graphic (which links back) to your post so others can get here to view the linked lunches too!
Link up your school lunches and bentos!  Please use a permalink for your post rather than linking your general blog/flickr account URL — this will help people go directly to your fabulous lunch!
Note: you can link a blog post, public facebook photo, flickr page, etc.
Now — link 'em up!