In the nine years the Husband and I have been married, we have been on ONE vacation — a trip to Bermuda in 2008. It was beautiful. It was romantic. It was kid-free.
Since that time, however, we've been in a season of life where babies were crying everywhere, no one liked riding in the car, and potty-training meant stopping the vehicle every three minutes.
A family vacation just didn't sound like fun in those days.
But now that the Kidlets are older and gaining more independence by the day, the Husband and I are toying with the idea of a family road-trip this year.
Do we have a location picked out?  No.
Are we going to use our camping gear or stay in a hotel?  No idea.
Have we lost our minds?  Um ….
In Search For Our Happy Place
We know — based on all the stories and fables and virtual slideshows folks share with us — that a family road-trip CAN be fun and a happy experience for everyone, but it takes planning, preparation, and the perfect, family "happy place."
Like all good parents do, I turned to my peers via Facebook, asking YOU guys for location ideas.

As I expected, readers had fantastic ideas for family vacations:
Gatlinburg/ Smokey Mountains area
Yellowstone
Washington, D.C.
Branson
Eureka Springs
Disney
Grand Canyon
Glacier Nat'l Park
(Even Michigan was tossed out there — and, according to the person who suggested it, there is a LOT to do for families there.  I had no idea!)
And, like all good moms do (ha!), I turned to Pinterest for road-trip tips and ideas for attractions in some of the places suggested on Facebook.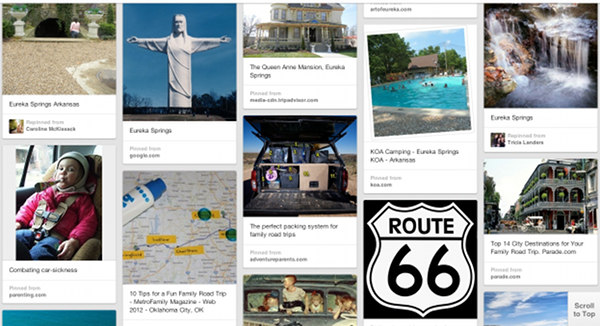 Y'ALL! Pinterest does something to me and can get me crazy excited about a project or idea within just a few minutes of being on that addictive site. And right now? I'm totally ready to pack our bags and buckle up the kids for a road-trip to Branson or Eureka Springs. Caves, lakes, entertainment, amusement parks, museums, trains … those two places have it ALL.
It doesn't hurt that my Parents and Sisters all live near there, I might add.
Finding YOUR Alamo Happy Place ~~ Giveaway!
It was a few days after the Husband and I started talking about a summer trip that the folks from Alamo contacted me about hosting a  Alamo Happy Place giveaway for you guys.
Perfect timing… for me and for you!!!
What will you win??  I'm so glad you asked!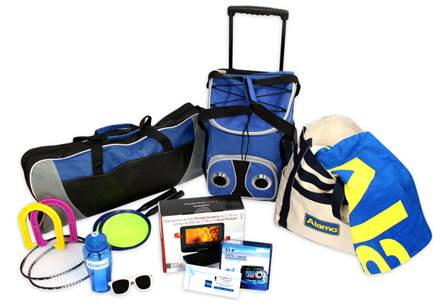 Alamo Pin Your Happy Place Prize Pack (~$430)
$100 AMEX Gift Card
Audiovox Portable DVD Player with Wireless Headphones
Solace 5-in-1 Outdoor Game Set
Bellino Rolling Speaker Cooler
Aqua 5500 Waterproof Digital Camera
Alamo Sunglasses
Alamo 24oz Twist Water Bottle
Alamo Beach Towel
Alamo Rugby Stripe Tote

To Enter:
If you're a Pinterest person like me, this will be an easy contest for you.  Here's how to enter:
Create your own "Alamo Happy Place" Pinboard and include #AlamoHappyPlace in the description.
Pin the photo shown below to that board and THEN pin images from YOUR perfect Happy Place, whether it be NYC, Disney, Seattle or Timbuctoo!
Come back to this post and leave a comment with the URL to your Pinboard.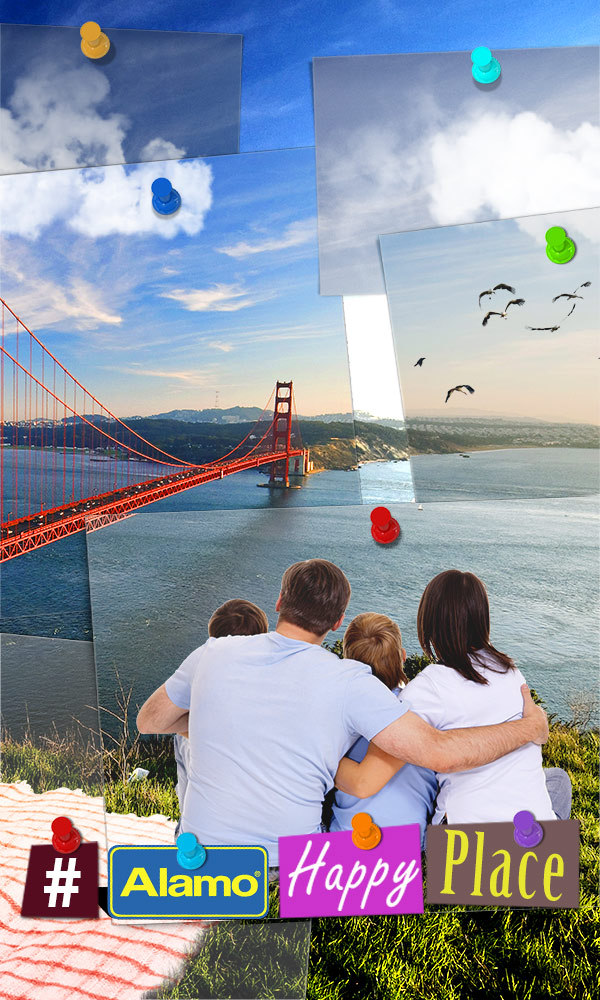 By the way, if you are planning a summer trip and are looking to save some money (or some wear and tear on your vehicle), don't forget if you join Alamo Insiders you become eligible for at least 10% off every Alamo car rental, and use the Alamo Deal RetrieverSM on the revamped Alamo.com to find all of the best Alamo deals, customized just for you!
Good Luck!  This Giveaway will end at noon (CMT) on April 8th, 2013.  Winner will be chosen from from the Pinboards submitted via comments on this site.  The winner will be notified by email and will have 48 hours from the time he or she is contacted to confirm the win.
For sharing this giveaway, I was compensated with an identical prize pack that I'm giving away in this post.