For me, it's easier, during the summer, to be diligent with working to achieve my healthy living goals and toning up.  With school now out, I don't have to worry about being anywhere — I can just eat healthy and work out every morning.
At least, that's been the plan.
Turns out, I'm learning it's harder to stay on top of things this summer; even though I'm not driving to and from preschool, I'm much more busy now that I have the three kids home all day long . . . not to mention the fact there are various trips breaking into my world, making it difficult to keep on track and making it easy to slip into the easy lifestyle of "eat when I can" and "think about exercising when I can."
Thankfully, I don't have to keep myself on this downward sloping path; every day is a new chance to start, right?  Exactly right!
This past weekend, the husband and I sat down and talked about how we have both let things fall to the wayside as far as healthy activities go.  It seems that chasing a 9 month old out of every cabinet/dog kennel/bookcase/closet/trashcan/toilet in the house just doesn't cut it for exercise.
We decided it is time to shake things up: we are both going to get back into exercising … together.
Zumba and strength training are on the docket.  Yes, I'm going to make my husband try Zumba with me and he is making me try P90X with him (it seems I promised forever ago I would and now he has decided to hold me to it)
We've carved out time each day for at least 30 minutes of exercise.  Is it going to be easy?  Not at first.  But we're in it together . . . each other's cheerleader and accountability coach.
Dannon Oikos has partnered with dietician Kerri Glassman to help all of us shake up our diet by providing tips for managing short and long-term weight management goals..
Have you tried Greek yogurt?  With a much higher protein count compared to regular yogurt*, Greek yogurt has been my favorite for the past few years . . . since I started being more aware of healthy eating choices.
So, what kind of tips are Dannon Oikos and Glassman offering us as we work toward our goals?
Every Meal Is A "Monday Morning". Focus on eating better, one meal at a time. Otherwise it can be easy to get discouraged – forget the worry! Your only mission: Make the next meal you eat nutritious, balanced and satisfying.
Don't Eat Around A Craving. Honor your craving with a conscious indulgenc e – take a few deep breaths and find a healthy alternative! Try satisfying your sweet tooth with Dannon Oikos® Greek nonfat yogurt, it is nutritious but still has an incredible taste.
No-Excuses Exercise. Sometimes the biggest barrier to working out is just getting there so a good option can be to make it as easy as possible—throw in a workout DVD or even going for a walk takes away excuses and gets you moving!
Satisfying Proteins. A moderate-protein balanced diet with a reasonable amount of fiber, carbohydrates and the appropriate amount of healthy fats is the best way to maintain a healthy weight. Dairy is a great source of protein, try a creamy Greek nonfat yogurt like Dannon Oikos®–it has twice the protein of regular lowfat yogurt2.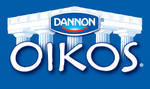 With the Grab a Spoon program, Glassman will be offering her exclusive tips on the Dannon Oikos website and their Facebook page (where she even shares recipes like this Dijon Salmon Cake recipe), covering topics such as:
how to help achieve a balanced diet
weight management goals
exercise ideas
motivation to stay on track
nutritious recipes, and more!
Giveaway
One of my readers is going to receive a signed copy of Keri Glassman's new book, Slim, Calm Sexy Diet!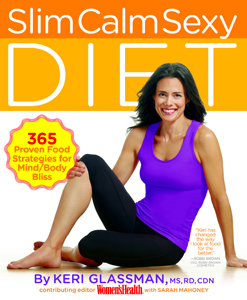 To Enter
Leave a comment on this post answering the following question:
How are you (or how do you plan to) shaking things up this summer when it comes to a healthy lifestyle and/or your diet routine?  (note: none of the entries can be about "losing weight")

Extra Entries
Any of the following options may be completed for any extra entries into the giveaway.  These additional entries are completely optional and not required.  Please leave a separate comment for any completed extra entry.
* (Oikos Greek Nonfat yogurt has 12 -14g Protein (24%DV) while regular lowfat yogurt: 5g protein (10%DV) per 5.3oz.)
Giveaway will end at noon, CMT, on Wednesday, 6/20/12.  Winner will be notfied by email and will have 48 hours (from the time the notification is sent) to confirm his/her win.
I have partnered with Dannon to help promote the Dannon Oikos Greek Grab a Spoon campaign.  I have been compensated for my time commitment to the program, which includes writing about the promotion and product.  However, my opinions are entirely my own and I have not been paid to publish positive comments.