Sad news for me: my baby is no longer a baby.
(sniff)
Good news for you: I have an adorable sleep set to give away!
(yay)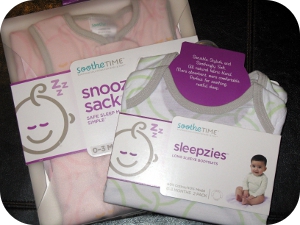 A two-pack set of Sleepzies (long-sleeve bodysuits), sized 0-3 months
One pink Snooze Sack (sleep sack), sized 0-3 months
I was given these items to review — unfortunately, Mr. Boy outgrew the sizes I had requested. . . before we could use them!
Instead of sending them back, zzzTime and I decided to have a giveaway — no strings attached — of the products.
Quick and easy, right?
Of course!
L
et's learn a little more about zzzTime:
It's a new line of bedtime essentials for infants designed to support the wellness of the entire family by promoting healthy and safe sleep practices for babies.

sootheTIME created this line because the company recognized that sleep is an integral part of wellness but for families with infants, a good night's sleep can become nearly mythical unless the baby is comfortable and can develop healthy sleep habits.

The products outline below are designed to

soothe babies
provide optimal temperature control and help parents integrate safe sleep practices recommended by the American Academy of Pediatrics into all the environments in which the baby sleeps, including home and daycare.
You have no idea how much I wish I had been able to use these when Mr. Boy was a sleepless, itty-bitty baby.  If they could have helped him sleep better during the night . . . sigh.
To Win This Set:
Mandatory Entry:
Visit the zzzTime site and share one thing you learn (not mentioned in this post) from browsing there.
Bonus Entries
If you WANT extra entries, you can do the following (and please leave a separate comment for each entry):
Giveaway will end at noon on Monday, November 29th, 2010.
Disclosure: I have not received anything in return for this giveaway . . . in fact, the winner will be receiving what was supposed to be mine!  😉