While my husband and I have learned to appreciate our new eating habits and can turn away from grease laden foods, my Kidlets still have their favorite dishes and it's been interesting learning how to adjust the meals so that the Little Lady and Mr. Boy can have their favs without loading on unneeded calories and fat.
One of those favorite foods is the good ol' American hot dog.  The Little Lady ADORES hot dogs — it's almost ridiculous how much so.  Since we switched to "healthy" food, hot dogs have not been seen around our household. . . till this week.
I decided to let her have a hot dog night but we're doing it differently than before.  No full fat hot dogs — no refined white bread buns — no greasy potato chips.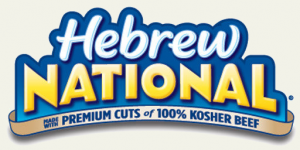 Instead, I used Hebrew National All-Beef 97% Fat Free Franks.  I'll be honest, this wasn't a brand I had tried before, BUT my local grocery store chain (H-E-B) is currently offering an in-store coupon for them as part of their Back to School Meal Maker Challenge.  Can't pass up a deal!
Having a nearly fat-free frank was a good start — but what about the bun?  Would I be able to find a healthy alternative for the traditional hot dog bun?
Way down on the very bottom shelf of the bread aisle, nearly hidden by bags and bags of standard white bread buns, I found them — 100% whole wheat, fructose-free hot dog buns.
(Woo hoo for my stellar detective skills!!!)
Since I am always looking for ways to sneak veggies into foods, I decided we needed a veggie topping . . . a REAL veggie topping.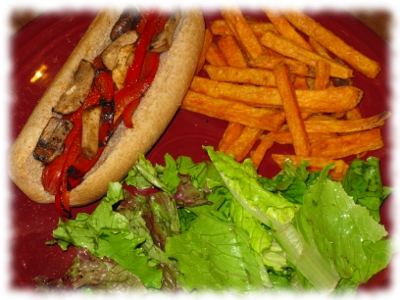 Enter the Grilled Vegetables.
Oh.  My. WORD.
Yum, yum, yum, and more yum.
Adding grilled vegetables on top of a grilled hot dog is DIVINE! (no exaggeration)
With sides of baked Sweet Potato Fries (the healthy alternative to standard fries/potato chips) and a salad of crisp romaine and red leaf lettuce, we have one of my new favorite summer meals.  Hubby spread a little Gulden's Spicy Brown Mustard on his and loved it.
Oh, yeah . . . the kidlets liked it too!
[print_this]
Practically Guilt Free Grilled Veggie Hot Dogs
Hebrew National 97% Fat Free Franks (or Turkey Franks)
1 Red Bell Pepper, cut into thin strips
8 ounces of sliced Baby Portabella mushrooms.
100% Whole Wheat Hot Dog Buns
Gulden's Spicy Brown Mustard (optional)
Prior to heating up your grill, place grilling foil on half of the grill.
On the "bare" side, grill the franks for 5-8 minutes, rotating to ensure even grill marks.
Spray grilling spray (we used Pam's grilling spray) onto the foil and spread the veggies evenly over it.
Grill the veggies for around 5 minutes or until they have a nice grill look to them.
Assemble your hot dog, bun, grilled veggies and spicy mustard . . . then enjoy!
[/print_this]
*Disclosure: this post was originally published as part of a Back To School Meal program by HEB and ConAgra; I was compensated for my recipe creations and posts.