As I mentioned Friday, whether on Twitter, Facebook, online forums or your grocery store magazines, everyone is talking about school lunches these days.
My daughter doesn't attend a group preschool program, but I still have to worry about lunch every day.
What should I feed her?
What will she eat without a fight? (hello, she's three)
What is the healthiest, fastest option?
The latter question is my primary focus when it comes to her meals; as I've written about in the past, my daughter is very, very petite — so much so that her pediatrician has ordered her to be on a protein/fat dominate diet.
(oh, to be so lucky)
Now, that kind of diet would be easy if I didn't care about overall nutrition —  I could just shove high sugar and fat food, and processed meats in her face and call it done.  But, even though she would LOVE that diet, as her mother I have to make sure that she is consuming good fats and good proteins . . . and not foods that could potentially set her up for future health problems (obesity, high cholesterol, diabetes, etc.).
So — how do I feed her healthy, doctor-approved meals with OUT it ending in a battle of wills?
For my Little Lady, I've learned "packaging" will get her to eat whatever I prepare — even the healthy stuff.  If her lunch is exciting and not the same ol' sandwich every time, eating becomes an adventure . . . and she willingly digs in.
Last week, I started putting her lunch in a little lunch box — yes, an old-fashioned metal lunch box — and her tiny face lights up each time she sits down to open it.
What are some of the foods I've put in it?
Sliced Apples and Almond Butter (a great combo providing a good blend of healthy fats/protein/fiber)
Baby Carrots and Tzatziki (a healthier alternative to Ranch Dip — simple, REAL ingredients and DELICIOUS)
Skewers of Cubed Cheese, Grapes, and Ham
Whole grain breads, wraps, and pitas filled with hummus, chicken and dark leaf lettuce (her favorite combo that packs a punch with plenty of fiber, vitamins and protein)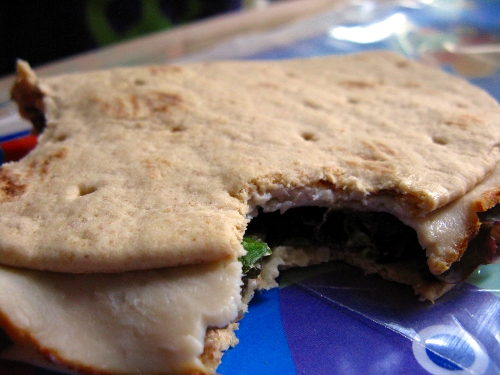 Looking for more school lunch ideas?  Here are options I've found this past week:
Healthy Packed Lunches for You and the Kids
School Lunches — Healthy Alternatives (includes more info on the benefits of a healthy lunch for a child)
Bento Lunch Boxes (this style of lunch prep is ADORABLE, healthy, easy and definitely something kids enjoy)
*Disclosure: this post was originally published as part of a Back To School Meal program by HEB and ConAgra; I was compensated for my recipe creations and posts.