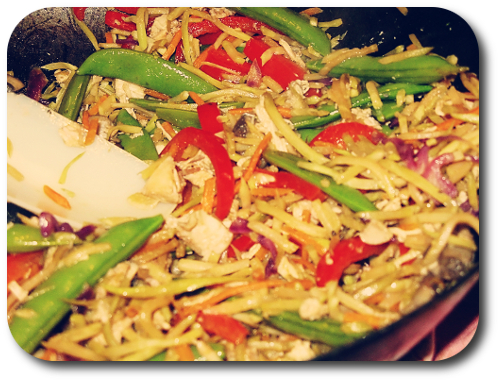 We love Asian cuisine over here: Thai, Japanese, Chinese, Korean . . .and, luckily for us, we live in a city that has TONS of amazing restaurants offering our favorite fare.  Even so, there are times when it just isn't feasible to head out for an Asian dinner.  You know — like times when you're dealing with a pink spotted dog or having to clean up an entire box of Cheerios that was dumped . . . or a day when not only has Bisquick been spread all over kingdom come but so has popcorn powder.
(Note — all of those things, and more, have happened in the past week.  No lie.)
On those days, I bring out my inner wok-star (tee-hee) and prepare my favorite, "at home" Asian-inspired dish.
This dish came about early last year because (1) I was pregnant and craving Chinese food, (2) wasn't going to take my (then) 2 year old tantrum-throwing-tot out in public, and (3) I had a random collection of food in my fridge and pantry.
Really random, that is, for anything but a stir-fry.
HOWEVER, pregnancy cravings being what they are, I wanted needed P.F. Chang's lettuce wraps.
What was this Mama to do?  Wrap up a portion of stir-fried veggies, of course.
These colorful Asian Lettuce Wraps take the the nutrients of a simple veggie stir-fry and transform them into mouth-watering wraps.  The secret ingredient? Broccoli Slaw.
Broccoli Slaw  is a hearty combination of julienne broccoli, carrots, and purple cabbage.  The best part is it helps speed up the prep time, eliminating the need to hand chop/julienne every veggie.
Each time I prepare these wraps, Hubby and I are embarrassing with the amount we consume.  Thank goodness it's primarily veggies passing our lips!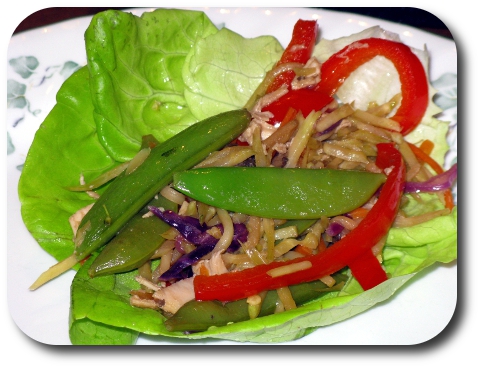 [print_this]
Asian Lettuce Wraps
Wrap Filling:
1 Red Bell Pepper, thinly sliced
1-2 C Snow Peas
1 Package of Broccoli Slaw
4 Chicken Tenders (honestly, the chicken is optional; this wraps would still be lip-smacking fantastic without it)
Salt/Pepper/Garlic Powder
1-3 T Olive Oil or Sesame Oil for stir-frying the veggies
Sauce:
1/2 C Rice Wine Vinegar
3 T Soy Sauce*
1-2 T Chinese Hot Mustard
Wraps:
Washed and separated Boston Lettuce (or Romain).
Instructions:
Whisk together the ingredients for the sauce and set aside.
Season chicken tenders with salt/pepper/garlic blend.
Heat your oil of choice in a  wok or heavy frying pan over medium to high heat.  Cook the tenders, turning frequently to avoid burning/sticking.  Remove tenders and set aside.
Throw all veggies and slaw into the wok and stir-fry 2-3 minutes . . . emphasis on stir!  Woks cook food very quickly — you don't want the vegetables to stay in one place and risk burning.
Lower the heat slightly and add the rice-wine sauce to the veggies — allow to simmer for 1-2 minutes.
Remove the pan from the heat source.
Shred/loosely chop the chicken tenders and toss them in the wok.
To Assemble
Fill one washed lettuce leaf with 1/4 – 1/2 C of the mixture  . .. and enjoy!
From time to time, I will make an extra batch of the marinade and add it to my wrap for a little more kick.
[/print_this]
*Disclosure: this post was originally published as part of a Back To School Meal program by HEB and ConAgra; I was compensated for my recipe creations and posts.