I'm not sure what has happened to me.  Even in my healthy living days before Barney Kneeknuckles entered the scene, I never … EVER … did things like what I have done now.
First, despite my ginormous two left feet and severe lack of rhythm, I sought out and signed up for Zumba classes.
ZUMBA!
A sweaty, fast-paced, frenzied, choreographed work-out that requires one to follow directions with your feet.  Well, most of the time, folks, I have little control over my feet.   As I mentioned on my Facebook page, I have fallen going UP a flight of stairs … more than once.
And now I'm going to deliberately put others in the way of my graceless uncoordinated body.
(tsk, tsk, Rachel)
But, after another successful weigh-in this week (another 3 pounds down!), I've become a wee bit motivated to push myself harder as I work toward February 20th.  On that day, all of us in the Omron Fitness Challenge will find out exactly how we've done against each other in our efforts to lose weight and live a healthy life.  Since Zumba is supposed to be a fun and effective way to burn a TON of calories, I'm going to give it a go for cardio.
(I'm scared)
Second, I decided to join many of the ladies from the #iheartOmron and Mamavation fitness challenge in an international 5K.
A 5K? 3.1 miles?
Holy cow … I'm going to RUN!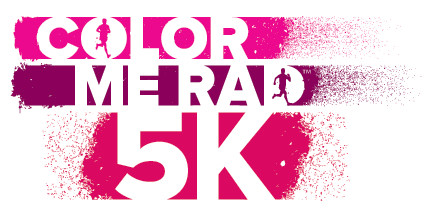 Color Me Rad is a year long experience, with runners from the USA and Canada alike getting bombarded with COLOR as they run through the streets of their town.  It started in February and continues through November.
Yep, this particular 5K is all about giving participants a unique, fun and crazy way to race.  Start with solid white attire and cross the finish line completely "tie-dyed" from head to toe.
When Zoloft and balloon animals can't seem to raise your spirits, the best way to brighten your life is to run Color Me Rad 5K.

Color Me Rad is coming to a town near you with a tsunami of color that'll make colored tears of joy run down your cheeks and will renew your will to live.
Interested in running the Color Me Rad 5K?  Win your entry!
The Color Me Rad folks have offered to give one of my readers a free entry for the race location of his or her choice!   With nearly 70 race locations, you shouldn't have a problem finding a Color Me Rad 5K in your neck of the woods!

To Enter:
In a comment below, simply tell me what makes YOU want to run this race.
Good luck!
Giveaway ends at noon (CMT) on February 19th.  The winner will be notified by email and will have 48 hours (from the time the email is sent) to confirm his/her win.
disclosure:  the Color Me Rad crew has given me a free entry into one of their 5Ks in exchange for helping spread the word of their crazy race!  Can't wait to get color bombed! 
Also, my fitness challenge is sponsored Omron Fitness as a collaboration with Bookieboo Blogging Network and Mamavation – a community dedicated to weight loss for women and obesity prevention for families. I was provided with product and compensation for my time and honest opinions.